Snow and rain didn't stop more than 50 people from gathering in the parish house of the Federated Church in Edgartown Wednesday morning to honor Jean Lewellyn of Vineyard Haven with the Spirit of the Vineyard award.
The award, sponsored by Vineyard Village at Home, honors volunteerism and people who make a difference in the Island community. "I think it's just a wonderful way to thank people who do so much for us on the Vineyard," said Polly Brown, president and founder of Vineyard Village at Home, following the ceremony. "Many, many nonprofits rely on volunteers," she said.
Anyone can nominate an Islander, and a committee made up of past winners meets each year to decide who to honor. This year Mrs. Lewellyn rose to the top. "A lot of people nominated Jean," Ms. Brown said. "She's worked for many different nonprofit organizations. She's one of the worker bees and we think that's particularly important."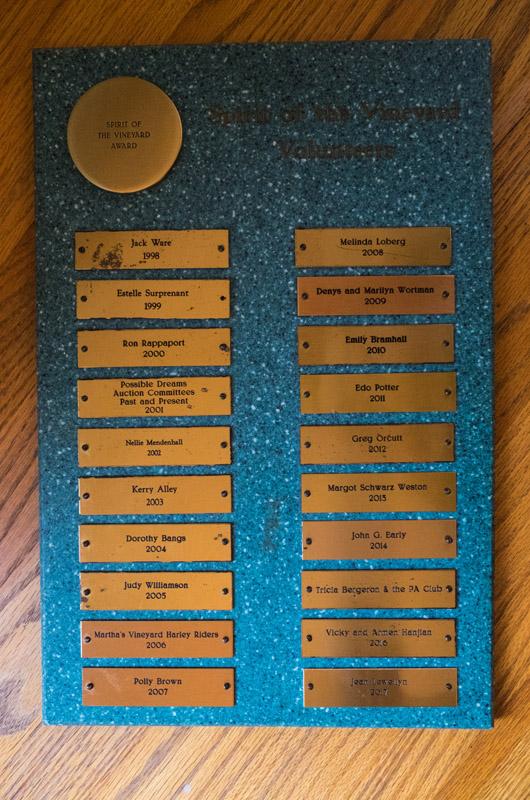 Bruce Lewellyn heard about at least one of the nominations, but he kept it to himself until he found out his wife would be honored. "She was pleased for sure, but also she's modest," he said. "She said, I don't do that much." He disagrees. The two met when Jean's roommate stood Bruce up for a date. That was 54 years ago, and Mrs. Lewellyn was attending the education school at Harvard. "The first thing she did was get a teaching job in California, and she helped put me through law school," Mr. Lewellyn said.
When they moved to the Island, Mrs. Lewellyn decided she was done being in charge after teaching for decades. She wanted to be a worker instead. She's given time to several organizations on the Island including ReadMV (Goodnight Moon and Make Way for Ducklings are two of her favorites), Tisbury Waterways, Habitat for Humanity, Vineyard Village at Home, the Eastville Beach Committee, and Martha's Vineyard Community Services.
"I'm not used to being in the limelight at all so it's a funny feeling, but I look around and all my friends and buddies are here so I feel very honored," she said.
During the breakfast ceremony, Melinda Loberg spoke on behalf of Tisbury Waterways, Sandy Pratt spoke on behalf of Community Services, and Brock Callen spoke on behalf of Sail Martha's Vineyard. Cape and Islands Rep. Dylan Fernandes sent remarks to be read in Mrs. Lewellyn's honor.
After the formal speeches were through, Jane Carroll of Vineyard Haven stood up to speak from her table. "I just wanted to say how dear she is to me personally and how dear she is to our neighborhood," she said. After Mrs. Carroll's husband died, she said Mrs. Lewellyn was particularly supportive. "I think she knew I hated eating alone. She said, okay, Tuesday nights you're coming to eat at our house." Mrs. Carroll took a moment to collect herself. "It was the nicest thing anybody ever did for me."
The Spirit of the Vineyard award is in its 20th year. Now with the addition of Mrs. Lewellyn's name, the blue plaque that hangs in the Agricultural Hall is completely full.
"We'll have to figure out what to do about that next year," said Ms. Brown. Mrs. Lewellyn joins Island civic leader Jack Ware, attorney Ronald H. Rappaport, the Martha's Vineyard Harley Riders, and retired ministers Armen and Vicky Hanjian among other honorees.
Nominations for the Spirit of the Vineyard Award are accepted year round. Mail nominations to Polly Brown at P.O. Box 1356, Vineyard Haven, MA, 02568 or by email at vineyardvillage@gmail.com