On Thursday evening for the annual strings concert, the performing arts center at the Martha's Vineyard Regional High School began to fill up with parents, grandparents, siblings and little musicians toting instrument cases nearly as big as themselves. More than 190 children performed, some for the first time, others seasoned veterans who have participated in the program for years.
In the audience, parents carried bouquets, cameras and younger siblings on their laps.
Joseph Rock of Edgartown came to watch his two daughters: Madison who has played in the program for five years, and his younger daughter, Grace, who has been playing for three years.
"Sometimes it gets a bit squeaky, but you just grin and bear it," Mr. Rock said of practice sessions in his house.
Instructor Nancy Jephcote understands. "It's not easy being a string parent," she said.
Mr. Rock said neither child seemed particularly anxious. "That's one thing the Vineyard is really good about. Kids here don't seem to be nervous. The community promotes children and promotes kids trying new things."
Sofia Fisher, a second grader at Oak Bluffs School, sat in the audience with the other beginners, viola in hand, awaiting her turn to go on stage. "I'm never nervous," she said. Next to her sat fellow second grader Hannah Wansiewicz, who felt differently. "I'm excited and also scared. I usually don't like to do things in front of big crowds."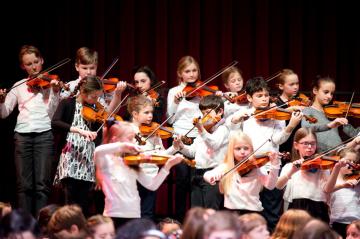 Ms. Jephcote has been working with the Island schools strings program since 1986, and has taught thousands of students. Lessons are hosted by Martha's Vineyard public schools and are available for free to all Island kids. By the end of the performance, all of the children were on stage for the finale, Mozart's Twinkle Theme.
"There were so many kids on the stage," said instructor Chelsea Pennebaker, "I had a moment where I was like how are we going to fit them all?"
Making their way off stage after the performance, Hannah and Sofia both said they want to keep playing next year.
Ms. Jephcote, Ms. Pennebaker and Rebecca Laird have inspired many children to feel that way. The show included advanced pieces from musicians who have participated in the program for several years alongside performances from the beginner group who were just learning how to hold a bow.
"We like to have a big shebang where everybody is there and you can see the whole spectrum," said Ms. Jephcote. "It's good for the older kids to be there with the little kids to see how far they've come."