The upcoming trip to Washington D.C. for the March for Our Lives, a national demonstration against gun violence following the school shooting in Parkland, Fla., will not be a luxurious excursion for Island students this weekend. The marchers will take back-to-back overnight buses to and from the capitol. Showers and sit-down meals are not on the itinerary.
Regional high school sophomore Alex Rego said it's not supposed to be easy.
"The fulfillment of being civically engaged will far outweigh the discomfort. And there will be so much adrenaline and energy," she said.
About 100 students, parents and teachers gathered in the community meeting room at the Edgartown Library Wednesday evening for a meeting to prepare for the trip. Boxes of trail mix and lollipops, handmade posters, bottled water, and rolls of toilet paper were stacked along the back wall of the crowded room.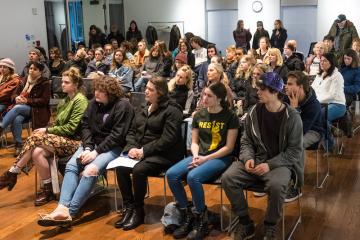 The marchers will leave on the 8:30 p.m. ferry Friday. Two buses will pick them up in Woods Hole and drive to Maryland, arriving early Saturday morning. The marchers will ride the metro into the city for the march Saturday afternoon. They'll take the buses back that evening, arriving in Woods Hole early Sunday morning.
Charter school senior Keith Chatinover is the lead organizer of the trip. At the meeting in Edgartown, he outlined the plan, including how he would distribute more than 100 D.C. metro cards, instructions to write phone numbers in permanent marker on your person, and sticking with the group throughout the march. He said cell service is usually spotty in massive crowds like the one expected in D.C., and he emphasized personal accountability as students prepared to plunge into what is expected to be a chaotic scene.
"Let's show people that teenagers and young adults can do stuff," he said. "Let's rise to the occasion."
He said there are likely to be counter protesters at the march.
Thanks to contributions from community sponsors, including the Mansion House and community churches, students aren't paying for their own bus rides. The Martha's Vineyard Hebrew Center contributed snacks and water for the trip as well.
Sophomore and activist Amelia Simmons said this will be her first visit to Washington D.C. She took the initiative to organize the high school's walk-out last week, and said the work will continue after this weekend's marches. According to the March for Our Lives website, there are 839 scheduled marches in communities around the world. Some Islanders are planning to travel to the Boston march. Others plan to attend the gathering at Five Corners on Saturday, organized by the Martha's Vineyard Peace Council, beginning at 11:30 a.m.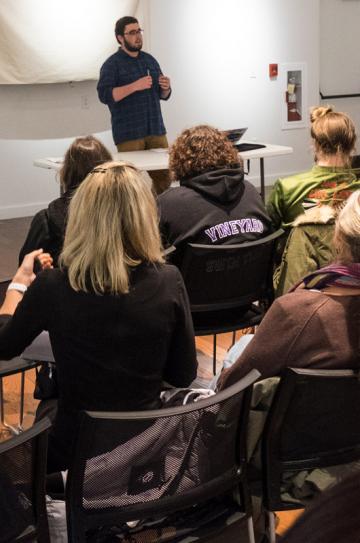 "These events and movements have to lead to further conversation," Amelia said. "We have to stay actively engaged."
She pointed to the Extreme Risk Protection Order (ERPO) legislation currently circulating at the statehouse as an example of legislation that could make a difference. The proposed law would allow for the expedited temporary seizure of firearms by police if they determine that the owner is at extreme risk of harming themselves or others. Currently, seizure of fire arms requires a warrant or a court order, which can take time to obtain.
Rep. Dylan Fernandes of Falmouth supports the ERPO bill, sponsored by Rep. Marjorie Decker of Cambridge. Mr. Fernandes will be attending a demonstration in Falmouth for March for Our Lives, but he says elected officials should not be the focus.
"I think this is a movement created by students, and I think we should keep the focus on students and empower them to be the messengers here," he told the Gazette by phone.
Mr. Fernandes says he also supports a bill recently filed by Marblehead Democrat Rep. Lori Erlich that would divest the Massachusetts' pension fund from gun manufacturers.
At the Edgartown library, people lingered for about a half an hour after Keith's formal presentation ended.
A group of juniors from the regional high school, Jolie Sola, Isis Burt and Hugh Singer, stood talking in a group. They are part of the social and global change club.
"Things really need to change," Hugh said. He's 18, and not yet registered to vote, but after going on this trip, he said he's sure that will change.
Kimberly Cartwright said she is thrilled her son, Tripp Hopkins, a sophomore at the regional high school, will be going to the march.
"He's felt really strongly about this from the very beginning," she said. "He is a young black man. The issue of guns for young black people has another dimension, and how we're having this conversation has a greater impact."
She spoke with Charter School social studies teacher Jonah Maidoff, who said he hasn't seen students organize like this before.
"There's so much light in here," Ms. Cartwright said. "Older humans, we feel kind of heavy. These people feel light."