Asked how he maintains his brightness during difficult times, Jakob Burton-Sundman pointed to friends and family who had inspired him. He became partially paralyzed last December due to a compressed spinal cord and ruptured disks in his spine.
"I went to Perkins School for the Blind, and a lot of my good friends were in wheelchairs... Now I have a better understanding of what they went through," he said. He added, "My grandfather Burton was an example too. He was paralyzed, and the way he accepted that became my role model for having a visual impairment."
Mr. Burton-Sundman always demonstrated hope and stoicism, and his positivity has continued through this latest challenge, leading him to walk short distances again without assistance. Now, he has become a role model for others.
That was evident at the Portuguese American Club Friday evening, when his family held a fundraiser to help cover some of his medical costs from this most recent health scare. Mr. Burton-Sundman was transported to Boston in December where he had surgery on his spine. After that, he spent more than two months at Spaulding Rehabilitation Hospital, where therapists helped train him to adjust to using a wheelchair and begin to learn to walk again.
The P.A. Club was packed, and parking was scarce.
Mr. Burton-Sundman's father, John Sundman, said his daughter Grace had spent about a month pulling the event together.
"The Island has always been very supportive of us and Jakob," he said. He is a retired volunteer firefighter with the Tisbury Fire Department.
Mr. Burton-Sundman's mother, Betty Burton, works in programming at the Vineyard Haven library, and is a tireless volunteer serving as president of the Committee on Hunger and director of Serving Hands, the Family to Family food program.
Mr. Sundman, who works in construction and freelance technical writing, had to stop working to care for Jakob after he was hospitalized.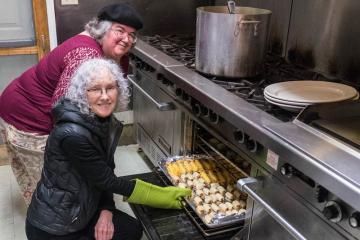 "I essentially moved to Boston for three months," he said. The costs of lodging and traveling back and forth coupled with lack of income have put a serious strain on the family. They'll also need to adjust their home to accommodate Mr. Burton-Sundman's new challenges, which will be costly.
Island support was evident on the tables that lined the hall, where people bid on hundreds of items from Island businesses and artists in a silent auction. Items included gift cards from Island restaurants, health clubs, and movie theatres. There were baskets of food from Island grocers, and ceramics, jewelry, photography, and paintings from local artists.
People brought food and desserts to share. People wrote messages for Mr. Burton-Sundman on bright paper: "We are rooting for you!" and "Keep on keeping on!" A band featuring Rose Guerin, Delanie Pickering, Josh Campbell, and Anthony and Geordie Gude provided live music.
The silent auction was followed by a live auction featuring Trip Barnes as the auctioneer.
"They usually ask me to do it because in most areas, I can call everyone by name," Mr. Barnes said.
Throughout the evening, Mr. Burton-Sundman was always surrounded by people and well wishes.
"I've been to a lot of events like this, but I've just never been the person of honor, save graduation," he said. "I've always enjoyed this community and the Island getting together for people. That's been one reason we've enjoyed this place."
Contributions to the Burton-Sundman family can be made on their GoFundMe page at gofundme.com/%20help-us-help-jakob-relearn-to-walk.