The sexual assault awareness walk in Oak Bluffs Saturday morning was about visibility.
"People think that sexual assault doesn't happen on the Vineyard, and it does. From sexual harassment, to rape," said Jennifer Neary, program director for Connect to end violence, the group that organized the event. "With events like this, with this visual presence, that lets survivors know there is support and hope for healing," Ms. Neary said.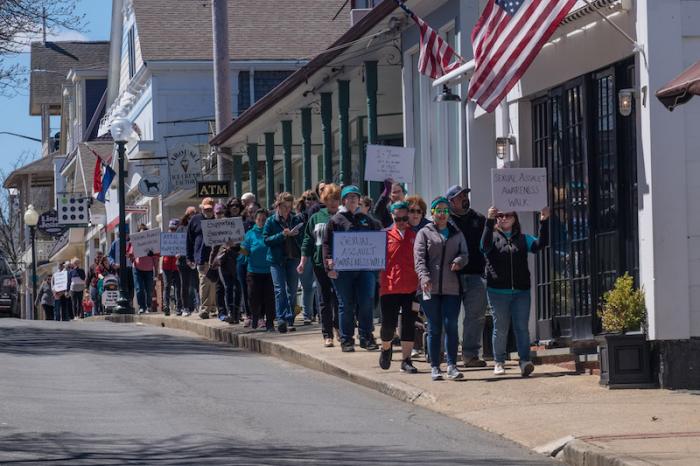 More than 60 Vineyarders turned out for the walk that began in Ocean Park, many wearing teal in honor of sexual assault awareness month. Dogs wore teal bandanas, children rode on their fathers' shoulder and signs with messages were strapped to strollers. As they walked, marchers formed a giant teal ribbon around downtown Oak Bluffs, much like the awareness ribbons many wore on their jackets.
"I'm here because this is something people really don't want to be aware of," said Wiet Bacheller, who has walked every year. "It's really important for us to get it out of the shadows. Abuse occurs among all ages."
Penney Townes chose a sign that said, "No more 'boys will be boys.'"
She raised both sons and daughters and remembered hearing that excuse regularly.
"Whenever boys did anything inappropriate, people always said boys will be boys. They still say it," she said. Asked why she came to walk, she said, "I have daughters and granddaughters."
Her granddaughter Camden, 12, volunteered before the event, putting up signs along the route with facts about relationship violence. Among them were statistics saying most victims of sexual assault know their assailants. Other signs offered guidance on how to support survivors.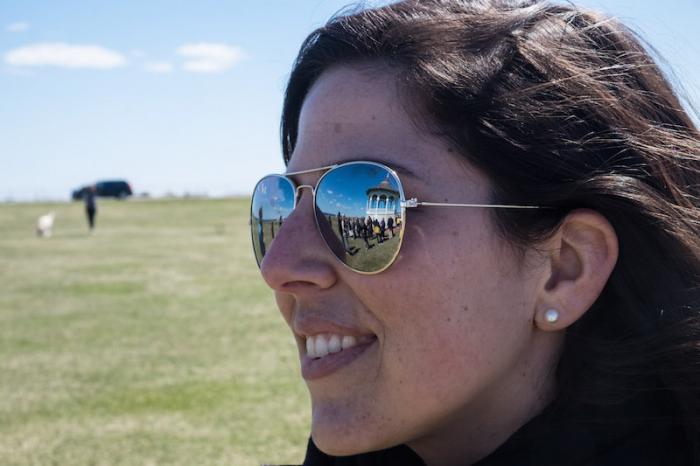 People along the route stopped what they were doing to watch the walkers, smiling from entryways to businesses, honking car horns, or looking up from a boat docked at the harbor.
Julie Fay is executive director of Martha's Vineyard Community Services, which includes Connect in its programs. She said the walk is always compelling, but the #MeToo movement added an extra layer of poignancy this year. On the Island, she said she was happy with the work being done to support victims.
"I think the collaboration between local law enforcement and Connect staffers has never been better," Ms. Fay said.
That collaboration was evident Saturday. Representatives from law enforcement, including Sheriff Bob Ogden, walked too.
"As a child that was touched by domestic violence, it's important to shed light on this issue," Mr. Ogden said.
Karen Coffey, a sexual assault survivor, offered advice to victims: "Seek help. It's out there, and it's free," she said.
Many have. Connect to end violence served 226 survivors in fiscal year 2016.
The first step in supporting a survivor, according to signs along the route, is to believe them.
Heather Arpin, member of the Connect staff, led the walk with that message, holding up a sign that said simply: "Listen."