Turning out in large numbers at their annual town election Tuesday, Tisbury voters narrowly rejected the $46.6 million new school project, throwing future plans for the school into limbo.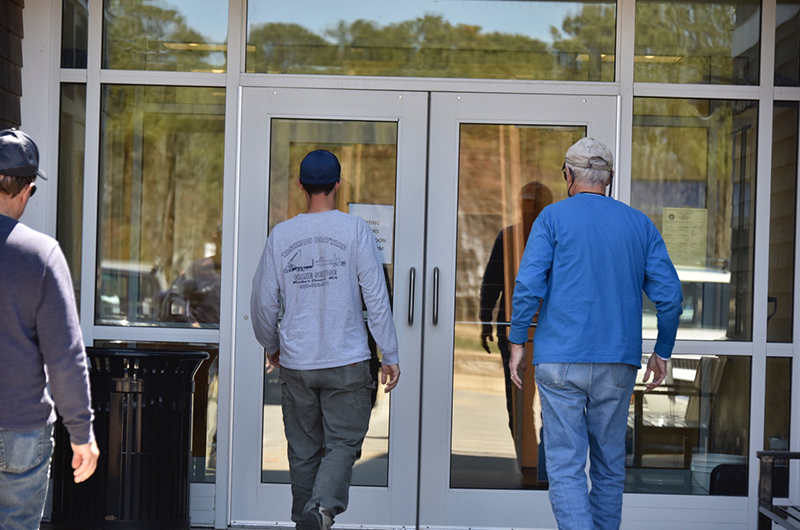 The hotly-debated school project had won approval by a wide margin at the annual town meeting in the second week of April. But in the end it failed to clear the ballot box, where voters rejected a Proposition 2 1/2 debt exemption question 567 to 546, a margin of 21 votes.
The next steps remain unclear, as millions of dollars in state funding for the project hang in the balance.
"I sufficiently prepared myself for either result, but I was certainly disappointed," said school principal John Custer after the vote. "I had a feeling it was going to be a very close vote, and it was," he added.
"The town spoke, but it was definitely disappointing," said school building committee chairman Colleen McAndrews. "But we'll keep moving along with the committee and see what happens."
The building committee meets Monday at 5 p.m. in the school library to discuss the outcome and next steps. Other town officials are also expected to attend.
Led by its broad-based building committee, the town has been working under the wing of the Massachusetts School Building Authority for the past two years to develop the plan. It called for building a new 76,000-square-foot school on the existing site and housing students in the 1929 brick school during construction, before eventually demolishing that building. The town was eligible to receive $14.6 million in state reimbursement money for the project, leaving taxpayers responsible for $32 million.
The school question has divided the town and dominated community discussion for months.
On Tuesday voters streamed to the polls at the public safety building all afternoon on a sunny spring-like day.
Students played outside at the Tisbury School across the street, and parents and students gathered with signs encouraging a yes vote.
"I'll stay as long as needed," said Janet Cummings, mother of two Tisbury school students. "We're here to give any positive reinforcements to get people to vote yes as they walk in."
Casey Decker, a civil engineer in Tisbury, voted yes on the project.
"I'm concerned about property taxes," he said as he left the polling place. "But it's worth the investment."
Other voters felt differently and were concerned about the impact on property taxes. Some vocal critics believe the old school should be renovated not demolished, an option the building committee explored at length but eventually decided against for a variety of reasons, including cost estimates that came in even higher than a new building.
Some voters at the polls said they were against the project but declined to give their names.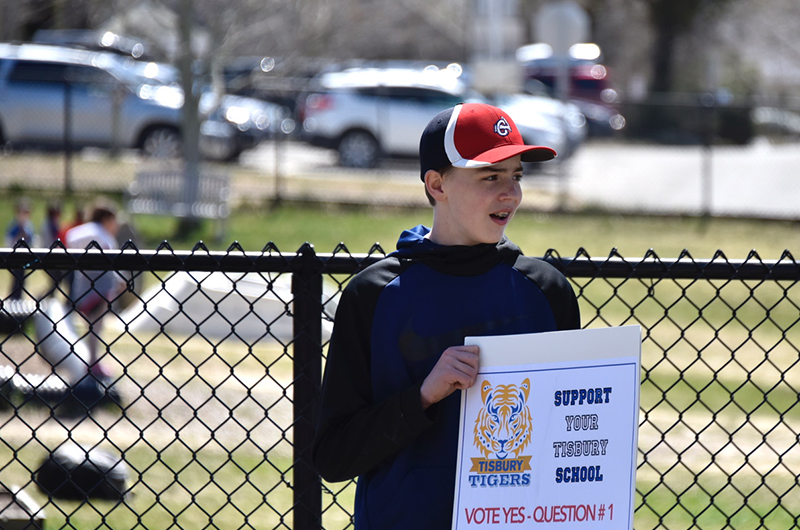 Emily Taylor voted yes on the school question. She handed her I Voted sticker to her two-year-old daughter Vianna Baird, who held the sticker on her thumb.
"The decision was easy," Ms. Taylor said. "I went to the Tisbury School and I hope my daughter will also attend. It is much needed and it's important to the youth of our community to have a new school."
Total turnout was 1,120, about 32 per cent of the 3,529 registered voters in town.
A few minutes after the polls closed, election warden Mary Ellen Larsen read out the results.
"I'm very disappointed," Vineyard schools superintendent Matthew D'Andrea said by telephone later. "I was more optimistic, I thought we'd have a better result. Now we'll look at the next steps with the MSBA."
Mr. Custer said he is an educator not an engineer, but after years of planning, he believes the project as proposed was the best option.
"A lot of those opposed believe there is a better project for this town. I hope there is. But in my opinion, thus far, there hasn't been a better one than the one we've been presented with," he said.
The town has already invested in the early phases of the project. In 2016, voters appropriated $825,000 for a feasibility study. Most of that funding has been used to hire an owner's project manager,
Daedelus Projects, and Turowski2 architects. Funding has been used to assess various options for school improvements, including building a new school on a different site and renovating the existing school.
Mr. Custer said whatever happens, there appears to be agreement that the school is in need of serious improvements. For more than a decade, some classes have been taught in a modular unit outside the building. The small cafeteria with its limited capacity means students have extra short lunch periods. Mr. Custer said there is insufficient space for educational support services and special education.
"There's no one that I'm aware of that's questioning the need to do something," he said. "That's what's disappointing. Because we had something."
More results from the Tisbury annual town election.