When the Minnesingers walked on stage Sunday afternoon, wearing black and white floor-length dresses and tuxedos, the audience applauded. When the red curtain rose up behind them revealing dozens of Minnesinger alumni of all ages, the audience erupted in whoops and hollers.
If nostalgia could be performed, this was the venue. The 50-year reunion show left even those attending their first Minnesingers concert feeling as though they too remembered the good old days: traveling around the world to perform in Nova Scotia, Italy and France, wearing wonderful costumes, rehearsing and rehearsing and rehearsing.
Guest conductors for the first part of the show included Robert Nute, who directed the group from 1971 to 1999.
"He was the Minnesingers director when I was in high school, and the reason I went into music as a career," said Abigail Chandler, who will take over as director next year.
As part of the choral show, the high school group performed Five Nursery Rhymes arranged by Ralph Hunter, just as the very first group of Minnesingers had 50 years ago. During the Little Jack Horner verses, Kenny Ivory of Edgartown ran up to the stage, grabbed the mic at the right moment, and shouted "What a good boy am I!"
Mr. Ivory was one of the original members of the group in 1968. When they performed that song, he always said that line.
"Once a Minnesinger, always a Minnesinger!" he said, drawing applause.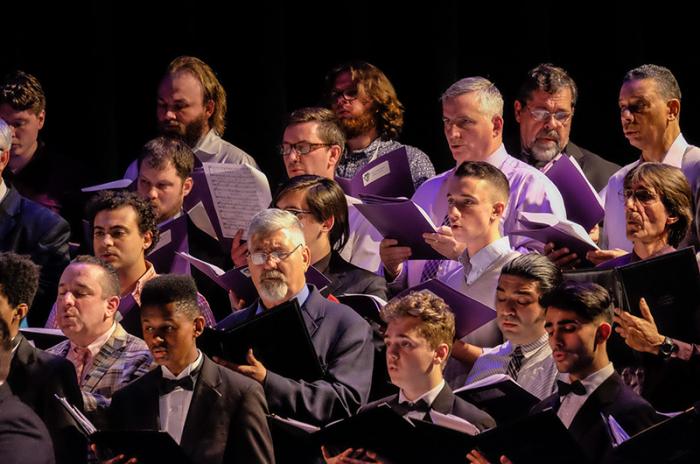 During the dance show, the high school singers began with a Beatles medley, followed by ongs from each intervening decade, from Jim Croce's Time in a Bottle, performed by Devon Teves, to Man in the Mirror, performed by Victoria Miranda, to NSYNC's Bye Bye Bye.
The weekend concerts were the last to be directed by Jan Wightman, who has led the group since 2006 and is retiring this year. At the end of the show, the group called Ms. Wightman up on stage, sat her in a chair facing them, and began singing Tom Chapin's Pass the Music On.
For the good times and the high times,
Through the suffering and pain;
It's the song of generations singing in my veins.
I still hear that old-time music
Of good friends now long gone.
I am here tonight to pass the music on.
Ms. Wightman stayed in her chair for only a little while, soon jumping up to hug her teary-eyed students and sing along.