A lone bid for the proposed new town hall in Oak Bluffs came in this week substantially higher than the money appropriated for the project, forcing town officials to consider redesigning and rebidding the work.
Dellbrook/J.K. Scanlan, a construction firm that has built several public projects on the Vineyard, was the only qualified bidder to submit a bid by the May 16 deadline.
The bid came in at $9.64 million, about $1.8 million higher than the $7.8 million appropriated at the 2017 annual town meeting.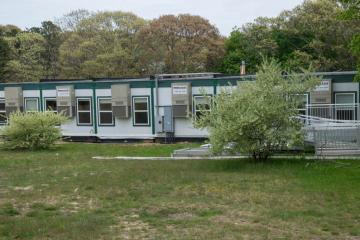 "It happens," said town administrator Bob Whritenour. "In this instance, because of that difference, it's unlikely we'll immediately issue a contract."
Town officials said they will meet with Scanlan next week to analyze the bid, but they were not optimistic that enough adjustments can be made to fit the available funding.
"We can't go forward with it," said building committee chairman Bill McGrath. "We're going to have to change the scope, and rebid it most likely. It's pretty discouraging to go this long, and think it was in the bag, and it's not."
John Keenan of Keenan + Kenny Architects, Ltd, the Falmouth firm that designed the building and helped prepare the cost estimates, said he has never seen a bid come in so far over projected cost, especially considering that the added cost of building on the Island was built into construction costs.
"It was shocking, it was absolutely shocking," said Mr. Keenan. "It's a sign of the times. Everybody is so busy, and you pay a premium to build on the Island."
Any delay in the planned construction schedule could throw a monkey wrench into the original plans. Town workers were scheduled to move into temporary mobile trailers this week, in anticipation that the current building would be demolished and the site prepared for the new construction.
The mobile trailers are already in place on town-owned property across the street from town hall.