On Saturday, Grange Hall was abuzz with signs of summer for the opening of the West Tisbury Farmers' Market. As customers wandered through sun-soaked crowds to procure lime-ades, boxes of chocolates, artisanal cheeses, and other long-awaited June produce, the market proved itself to be a sharp rebuke of this year's unusually harsh winter and spring.
Stannard Farms purveyor Lisa Fisher had choice words for the past sixth months. "It was like riding a yo-yo," she said. "But now that we're here, everything is right again."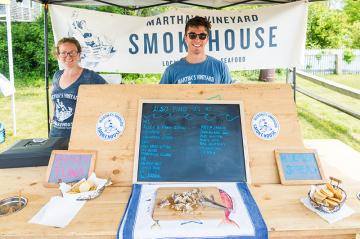 Ms. Fisher had organic Swiss chard, beans, mustard greens, and garlic scrapes for sale, but it seemed her customers came for hugs just as much as they came for produce.
Although the market had a few unoccupied spaces, buyers and sellers alike echoed Ms. Fisher's sentiments.
"What a wonderful day to start out," said Debby Ware. She blamed the unoccupied spaces on the cool spring, but felt confident that in a couple weeks the market would be full. Her stand, Knit Goods, produces yarn from sheep's wool. This is Ms. Ware's first Saturday at the market, and she considers herself lucky to have one of the coveted spots.
Becky Bonds was even luckier. According to market co-manager Collins Heavener, two thirds of the market stands must be farms. That leaves only one third for what he calls "value-added companies." Ms. Bonds' stand, Head High Kombucha, fits that bill. She made the most of her first day, handing out popular mango-peach kombucha samples to curious attendees.
One attendee, Herb Foster, donning his World War II veteran cap, wasn't sold. "The farmers' market is becoming a food court," he joked.
Even so, most stands at the market are Island institutions. Linda Alley, colloquially known as the "Jam Lady," has set up a stand for 31 years.
"All the people walking around, it just excites me," Ms. Alley said over the market band's rendition of Octopus's Garden. "And seeing everyone I've known for years and they come back every summer, that's really nice."
Unfortunately, one market mainstay wasn't there for the opening this year. Thi Khen Tran, better known as "The Egg Roll Lady of Martha's Vineyard," passed away at age 80 in October. Her grandson, Anh, has taken over most of the cooking responsibilities, allowing the business to live on.
"It's been a wonderful journey, and we've loved every minute of it," said Daisy Lifton, who grew up with Khen as her nanny and was working at the busy stand near the front of the market. Customers were also happy to know that the journey would continue.
"Sometimes we only come this far and leave," said one eggroll loyalist. "But we always come back."
More photos from opening day at the market.
The West Tisbury Farmers' Market is Wednesdays and Saturdays 9 a.m. to noon.