For decades, the West Tisbury Farmers' Market has provided Island residents with fresh produce, handmade jams, artisanal cheeses, invigorating juices, egg rolls...
Wait. Egg rolls?
Yes, egg rolls. And spring rolls. And authentic southeast Asian cold noodles, too. All courtesy of longtime Martha's Vineyard resident and Vietnamese immigrant Thi Khen Tran.
"If the eggrolls weren't here, I'm not sure we'd be able to get up and go," said seasonal Islander Tamara Markey. The egg roll stand's popularity has even spread to the mainland.
"We've been coming here from New Hampshire since I was five," said Alexis Hartnett. She's now 25.
This year annual egg roll returnees like Ms. Hartnett and Ms. Markey noticed something different about the stand. Ms. Tran, affectionately known as Khen, who had been the face of the business for nearly two generations, died in the fall at the age of 80. When one longtime customer heard the news, she broke down in tears.
"Khen was a pillar," said Ms. Markey. "I pray they pass the torch."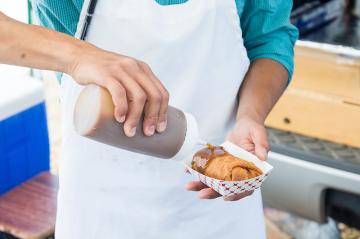 The torch has been passed to Khen's grandson, Anh, who has quietly helped with the business for most of his life. When his grandmother got really sick last fall, Anh decided to move back to Martha's Vineyard from Boston, where he was apprenticing as a baker.
"I thought, it's not about me anymore."
Although baking is Anh's true passion, he's loved the Vineyard and cooking since he came over from Vietnam in 1998 with the rest of the family. He was nine when they made the trip.
"I didn't know I was going to become a cook, I just cooked with my grandmother," he said. "We helped her, of course, because as a kid you get to use the knives!"
Today, Anh's kitchen in West Tisbury has stainless steel accessories, multiple double-door fridges, cooking racks, and a pristine, chromatic shimmer that even Gordon Ramsay would have trouble chiding. Anh listens to Carmen McRae and Frank Sinatra as he dices hand-picked vegetables from the family's garden. They grow enough produce outside their house to be 90 per cent independent from grocery stores. It wasn't always like that.
Anh remembers helping his grandmother at the market when he was a kid. "They didn't sell food off a table, they sold food out of a milk crate. And before that, they'd cook food in a regular kitchen then run outside to fry the egg rolls outdoors. I can't even imagine what it was like."
Khen came to the United States in the 1960s to work as a nanny for Bertrand and Lisa Taylor on Martha's Vineyard. It took years of hard work, creativity, and perseverance for her to build the business into what it is today.
"She sacrificed everything for this," said Daisy Lifton, (formerly Daisy Taylor who was one of the children Khen looked after). Ms. Lifton now works at the stand on Saturdays. "She didn't go to the movies, she didn't buy clothes. Everything she did was for the sole focus of her family."
Ms. Lifton lit up when she recalled memories of Khen as her nanny. "I can't imagine our lives as a Taylor family without Khen. She was extremely loving and kind. There was just a magnetism that she had, a motherly thing. My mother died young, so she was the glue that held this whole group of people together."
Khen was so industrious that she started her business while having full-time housekeeping and nanny responsibilities at the Taylor residence. "She had to clean my dad's house," Ms. Lifton said. "Iron sheets, wax floors, take care of children, and, of course, cook. She'd cook an entire separate meal for my brother just to make the things he liked."
Ms. Lifton's stepmother saw that there was a farmers' market, and suggested to Khen that she should get involved, and take the young Taylor's, and, eventually, her grandchildren, to help.
"On Saturday morning, she never did anything for the household. Instead, we were all helping her," Ms. Lifton remembered.
The business grew as Islanders became attached not just to the egg rolls but the woman who made them.
"At a certain point, we started working for her all summer," Ms. Lifton said. "And then other people became involved. Boyfriends became involved, in-laws became involved, cousins were involved. People just wanted to be a part of it."
Ms. Lifton mentioned one little girl, Claire Pasternack, who loved Khen so much that she begged her mom to help. She worked throughout her teens, and then went on to study at Harvard.
"I'm telling you, this is good training," Ms. Lifton said.
But the person who Khen trained the best, of course, was Anh.
"When I first started," Anh said, "I would work for 36 hours straight, cause I was so slow, and not very efficient."
As he's gotten better at the job, he's cut that time down to 24 hours.
"I don't feel it," he laughed. "Sometimes I feel high off it. It's like, oh, let's keep going."
"He's totally ready to do it," Ms. Lifton said. "We didn't know if anyone would be able to take it over. I mean, he's her grandson, not son, but it's worked out just right for him, and she really wanted it for him. And if he's happy, then she's really achieved her life's work."