One of the secrets to good cooking is stocking your pantry and fridge with high-quality, delicious ingredients. In fact, if you've got great ingredients you don't need to be the best cook on the block — you can fake it. But regardless of your cooking acumen, to survive the Vineyard summer, with house guests, spontaneous gatherings, picnics and busy weeknights to contend with, you need a strategy and a source for killer ingredients.
For my money a good strategy starts with filling your pantry with grains, noodles, canned beans, nuts, condiments, oils and vinegars, spices and salt as well as a few specialty items, things like coconut milk and curry paste, capers and artichoke hearts, perhaps a few jarred sauces. Next, stock the fridge each week with fresh herbs, cheeses, yogurt, lemons, eggs, nut butters or pestos, a bit of cured meat or smoked fish. Lastly, if you have time, make a quick sauce (like the spicy peanut sauce here) that will last for a week in the fridge and perk up any dish. With these things on hand, you can bring home your fresh vegetables or a nice piece of fish or meat and turn them into delicious dinners easily.
Now what about the source for all those ingredients — or for those last-minute vegetables or pieces of meat?
If you live up-Island, consider that question answered: Rose Willette, former proprietor of Fiddlehead Farm, is back in the food business, and she's just reopened the old Fiddlehead space on State Road as North Tisbury Farm & Market. Her daughter Lexi Willette is teaming up with her to help run the business. Out back, a young farmer, Nicole Parkhurst, is managing the vegetable-growing operation on the approximately one fifth acre of land behind the store. Kendra Mills, whose family owns the farm, is helping Nicole with the growing operation.
Rose is in her comfort zone. The store reflects her warm aesthetic: a milk-glass cake stand here, a row of old bird houses there. Shelves built from wooden produce and wine crates, a pipe-and-board baker's rack straight out of a boulangerie, roses climbing up the front steps, a row of flower-filled bushel baskets so pretty it's worth the stop alone to look at them. This is a place that makes you feel good even before you look more closely at the food.
Once you do start shopping, you'll get a sense of Rose's philosophy: well-crafted local and regional foods first (MV Sea Salt, Chilmark Coffee, Not Your Sugar Mama's dips and spreads, coconut milk drinking yogurts from Edible Wellness, pies from Pie Chicks), filled in with American artisanal products (Stacey's organic tortillas, Farmtrue ghee), and a few essential European ingredients (Parmigiano- Reggiano, Spanish olive oil).
"What I'm really looking for are products that are responsibly made, grown, and raised — good clean products, minimal packaging," she says. "Fortunately I'm finding that there are just so many people making great stuff now. It's really fun. I'm especially impressed by all the empowered young women in business."
The store also has things you might not find elsewhere on the Island. "I can afford to carry some of these lesser-known but high-quality products because I'm able to talk to customers and explain the product or offer suggestions for how to use it. That's not practical for a grocery store — to have someone in every aisle describing a product!"
It's the same way with cheeses, Rose admits. "I know their stories, and I've been to many of the farms," she says. Most of the cheeses she carries are from New England. "From my experience of tasting an awful lot of cheese, there are just great cheese makers in our region," she says. One of her favorites right now is Jasper Hill's Winnimere, a rich, creamy washed rind cow's milk cheese wrapped in spruce strips that can be eaten with a spoon when it's ripe.
This week Rose was finalizing plans to carry bread and possibly pastries from Maison Villatte — big news for Island fans of the Falmouth French bakery. White Lion Baking, also on the Cape, is a dedicated grain-free, gluten-free company providing North Tisbury with gluten-free bread, crackers and pastries.
The store's meat and charcuterie case has items like the award-winning (American) prosciutto from La Quercia, smoked duck breast and duck confit from Bella Bella in Connecticut, lamb merguez sausage, chickens from local farmer Jefferson Munroe's the GOOD farm, and steaks from Kinnealey in Boston.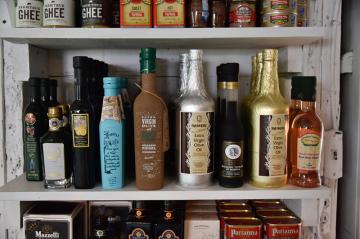 Sometimes, charcuterie or a little bit of preserved meat can be the jumping off point for a quick dinner: Rose makes a pasta dish with shredded duck confit and pappardelle. "I throw the confit in the sauté pan with some shallots, some capers, a little wine, a little stock, and I finish it with a tiny bit of heavy cream (because that's me), some cracked pepper, and a little bit of shaved Parm. And it only takes me 15 minutes."
Though there are new olive oils and exciting condiments and sauces coming into the store every day, what Rose seems most excited about this time around is vegetables — especially the ones they're growing right out back. They've come up with a pretty cool idea to cut down on waste and to help customers get one step closer to the source of their food: They will harvest to order. A blackboard over the produce case will list what's ready to be harvested and customers can ask for what they'd like.
"What I want to do with this store is connect people to the food that they consume," Rose says. "And to focus on ingredients to make delicious meals."