That honey had me at hello. It was the color of late afternoon sunlight falling across an October field. The label said Chilmark. It was 2008, my first year on the Island, and I was still stumbling around trying to get a foothold, feeling a bit untethered. And definitely still trying to shake off the suburban supermarket blues and reignite my lost connection to real food. Now here was this Vineyard potion, winking at me like gold dust in a creek bed.
I took it home. I put the big jar on the windowsill over the kitchen sink in my quirky off-season rental. Most every day, I ate a spoonful or two in one way or another. The texture was so velvety that it coated my mouth like a lollipop. The flavor wasn't subtle — slightly grassy, a bit spicy, and sweet in a complex way like I'd never tasted. Days passed, measured by honey consumed. I bought boots. I made friends with a pig (and some farmers). I picked wild watercress and black raspberries, plucked mussels from rocks at low tide, made frittatas from fresh eggs. Before long I was scraping the bottom of the honey jar, and feeling like the Vineyard just might be home.
Of course once the Vineyard casts its spell on you, you will do anything to stay here. Short a pair of ruby slippers, I figured I'd better get more of this potion, this raw honey, lest someone drag me back to the land of I-95 and shopping malls. I began to ask around about the Island Bee Company. That's when I heard about Tim Colon's expert beekeeping skills, and the hives he had set up at Island farms and properties all over the Island. A boat builder and craftsman, Tim's reputation for quality and thoughtful attention to detail preceeded him.
But it would be many jars of honey and several years later until I formally met Tim's wife Tricia Sirakovsky — the other half of Island Bee Company — at a winter farmers' market at the Ag Hall. While Tim and Tricia set up their first hives in 1999 (their kids Felix and Esme sold honey at the end of the road) and then began selling in Island stores (I got my jar at SBS), Tricia didn't set up a booth at the West Tisbury Farmers' Market until five years ago. (These days, you can only buy Tim and Tricia's Vineyard honey through Tricia at the farmers' markets; they also package and wholesale raw, local honey from a Massachusetts beekeeper under the Island Bee Company label which you can purchase in local grocery stores.)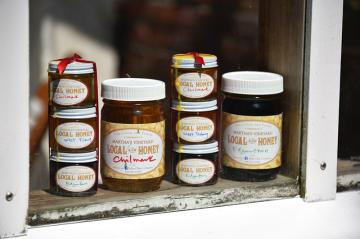 If you've ever tried to talk to Tricia at a Farmers' Market you know this: Island Bee Company's raw honey is very popular. Tricia is bombarded by loyal customers (who bring their honey jars back for recycling) and often runs out of one thing or another. The other thing you probably know is that Tricia is totally charming — a fact that completely delighted me when I met her after eating her delicious honey all those years.
Tim and Tricia now keep about 60 hives around the Island, and in a good year they'll extract as much as 3,000 pounds of honey, mostly from two extractions in July and August. Tricia has expanded the business by using just about everything they harvest from the bees in new products: 100 percent beeswax candles in a variety of shapes and sizes, emollient moisturizing hand bars, a tincture and a throat spray of propolis (a resinous material bees produce that is believed to offer protection from some bacteria and viruses) and something new she is particularly excited about called Hive Five, which uses all five products bees produce: honey, pollen, propolis, beeswax and royal jelly. Those ingredients are mixed with Martha's Vineyard rose hips-infused avocado oil to make a topical skin "food" that is a very deep moisturizer, particularly good in winter.
"I don't always have everything; I'm just a one-man shop right now," she laughs, wanting to make sure that customers know she comes to the market with her best efforts. Tuesday nights and Friday nights she cloisters herself in the workshop, getting in her "Zen state" to package and organize everything for the market.
But there is always that honey — raw honey, which hasn't been heated beyond about 115 degrees. (Commercial honey can be pasteurized and/or super-filtered, which removes pollen.) Each of the jars Tricia brings to the market has a town designation — Chilmark, Edgartown, or West Tisbury (in smaller supplies), and within those town harvests, the honey will differ in color and flavor depending on the season. On the Island, honey is influenced by locust blooms in the spring and clethra (sweet pepperbush) blooms in mid to late-summer. In Edgartown, the later harvest might be influenced by Japanese knotweed, which lends a distinctly dark color and a flavor difference which Tim and Tricia compare to the difference between Grade B and Grade A maple syrup. "You could also think of the spring honey like a light beer, and the late honey as being more like a stout," Tim notes.
The best way to figure out what you like, of course, is to taste. "We have people who come to the Farmers' Market and taste the honey and can't even believe it's honey. It tastes nothing like any honey they've ever had before," Tim says.
It's those flavors that put it in my head to ask Tim and Tricia about how they cook with their honey. Once the question was out of my mouth, I felt rather silly, as of course they don't really "cook" with their honey much since heating honey to a certain temperature destroys the antimicrobial, antioxidant and antiviral qualities that modern science can't quite put a finger on, but that conventional wisdom and experience support.
"For years, I've pretty much eaten our honey straight out of our warmer on yogurt or kefir. That's how I like it — especially our clethra honey on Mermaid Farm yogurt," Tricia says. "And if I'm invited to a dinner party, you can count on me bringing a chunk of honeycomb for a cheese plate."
I had to admit that Island Bee honey atop Mermaid Farm yogurt (I'd add a few berries) could be the start and end of this whole cooking discussion, as that combination is good enough to eat every day.
But that didn't stop my cooking brain from thinking of all the ways you could use their honey without adding a lot of heat. I make honey whipped cream to serve with blueberries now or roasted pears in the fall. I make honey-thyme-lemon salad dressing. I make a grilled pizza topped with sautéed shiitake mushrooms, blue cheese, arugula, and a drizzle of honey. I like to cut kale or collards into thin ribbons, sauté it (with shallots or garlic) until browned and crisp, and drizzle it with dark honey when it comes off the heat. In the fall I toss roasted butternut squash cubes with honey, rosemary brown butter and toasted pine nuts.
You could also make a quick and delicious cabbage slaw with nothing more than lime juice, honey and salt. Use the same ingredients to turn local Sungold tomatoes into a quick salsa. Put honey in a vanilla ice cream custard. Shoot, I even drizzle honey on an egg sandwich made with a freshly baked biscuit.
You can try it a million ways — you've got time, since honey doesn't go bad. Remember, don't throw it out if it has crystallized! Just (gently) heat the jar in a water bath to reliquify the honey.