Highlighting a long-simmering labor dispute, about 20 members of the International Association of Fire Fighters (IAFF) came before the Oak Bluffs selectmen Tuesday following a day of informational picketing around town.
Wearing yellow T-shirts that said "Keep Politics Out of Public Safety," the firefighters called attention to the ongoing dispute in the town fire and emergency services department.
Salaried members of the department formed a union about a year ago. Negotiations have been contentious.
Three separate complaints, which include 23 allegations of unfair labor practices that violated state law, are now before the Massachusetts Department of Labor Relations. Hearings are scheduled for next month.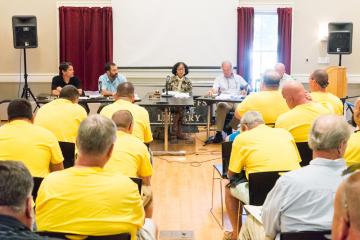 Three years ago, the town combined the job functions and training of salaried EMT personnel and firefighters, in order to have medics on duty at the station respond quicker to fire calls. In November of last year, on the recommendation of fire and ambulance chief John Rose, the selectmen voted to separate the functions.
On Tuesday, leaders of the firefighters union asked the selectmen to reverse that vote.
Jay Colbert, vice-president of the IAFF, said having call firefighters respond while trained EMT/fire fighters remained at the station creates a public safety hazard.
"I don't think the people in the town know what impending doom it could be," Mr. Colbert said. "This is a public safety hazard. I don't want to predict a public safety tragedy happening, but I don't want to be ignorant to the fact that it has the potential."
Selectman Brian Packish took exception to the remarks.
"This impending doom, I just personally, I can't sit with it," he said. "To project that on our community imply that somehow someone is deficient or could be deficient, it's unfair."
The next day, fire chief John Rose responded.
"Our community is as well protected today as it has ever been," Chief Rose said. "The men and women of the call fire department are the ones who are truly protecting and serving our community."
In other business Tuesday, selectmen learned that budget overruns in the police department, legal services, building maintenance and other items forced the town to take $73,485 from free cash reserves to make ends meet for the fiscal year which ended June 30.
In end-of-year accounting, the town transferred $424,330 from accounts with unexpended funds to accounts which exceeded budgets for the fiscal year.
Selectmen voted unanimously to approve the transfers. The town financial advisory committee voted to approve the transfers by a 5 to 3 vote at a meeting a earlier in the afternoon. The approval of both boards is required under town bylaws.
"We reluctantly approved it," said financial advisory committee chairman Bill Vrooman. "We were very concerned, specifically with the police department. We would also, with our approval, recommend the police department's fiscal practices be looked at."
The line item for professional and technical services, which includes legal expenses and consultant services, went over by $62,235.
The town's contribution to employee medical insurance coverage was over by $30,225, while other insurance expenses were over budget by $47,536.
Public building maintenance costs exceeded budget by $35,284.
The largest overruns, however, were in the police department.
The account for additional salary expenses, which includes overtime pay, ran over by $94,530. The account for summer, temporary and special police officers exceeded budget by $61,973.
Police chief Erik Blake told selectmen the overruns are due to a change in policy which requires police department personnel to use up accrued vacation and compensatory time. The town changed the policy to avoid large payouts to officers who left the department with hundreds or thousands of hours of accrued time owed to them.
"That's a monumental shift in what we've done in years past, where we let them accrue, accrue, accrue," Chief Blake said. "At some level, I have to fill it. We use a combination of overtime, we use a combination of special [officers]. It caught up to us."
Also Tuesday, selectmen voted unanimously to endorse a new operating plan for Vineyard Youth Tennis. With the program's benefactor due to bow out in the fall, Youth Tennis is reorganizing to keep the program economically viable.
The group wants to begin offering adult tennis services for a fee and charge a nominal fee for youth tennis, in order to cover the cost of court maintenance, overhead, and tennis instructors.
The change in the operating plan will require modifications of the tennis program's special zoning permit.
Vineyard Youth Tennis will now apply for the modifications with the Oak Bluffs zoning board of appeals.