When a Martha's Vineyard woman needs an abortion, she must travel off-Island. She will need to miss work, find child care and pay for the ferry, gas, a bus ticket. If she is struggling financially, it will be especially challenging. If she doesn't speak English, it will be daunting.
"It should strike you as ironic that . . . a woman can get an abortion at a clinic in Jackson, Miss., but here on Martha's Vineyard there's no abortion access," Dr. Willie Parker said during a panel discussion on abortion access on the Island last Saturday evening at the Old Whaling Church in Edgartown.
Dr. Parker, author of the book Life's Work: A Moral Argument for Choice, joined Andrea Miller, president of the National Institute of Reproductive Health, Elizabeth Barnes, president of The Women's Centers, and Amy Brenneman, actor and abortion rights activist, for a conversation that addressed the state of access on the Island and took on the national status of abortion rights since Roe vs. Wade.
The panel was hosted by Friends of Family Planning and was titled Lifting the Veil: Shame, Secrecy, and Abortion Access on Martha's Vineyard. Themes of shame and stigma were throughlines in the wide-ranging conversation, moderated by Gazette publisher Jane Seagrave.
One audience member asked whether abortions could be accessed in a truly confidential setting in the small Island community. Ms. Barnes, who is also an Islander, said stigma is a factor on the Island and off.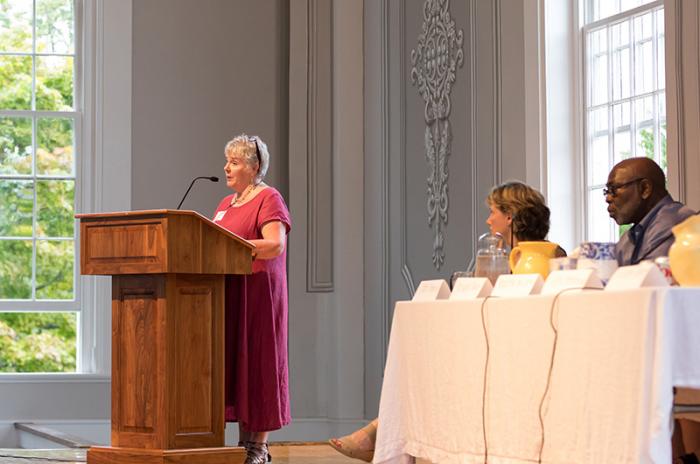 "The shame and stigma... has been as successful here as anywhere else," she said. But she said there are opportunities for understanding and empathy in a place where privacy is limited.
"There are guys who I went to high school with [on the Island] who can't stand what I do, but would absolutely defend me at any cost, and I know it," she said. "And I don't know that in other places."
Ms. Brenneman said she hopes that women who have had abortions will begin to come forward to tell their stories to normalize the procedure. She terminated a pregnancy while a student at Harvard in the 1980s and said positive narratives are largely absent from the discourse.
"How about women [who are] relieved and grateful and joyous?" she said.
Beyond the social aspects of the issue, panelists discussed the legislative environment around abortion. Ms. Miller said though Roe vs. Wade made the procedure a constitutional right, abortion is really regulated at the state level.
"What people may not realize is that since Roe, we've had more than 1,000 laws passed at state legislatures against abortion," she said. She cited laws requiring young women to get permission from parents or a judge to get the procedure, and laws requiring women to seek counseling or go through a waiting period as examples. "For so many women across the country, the right that Roe recognized is really a hollow promise," she said.
With the nomination of conservative judge Brett Kavanaugh to the Supreme Court, Ms. Miller said she doubted that Roe vs. Wade would be formally overturned, but said abortion rights are more likely to be threatened through a series of more complicated caveats.
"It will be harder for people to understand what's happening," she said. "So I urge you to think about this not as do we have Roe or do we not have Roe, but to have the conversation about, is this available, affordable, accessible?"
She and other panelists emphasized that abortion is least accessible to women who are most vulnerable: those without the resources to travel or pay for the procedure. Ms. Barnes brought up additional complications for Vineyard women who are undocumented and afraid to travel off-Island.
"You are now taking the problem of having to leave the Island for a basic legal healthcare service which is extremely common, to a level where you could be prosecuted or lose your family connections as a result," she said. She added: "We need to see it through the lens of people who can't buy a bus ticket, or stay at a hotel in Boston, or have a friend whose car is on the other side, or can read the bus schedule, or read English."
Martha's Vineyard Hospital president and chief executive officer Denise Schepici was expected to sit on the panel but ultimately decided not to participate. In a statement read before the discussion began, Ms. Schepici said she had already publicly discussed the hospital's policies on abortion services and wished to cede her time to the other panelists.
Ms. Schepici has said that there is not enough demonstrated need to warrant expending the resources necessary to provide abortions at the hospital. Abortions are not offered at the Family Planning of Martha's Vineyard clinic either. The clinic is part of Health Imperatives family planning and reproductive services program and is partially funded by federal Title X funding.
Demand for abortions on the Island is difficult to track, according to Susan Desmarais, board president of Friends of Family Planning. In 2017, clinic records showed there were 18 positive pregnancy tests, and 16 of those pregnancies were unplanned. Twelve of those patients chose to have an abortion. But Ms. Desmarais said the numbers do not provide the whole picture because not all women in need of services go to the clinic.
"Because of privacy laws we have no way of knowing how many more Island women chose termination," she said in opening remarks on Saturday. "For some women, especially younger women, they may take a pregnancy test at home and go off-Island for their care."
Dr. Laurent Delli-Bovi, founder of Women's Health Services, an abortion provider in Brookline, was in the audience Saturday and said her clinic provides abortions for about 18 women per year who list a Martha's Vineyard address. She said that number too was likely a low estimate.
"I'm not sure at all that, that is representative of all the people coming," she said. "You have summer residents and summer workers, and we're only capturing the people who give their address."
She added that her clinic is just one of many providers, including others in Boston and in Rhode Island, where Vineyard women are likely to seek abortions.
After the discussion came to a formal close, many in the audience of about 150 lingered to talk among themselves. They shared stories, statistics, introductions, and last thoughts with each other between the columns of the old church, continuing the conversation.