When Valerie Jarrett was working as deputy chief of staff for Chicago Mayor Rich Daley, a young woman came in for a job interview. When Michelle Robinson introduced herself, Ms. Jarrett did not know she was talking to the future first lady of the United States, but she was impressed.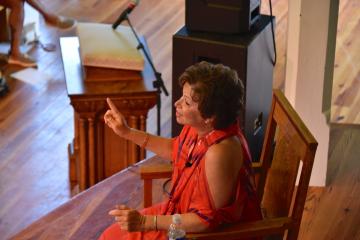 "She shook my hand, and she looked right at me and we sat down to chat," she recalled Thursday afternoon at the Union Chapel in Oak Bluffs, where she joined Oak Bluffs author Richard Taylor to discuss her life of public service and role as President Obama's senior advisor.
The chapel was packed and Ms. Jarrett was greeted with a lengthy standing ovation. Former Massachusetts Gov. Deval Patrick introduced her.
Ms. Jarrett said her interview with Ms. Robinson was scheduled to last 20 minutes, but they talked for an hour and a half.
"She just blew me away, so I said you've got the job. I had no permission to give her a job, I didn't talk to anybody about it, but I just knew she was perfect," she said.
Ms. Robinson got back to her a few days later and there was a problem.
"She said, My fiance doesn't think it's such a hot idea," Ms. Jarrett recalled. "So I said, well who in the world is your fiance and why do we care what he thinks?"
Ms. Robinson explained that her fiance was Barack Obama and he had worked as a community organizer on the South side of Chicago, often protesting against city government because of the inequities he saw there. The couple was worried about the optics of her working for the mayor. Mr. Obama suggested they all three go out to dinner to talk about it. It was a strange proposition but Ms. Jarrett accepted.
It was the beginning of a long friendship and career as advisor to the Obamas, first when Mr. Obama ran for state senator, then unsuccessfully for congress, then for senate and finally for president.
"Am I ever glad I went out to dinner with this couple!" exclaimed Ms. Jarrett.
She spoke about the challenges President Obama faced when he first took office. Rising unemployment, an economy on the verge of collapse, and two ongoing wars made for a daunting first term, but she said there was never a day she wasn't proud of their work.
"I loved my job. I just loved it. I felt like my whole life I had been preparing for this," she said.
Mr. Taylor asked about President Obama's focus on justice, specifically when it came to prison reform. She said the president commuted more sentences than the last 11 presidents together. Many of the sentences were for life in prison for nonviolent drug offenses.
"Our criminal justice system is anything but just," Ms. Jarrett said. "The United States has five per cent of the world's population and 20 per cent of the world's prisoners."
She told a rapt audience how Mr. Obama wrote each person whose sentence he commuted, telling them he believed they had the ability to turn things around.
"He said, I want to let you know I'm giving you a second chance because I read your story, and I believe in you, and I think you've earned it," Ms. Jarrett recalled. "We heard from many of these people who were reading these letters while they were still in prison, just sobbing and motivated that the president of the United States actually read my file himself, and gave me this chance."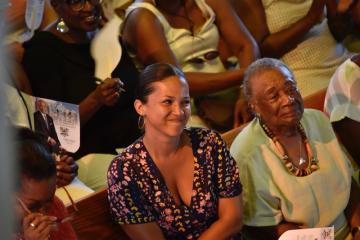 One audience member asked how the public should understand the Obamas' role today in light of a new administration that continues to reverse course on many of their initiatives.
"I think they have earned [the time for] a little relaxation," Ms. Jarrett responded in part. "They're up here now in their favorite vacation place just as you are," she said. "He said he would speak out — and he has — when he felt that the core values of our country were at stake."
More than once Ms. Jarrett took the opportunity to single out Mr. Patrick, who sat in the front row.
"As I have been saying to Deval Patrick, I have a very good eye for talent," she quipped, an open reference to the fact that the former governor is reportedly considering a presidential run.
She also took a moment to honor her mother, educator and author Barbara T. Bowman, and her daughter, journalist Laura Jarrett, who also sat in the front row.
"I wouldn't be who I am without my family," she said.
She said she has been visiting the Island since she was 10 years old.
"This place is a very special place," she said. "To me the magic of Oak Bluffs is its diversity."
The event began with a moment of silence for Aretha Franklin, who died early that morning.