In a time when the words "fake news" dominate national discourse and veracity seems generally sidelined if not threatened, former President Bill Clinton has made a somewhat unexpected choice. He has embraced fiction.
"Sometimes you can create more real feeling with fiction than with fact," he told a sold-out audience of some 700 people at the Performing Arts Center Wednesday evening. He joined attorney Robert Barnett to discuss his first novel, The President Is Missing, which he co-wrote with the best-selling mystery writer James Patterson.
The event was co-sponsored by the Gazette and culminated this summer's Martha's Vineyard Author Series.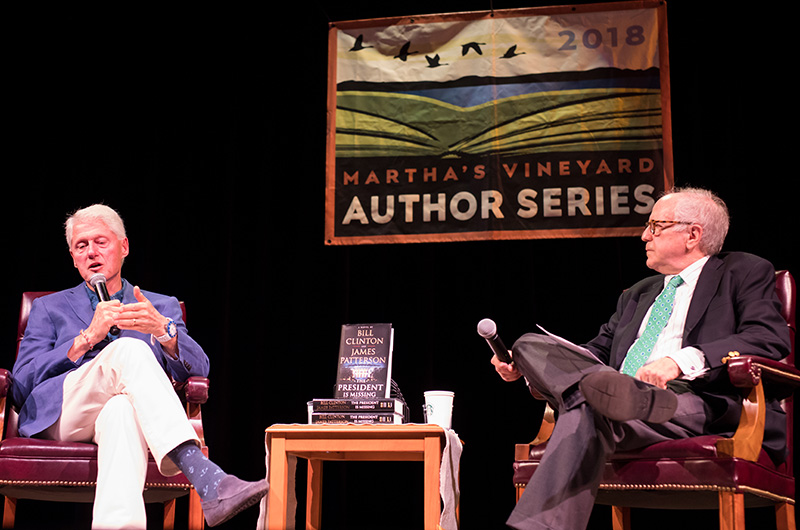 The 42nd President of the United States took the stage amid cheers with the audience on its feet, and then settled in for a talk that was part author, part personal and part political commentary.
Reflecting on the writing process, Mr. Clinton, who has written several nonfiction books, said he relished the opportunity to render characters until they became three dimensional.
"It's like painting, it's like having a painting on an easel that you can just keep going back to and make it deeper and more textured," he said.
The book, which was released in June, spent weeks atop the New York Times bestseller list, has been made available in 30 countries and was sold to the cable television network Showtime for a 12-part series. But Mr. Clinton said he means the book to be part of some very real, very critical conversations.
"I wanted it to be a thriller about something that could really happen," he said. "If you're going to make the president go missing, the only credible thing the story can be about is cybersecurity."
The book's central threat is a massive cyber attack on the United States, "designed to cripple our military, erase all our financial records, destroy our electrical grid transmission networks, break our water purification systems, disable our cell phones, and more," Mr. Barnett read.
Mr. Clinton said this area of the book was based squarely on fact.
"Every single one of those things could happen," he said, adding that the cyber warfare we've seen so far, while troubling, has paled in comparison to what is possible. "So far, most of the cyberattacks on America by other nation states have been for economic advantage or national security intelligence," he said, citing China's and Russia's theft of security intelligence and Russia's influence in U.S. elections. He said after those countries, Iran and North Korea are the next biggest threats.
"The thing that makes this so dangerous for any advanced society is everything's now connected. So everything is cyber-dependent."
He also explained why the novel opens with an impeachment trial.
"It had nothing to do with me or with what's going on now," he said. "What we were trying to show by starting the book with impeachment is the price
democracy pays for extreme polarization and demonization."
Mr. Clinton said his personal presidential experience influenced other aspects of the story, including the excruciating process of making decisions that will result in loss of life.
"The only way you can do it is to ask yourself if you're reasonably sure that if you're taking action you know will result in innocent people being killed, that you're saving more lives," he said. He talked about his response to Saddam Hussein's alleged plot to assassinate President George H.W. Bush in 1993, when he ultimately decided to strike the headquarters of the Iraqi Intelligence Service in retaliation.
"We hit it at night with long-range, smart missiles, so-called," he recalled. "Three of them overshot and landed in a prosperous Baghdad neighborhood and eight people were killed," he continued. "I hated it . . . but I knew that if we did nothing, he was going to kill more people."
Members of the former President's security detail stood at the doors of the auditorium and on stage throughout the conversation, which lasted an hour and did not include a question-and-answer session.
In a moment of levity, Mr. Clinton described a pleasant writing process with Mr. Patterson that began with a detailed outline. He said Mr. Patterson sent him a series of 20 questions only the President would know the answer to including, how a President might sneak out of the White House."The rest of the book kind of just wrote itself," he said.
"We had so much fun and we still do," he said of Mr. Patterson. "The whole thing has really been a real friendship." He praised Mr. Patterson's philanthropy, which includes donating portions of the profits from his books to reading programs and independent bookstores. Mr. Clinton patted the stack of his books onstage and said they had come from the Bunch of Grapes, the Vineyard Haven bookstore that was a frequent haunt of his when he spent summer vacations on the Island as a sitting President.
The eager audience clapped often and cell phones were constantly raised for photographs of Mr. Clinton. But the evening's longest round of applause was for Hillary Clinton, who made a cameo appearance at the outset when Mr. Clinton and Mr. Barnett made their entrance. Mrs. Clinton waved, and then disappeared stage left.
"That's the President we're missing," Mr. Clinton quipped.