You could choose your omen Sunday morning when the door opened to the weigh-in station for the Martha's Vineyard Striped Bass and Bluefish Derby at 8 a.m. sharp.
The pessimists among us might have been chagrined that absolutely no one was in line yet to weigh in the first fish of the year. The optimists among us might have been relieved, however, just seconds later to see the sun pop out from above an overcast sky and provide a little warmth on a morning with a nip of fall in the air.
"Where's all the fish," said derby president Ed Jerome after officially proclaiming the annual rite of fall on the Vineyard open for business.
"Welcome," Mr. Jerome added, addressing the small gathering, which included, according to one wag, more cameras than fish. "We're very pleased to be here and thank you all for participating," Mr. Jerome said. "Without you we couldn't be as successful a venture as it has been all these years. We're very proud to be part of one of the, maybe the biggest event on the Vineyard."
The crowd didn't have to wait long for the first excitement of the day. Caitlyn Parkhurst of West Tisbury walked in with the first fish just five minutes after hall-of-fame weighmaster Roy Langley rang the opening bell. It was a 12.23 pound striper, the first fish she has ever weighed in the derby.
"I went out with Ned and John Casey on their boat," Ms. Parkhurst said. "Started at midnight, got it at about 4 a.m. It was cold, but it was perfect. The water was like glass. It was a perfect night. There's all sorts of fish out there."
The first thing Ms. Parkhurst did was text her less ambitious fishing friends.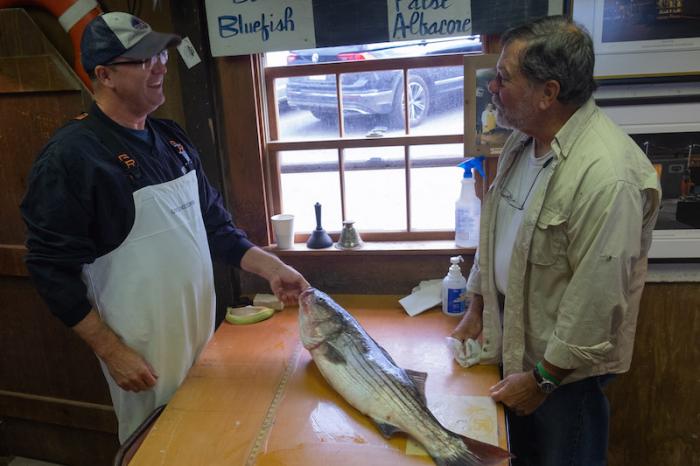 "I said why are you sleeping right now, I bet you wish you were out here with me," she said.
Veteran angler Ron Domurat was next in the door, just a few minutes later, with a 14.41 pound striped bass caught from shore.
Peter Shepardson was next with a 5.55 pound bluefish. He got two hits at once at his favorite fishing spot.
"I had a big bait on one of them, and he didn't get the hook," Mr. Shepardson said. "The second one, he got it. I thought, come on, please be a bass because he was fighting well. He came in and I said that's not a bass. Oh, I'll take that. I had been up since 3 a.m. and the sun was just starting to come up."
So Mr. Shepardson was first on the board for shore caught bluefish, a method he much prefers to fishing from a boat.
"Boats are cheating," he said with a laugh.
The derby continues for the next five weeks. The top prizes are a Cape Codder custom fishing boat for the lucky winner from shore, and a Subaru vehicle for the winner from a boat.