Tisbury selectmen voted Tuesday night to approve a three-year contract for new police chief Mark Saloio.
The new chief will be paid $155,000 annually with benefits, including four weeks paid vacation, according to the contract. He will also be paid $2,000 for relocation to the Vineyard.
Chief Saloio, a career officer and administrative lieutenant with the Sturbridge police department, will begin work on Nov. 5.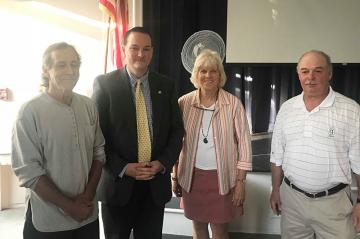 He attended the meeting along with members of his family, including his wife Meara.
"We're very excited," the new chief said. "I really look forward to working with members of the police department and on the good things to come in the future."
Retiring police chief Daniel Hanavan attended the meeting, and chairman of the selectmen Tristan Israel thanked him for his service.
"He's done a great job and hung in this year while we've been doing the search, and has really helped us out," Mr. Israel said.
The town will continue to pay Chief Hanavan until his contract ends next June.
Selectmen also appointed Johnathon Goeckel as a full-time police officer.
In other business, the board reviewed amendments proposed by the harbor management committee to the Tisbury waterways regulations. The recommendations focus on conservation moorings and run the gamut from house boat moorings to the definition of an active vessel.
After prolonged discussion saw little agreement on the proposed regulation changes, and the selectmen decided to send their comments back to the harbor management committee for further review.
"Obviously we have more to do on this," Mr. Israel said. "We'll have a discussion with [town administrator] Jay [Grande] and the harbor management committee and we'll bring it back to the selectmen . . . once we get all of that together we'll have a public hearing in the winter."
The board set opening dates for bay scalloping after hearing a report from shellfish constable Danielle Ewart.
Recreational scalloping begins on Saturday, Oct. 13 for the outer harbor and outside the ponds, and Saturday, Oct. 27 in Lagoon Pond. The commercial season begins on Monday, Oct. 15 in outside waters and on Monday, Oct. 29 in the Lagoon.
Family scalloping in Lake Tashmoo begins on Saturday, Nov. 17 and the commercial season will open on Monday, Dec. 3. Only dip netting will be allowed in Tashmoo.
There will be a sanctuary closure on either side of Hines Point this year to protect a set of juvenile bay scallops.
Ms. Ewart said next year the shellfish advisory committee is considering opening the scallop season later in the fall next year.
"The water is pretty warm this time of year . . . we're not going to have a great scallop year this year. Other constables are also in the same boat," she said.
Department of Public Works director Ray Tattersall gave a report on town efforts to fix drainage problems at the elderly housing complex Hillside Village. He said a crew visited the site on Tuesday and found a large amount of hazardous standing water.
"We may have to look at pumping to dry it out . . . and scrape up three to four inches of muck that's been building up over the years," he said. He said once he knows more about how what is in the water, he will meet with Bob Rafferty of the town sewer advisory board to come up with possible short and long-term solutions.
Martha's Vineyard Commission director Adam Turner updated selectmen on various projects and vouched for the finalized state plans for the Beach Road improvement project between Tisbury and Oak Bluffs, while also suggesting a few changes.
"We support the project . . . but we would also like to see the right of way reduced, parking restored to Wind's Up and a speed study so we can try to get the road speed reduced," Mr. Turner said.
MVC chairman James Vercruysse also attended the meeting and told selectmen that the commission unanimously approved the plans.
"We think it would be a really great first step to connect the two towns in a safe way," he said.
The state-funded project is scheduled to be put out to bid next May.