A standing room-only crowd packed the main courtroom in the Edgartown courthouse Thursday afternoon to honor superior court clerk Joseph E. Sollitto Jr. for his 42 continuous years of service.
On hand to pay homage to the respected clerk were retired judges, retired clerks, Island lawyers, nearly the entire courthouse staff, and many friends and family members. Proclamations were sent by the Massachusetts House of Representatives and Gov. Charlie Baker. Letters were read from the chief justice of the Supreme Judicial Court and the chief justice of the superior court.
The afternoon ceremony featured many of Mr. Sollitto's colleagues telling hilarious stories, sometimes at the good-natured expense of the guest of honor.
There was a story about the time as a young Oak Bluffs police officer, he locked himself in the back of a cruiser. There was a story about the time he ordered a court officer to go outside and commandeer a small flag that had seen better days, wipe the dirt off where it had been stuck in the ground, and hand it to a high-powered lawyer to use as a pointer. There was a story about how as a young lawyer, he used to revel in listening to older folks in the courthouse and soaking up their history lessons.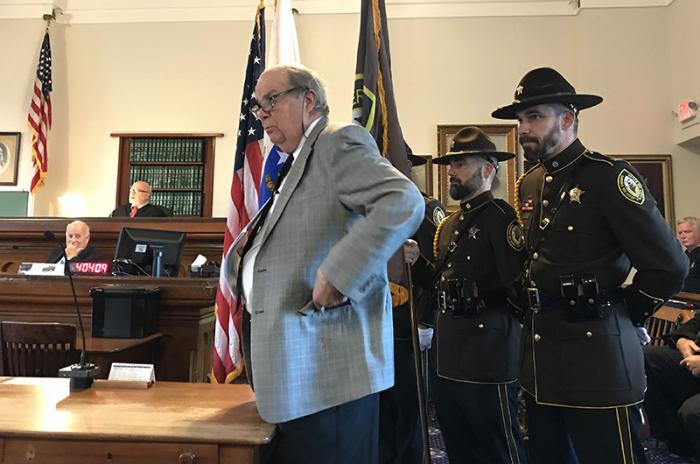 "He was old before his time," said longtime attorney Jeff Norton with a laugh. Mr. Norton gave Mr. Sollitto his first job in the legal profession.
Attorney Ron Rappaport wished Mr. Sollitto a long and rich retirement, after running the court for so long with dignity and respect.
"We will miss your monogrammed shirts," Mr. Rappaport said. "We'll miss your bow tie, we'll miss your smile, we'll miss your quiet confidence. You have made a real difference."
On the last day and the last hour of Mr. Sollito's last superior court session, the Hon. Cornelius J. Moriarty 2nd called him a dear friend and the finest clerk he had ever known.
"People who come through that door," Judge Moriarty said, speaking of the Edgartown courthouse, "come from all segments of society. The rich, the poor, the educated, the uneducated, the black, the white, yellow, from all different races and religions and ethnic backgrounds. But it never matters who you are. Joe Sollitto treats everyone, without exception, with the utmost dignity, courtesy, and respect."
When it came time for Mr. Sollitto to speak, he thanked a long line of courthouse staffers, former clerks and judges who he said helped him along the way. He thanked the people of Dukes County for their support in voting him to seven terms as clerk. He even thanked his cats and his dog. Finally, with emotion brimming over, he thanked his family.
Even he had a funny story, about the time when he was summoned to sit on a jury. Up to that point, he had managed every jury that came to sit.
"Except one, which I was called for," he said. "I sat here for two and a half hours and I was challenged, because I happened to have issued the search warrant for that particular case."
Finally, he summed up his philosophy as a clerk, to treat everyone with equal respect.
"It's our responsibility, the people working in the court, to make them feel comfortable, and show them that justice does work," he said.