Under cold, clear skies Sunday morning, a large contingent of Island veterans and small crowd of onlookers gathered for a parade and ceremony to honor those who served in the U.S. military.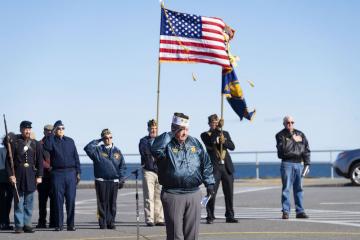 The Veterans Day parade in Oak Bluffs stepped off smartly at 10:45, led by a U.S. Coast Guard color guard, followed by veterans from every branch of the service, Island police departments, the Dukes County Sheriff's department, Boy Scouts, Girl Scouts and a group from the Martha's Vineyard Regional High School football team.
Peter Hermann, representing the VFW, asked those gathered to show their respect for veterans all year round.
"Being a Viet Nam veteran, I know there were people missing in action, and never returned," Mr. Hermann said. "If you can, at your house, or wherever you work, fly the POW flag, along with the American flag."
Mr. Hermann called for a moment of silence not only for veterans who have died, but for those who died in mass shootings in Pittsburgh, Pa., and Thousand Oaks, California this week.
Samantha Seidel-Alderich-Moodie of Oak Bluffs delivered a moving rendition of the national anthem.
Gail Barmkian, chairman of the board of selectmen, read a proclamation from Gov. Charlie Baker.
"Whereas, there are approximately 388,000 veterans living in Massachusetts, and whereas today we are reminded of the great sacrifices and contributions our veterans have made to our country, and whereas we honor and salute those who served our country through the generations with honor, patriotism, and courage," the proclimation read in part.
Dukes County veterans agent Jo Ann Murphy paid tribute to living veterans who continue to serve their country in many ways.
"All those who served, not only those who died, have sacrificed and done their duty," Ms. Murphy said. "So on this Veterans Day we proudly proclaim that veterans past and present have advanced America's values and institutions beyond war's end, and living veterans continue to make a difference every day."
A Coast Guard rifle company offered a three-shot volley to honor veterans, followed by the playing of Amazing Grace on bagpipes by Edgartown police chief Bruce McNamee.
The ceremony ended with Navy veteran Thomas Norbury placing a wreath at the base of the veterans memorial in Ocean Park.