Island Community Chorus director Peter Boak decided to call the annual holiday concert Images of Christmas this year, choosing each song for a classic image of the season: snow, the three kings, candlelight.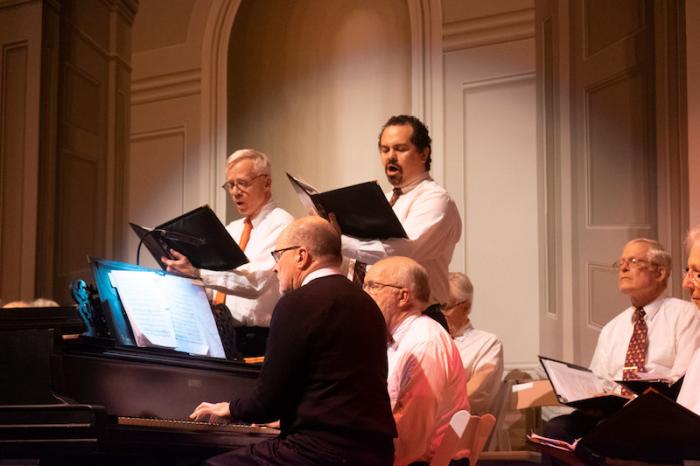 But for the appreciative Saturday night audience the most striking image of the season was the chorus itself: more than 100 Islanders spanning the stage of the Old Whaling Church almost window to window, standing below two gigantic wreaths.
Joined by violinist Rebecca Laird, flautist Molly Conole, Steve Tully on the saxophone and Garret Brown on piano, the chorus sang in three languages, including in Hebrew for the Hanukah song Hanerot Halalu, in pieces modern and old.
After The Magnificat was sung in Latin, Mr. Boak took a moment to thank the group, which is entering its 23rd year.
"That was great everyone," he said softly after the chorus concluded the ancient Christian canticle with a powerful Amen.
Performances took place on Saturday night and Sunday afternoon.
Choristers spanned all ages and walks of Island life. A recent high school graduate sang with an assistant high school principal. A selectman sang with activists. Soloist Dorian Lopes of Vineyard Haven said later his mother and aunt both sing in the chorus with him, and his grandmother was a music teacher on the Island. "She taught in West Tisbury, Chilmark, and Gay Head," he said. When he is not singing, Mr. Lopes does carpentry and land surveying.
On Saturday many members of the audience were decked out for the occasion in once-a-year Christmas tree brooches, ornament earrings and festive red sweaters. Some sang along.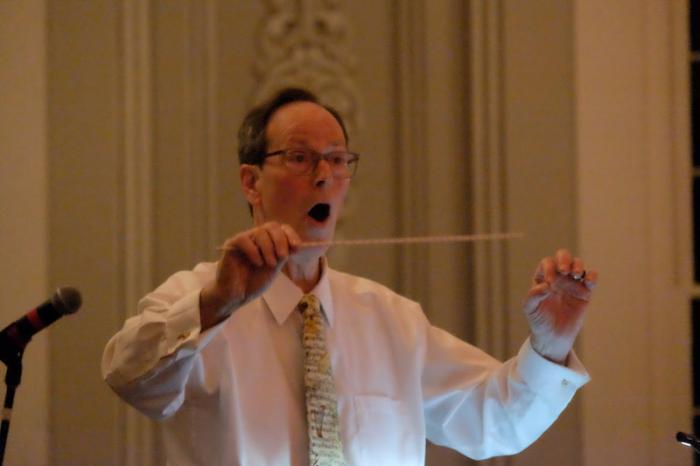 The final song of the show was from the children's movie The Polar Express, about the awakening that can come with the season.
Afterward performers and audience members gathered in the church basement for homemade desserts. Tenor Bob Dusa of Oak Bluffs made chocolate chip cookies.
Tenor Sofia Anthony of Oak Bluffs has sung in the chorus for more than a decade.
"Monday nights for rehearsal, almost everyone comes in tired because they're all very busy people," she said. "But they're really lifted up by rehearsals. Because of Peter [Boak], because of Garrett [Brown], and because of each other too. We come for the fellowship. Singing is so important."