Northern gannets are amazing birds. Adults are pure white except for their black wingtips. Their body shape makes them look much like a cross when in flight. When feeding they pull their wings in tight and plunge dive into the ocean water to catch fish.
Gannets are now migrating northward and the flocks can seem endless, a spectacle of nature! Albert Fischer was at Squibnocket when he observed a massive stream of migrating gannets on March 31. "With no exaggeration a thousand birds would fly by in a minute, as far as the eye could see between the Island and No Man's Land. I was on the beach for about 90 minutes and the steady stream of gannets flying by just continued and were still passing by when I left. I bet there were a good 100,000 gannets that flew by."
This spectacle of gannets was likely created by the strong southerly winds that were blowing that day. These gannets were also observed by Alan Carney and Maura Fitzgerald in Aquinnah, while Rick Dwyer spotted some of them off Wasque the same day.
An American kestrel was spotted by Bob Kimberly at Sepiessa Point on April 2. This smallest of our falcons is now rare, but they used to be common as recently as the 1970s.
Pine warblers may be back a little early this spring, as it seems they usually arrive in mid-April. We have had a number of them here through the winter but they are usually silent. Michael Ditchfield heard several pine warblers singing in Dark Woods on March 31.
The final migrant to take advantage of the southerly winds is the phoebe. Tony Lima reports lots of them arrived with the southwest winds of March 31. Holly Mercier heard a phoebe at her house March 30, as did Luanne Johnson, while Michael Ditchfield also spotted one. They have yet to show up at my house.
Bird Sightings
Two new species for the season are greater yellowlegs and Wilson's snipe, both seen by Jeff Bernier at Slough Cove on March 26. There was one yellowlegs and a pair of Wilson's snipe. He found two pairs of these elusive birds there on March 28. Also on the shorebird front, Bob Cassidy found a pair of killdeer at the Airport on March 31. They may be nesting soon! Luanne Johnson also observed a killdeer at Long Point on March 30.
Christy Edwards had a gorgeous male yellow-bellied sapsucker in her yard on March 31.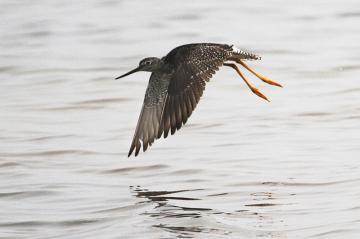 On March 28, I had to go over to America for the day. While on the ferry
I spotted a razorbill off East Chop as well as three red-throated loons, six common loons, five common eiders, four surf scoters and three long-tailed ducks. These species have mostly left our waters as they were much more common through the past winter.
On March 28, Matt Pelikan headed up-Island and found a couple of female northern harriers, 12 red-throated loons, "a ton" of black ducks at Black Point Pond, harlequin ducks and horned grebes at Squibnocket. At the Gay Head Cliffs he spotted a few savannhah sparrows, a few great cormorants, and 350 black scoters.
Bald eagles are still hanging around. The birds reported here were all immature birds — maybe they are staying because they are not yet old enough to breed, so there is no urge for them to return to nesting territories. Margaret Curtin spotted two of them flying southward over Deep Bottom Road on March 30. I saw one — maybe one of the same birds — at the southwestern end of Tisbury Great Pond that afternoon. It looked huge compared to the nearby osprey and red-tailed hawk. And Kath MayWaite found one over the Mill Pond on March 27.
John Nelson found a flock of 18 horned larks at the Farm Institute on March 21, the same day he notes that grackles showed up at Farm Pond.
The Junior Bird Count — sponsored by The Trustees of Reservations and BiodiversityWorks — was a huge success. It was held at Long Point on March 30, and 14 young birders showed up on the beautiful warm and sunny morning of March 30. The young-birders wer
e taught birding basics before splitting up into two groups with one group walking the forest trails and the other group walking along the beach. We saw a total of 28 different species and 215 individuals: Canada goose, 27 mute swan, 4 mallard, 2 bufflehead, 42 scoter species, 20 red-breasted merganser, 7 red-throated loon, 5 common loon, 5 osprey, 2 red-tailed hawk, 1 killdeer, 1 herring gull, 11 great black-back gull, 7 mourning dove, 2 red-bellied woodpecker, 1 downy woodpecker, 2 blue jay, 2 American crow, 7 tree swallow, 20 black-capped chickadee, 10 Carolina wren, 1 golden-crowned kinglet, 1 American robin,13 song sparrow, 10 red-winged blackbird, 2 brown-headed cowbird, 4 house finch and 4 American goldfinch.
That same day at Long Point, I saw the trifecta of a bald eagle, osprey and red-tailed hawk in the southwest corner of Tisbury Great Pond near Quansoo. While we think of the latter two species as big, the bald eagle is at least two times larger. I also saw a meadowlark, three tree swallows and two yellow-rumped warblers. Perhaps most notable was the complete lack of any sandpipers or plovers along the shoreline of the Tisbury Great Pond barrier beach. I do not remember that happening before.
Spring is here and their northward migration has only just begun! Please report your sightings to birds@mvgazette.com.
Robert Culbert schedules private guided birding tours, and is an ecological consultant with Nature Watch LLC living in Vineyard Haven.