As of this month, 12 hospital employees will be able to live in affordable renovated rooms in the Hanover House in Vineyard Haven, and three more will live in efficiency apartments out back.
At a ribbon-cutting ceremony for the new project Thursday afternoon, hospital CEO Denise Schepici said the availability of new housing options had already prevented one certified nursing assistant from leaving her job at the Windemere nursing home due to housing issues.
"Attracting and retaining staff is a challenge we face every single day, and the lack of affordable housing affects our ability to provide professional health care," Ms. Schepici said. "It's already making a difference," she said of the former inn, which will welcome new tenants later this month.
The renovated inn in Vineyard Haven marks many firsts for the affordable housing developers at Island Housing Trust. It's the first Island Housing Trust project that uses a shared housing model; tenants will share a kitchen, dining area and living room space. Built specifically to house hospital employees, the project marks a first major housing partnership with another organization. It also marks a new opportunity for private investors to finance IHT projects through a partnership with Martha's Vineyard Bank.
A crowd of selectmen, builders and hospital administrators took off their shoes at the door and congregated in the new kitchen, which features three oven units and two large refrigerators. IHT board member Dan Seidman lauded the shared housing model, which he said was common for earlier generations.
"It's a model . . . that is now being brought back in vogue again so to speak. But my grandfather . . . in the early 1900s stayed in a YMCA in a single-room occupancy," Mr. Seidman said, noting that individual bathrooms at the Hanover House make the model more realistic for modern tenants.
IHT bought the property last August for $1.85 million from Steve Pearlman, using short-term low-interest financing from private investors and foundations. With the launch of the MV Future Financing funds, investors can now contribute to future IHT projects with 10-year participation loans through Martha's Vineyard Bank.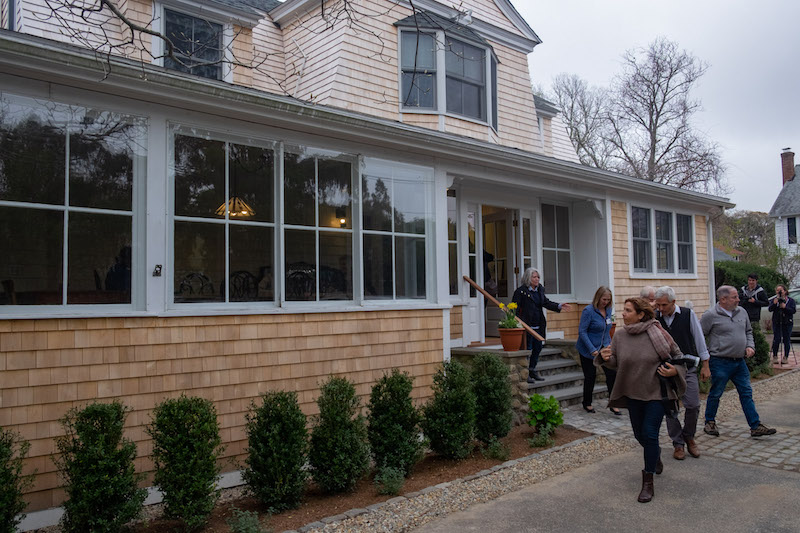 "The mechanism is the ability for an individual as a social impact investor to be able to purchase a participation in a larger loan," said bank CEO James Anthony.
The housing trust also plans to renovate the neighboring Clarke House.
About $500,000 in improvements at the Hanover House included extensive renovation to the first floor shared areas, new heating units and sprinklers for fire safety. IHT executive director Philippe Jordi said much of the labor and some materials were donated or obtained at a reduced price from Island partners.
The hospital has leased the building for five years from IHT. Tenants will be selected and managed by hospital staff, who also manage other hospital housing.
"It doesn't affect just our employees. It really affects our entire Island community because our employees take care of this entire Island," Ms. Schepici said.