As his medical marijuana dispensary nears completion in West Tisbury, Island cannabis entrepreneur Geoff Rose has begun the process of obtaining a license to open a retail marijuana store. Mr. Rose, who owns Patient Centric Martha's Vineyard, has secured a lease for retail space in the lower level of the Woodland Center commercial complex in Vineyard Haven from which to sell recreational marijuana.
Some abutting business owners are raising concerns about traffic, parking and the proximity of the store to a children's dance studio. Sale of adult-use cannabis was legalized in Massachusetts 2016, and the town subsequently passed zoning that allows for a recreational marijuana shop in specified areas.
Mr. Rose held an informational public forum at the Katharine Cornell Theatre on Thursday evening. About 30 people attended, including multiple Woodland Center business owners. Public meetings are a requirement for obtaining a license to sell marijuana from the state Cannabis Control Commission. Other regulatory hurdles include a host community agreement with the town of Tisbury.
"I hope I have been helpful in providing some information," Mr. Rose told the crowd. He added: "This is a requirement of the Cannabis Control Commission. There is nothing binding about this other than I am required to impart this information."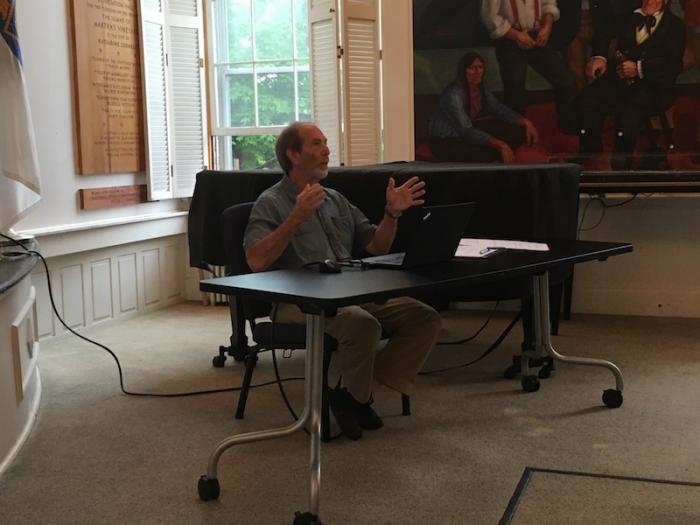 Mr. Rose obtained priority applicant status for a retail license in April of last year, which will move his application to the front of the line when he files it.
Laying out the plan for the facility, Mr. Rose said customers will have to pass through both a waiting room and a secured screening vestibule before entering the retail space. They will have to show valid identification upon entering the store and at point of sale. He said security cameras will be installed, and security personnel will be present during hours of operation. Marijuana products will be kept in secure storage behind the counter.
Public consumption of marijuana is still prohibited, and Mr. Rose said customers will not be allowed to use the marijuana on site.
"We will work with local law enforcement to ensure the best possible surveillance and to provide access to camera feeds. We are required to maintain video information for 90 days," Mr. Rose said.
Mr. Rose said he planned to have a maximum of five employees working at once. He declined to estimate how many customers would be served on a given day, but said he would disclose that information down the road.
For abutters, more customers using the center's limited parking lot and the proximity of the retail space to the Rise dance studio were some of the primary concerns. Laura Anderson, owner of the Frame Center, made her opposition clear.
"I'd love you to tell us why you think that location is a good one, knowing the community, knowing the parking problems we already have there, knowing your neighbors who are Rise children. I'd like to know why you chose that and why you honestly think that would be in any way appropriate," she said.
Dardanella Slavin, a chiropractor who operates a business in the lower level at Woodlawn, echoed parking concerns.
"If you come there in the busy time, all the spots are full right where this would be," she said. "You're already talking about an increase in employees parking there and then all the customers."
Mr. Rose said the location is compliant with town bylaws. He said employees could potentially park offsite, and most customers would likely come to the store during the weekends. Mr. Rose also outlined potential benefits to the town including jobs, host community agreement fees, and a commitment to patronize other local businesses for their operational needs. He said he is prohibited by law from most forms of advertising, including with promotional products, pop-up adds and neon signage.
He repeatedly compared the retail marijuana establishment to a package store, including when concerns about children arose.
"Children must be walking by liquor stores all the time," he said. "I will do everything I can to mitigate as best I can."
Mr. Rose did not specify where the recreational cannabis sold at the location will be cultivated. He has built a cultivation facility in West Tisbury to supply the medical marijuana dispensary, but did not confirm whether the adult-use products would also be made there.