Camp Jabberwocky campers got their yearly jubilant welcome back to the Island on Saturday morning at the Steamship Authority terminal in Vineyard Haven. As they descended the passenger ramp from the 11:45 boat, they were enveloped in a throng of about 40 camp counselors wearing tutus, reflective cowboy hats, reflective disco pants, cheetah print pajamas and a cow costume.
"I had four dreams last night we were picking up campers," said Kelsey Grousbeck, development director at Jabberwocky. A few campers waved from the ferry deck, eliciting cheers.
"This feels like the start of my year," counselor Alex Scott said.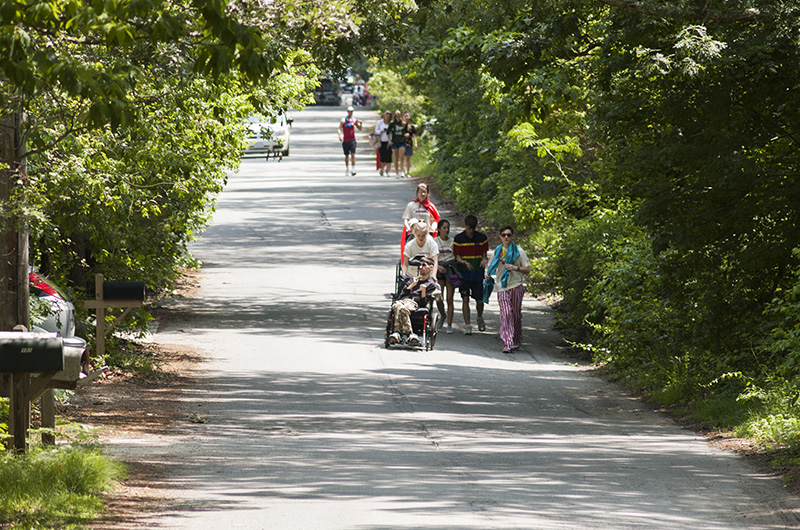 The counselors intermittently burst into songs and chants. They yelled campers' names and gave hugs and high fives. They stood on tiptoe to see over one another. It was loud and frenzied and joyful.
But it was on the unhurried and sunny walk back to the camp from the boat that campers and counselors — many of whom have returned every summer for years — had the chance to truly reunite. Some wearing their superhero capes and flower crowns, many traveling in wheelchairs, they formed a colorful ribbon from the dock up Union street, down Main street and through shade-speckled neighborhood roads to the place they had looked forward to returning to all year.
"What did you do this year?" one counselor asked, as vacationers walked by rolling suitcases. "What songs do you like?" another asked a camper as they passed people eating outside at Waterside Market. "We'll be partners in crime," another said. "We should make a fort together."
It was the beginning of the 68th season for the venerable summer camp for people of all ages with disabilities. This year, campers returned to a newly renovated central cabin with accessible bathrooms, a new kitchen, and a screened-in porch. The project cost $2 million and was partially funded by a grant from MV Youth.
"It's like the heart of camp," said executive director Liza Gallagher said. "It's where we eat all our meals and gather as a community."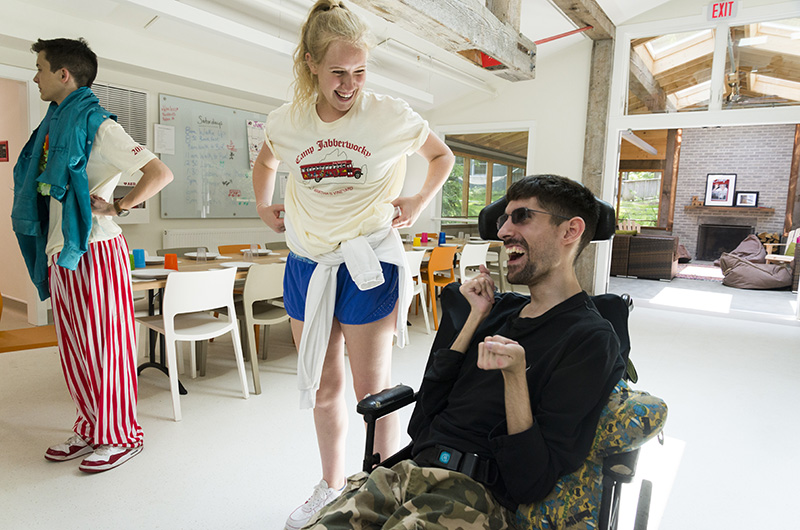 Campers gasped as they walked through the doors of the new space. Sunlight streamed in through skylights in the new raised ceiling. The tables were set for lunch. One camper joined a counselor dancing in the center of the room. The space previously had a capacity of 80 people. With the renovations, 170 people can now gather there.
"It's fire. It's lit. I like the new gazebo thing they have in there," said Myles Bh., who has returned to Camp Jabberwocky for more than a decade. He said he keeps in touch with friends from Jabberwocky year-round.
"Being here, like you can be an extension of yourself," he said. "You can bring your true identity out and be the person you want to be within."