The Tisbury School is set to undergo comprehensive asbestos and lead testing next week, school and town leaders said at a joint meeting Tuesday. And depending on the results, it could be necessary to relocate students at the start of the school year, they also said.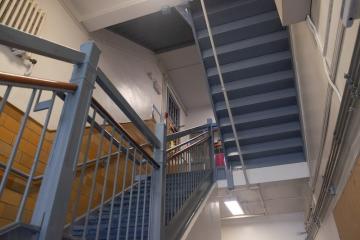 "The idea of displacing students from the building is not anything that I take lightly," said Tisbury School principal John Custer. "But . . . the health and safety of students and staff are number one, and there really is no number two."
The testing was recommended by the state Department of Public Health following an indoor air quality assessment done at the school in April at the request of the superintendent's office and the teachers' union
The DPH report, released in June, identified a number of what it termed significant issues, including with the school building ventilation system and building envelope. Among other things, the report found that air flow is interrupted by incorrectly sealed windows and an aging ventilation system. It also found the building envelope is compromised in many areas: window gaskets have failed, and there are cracks in walls and entrances that have allowed water and moisture into the building, creating conditions for mold.
Mold was recently identified in one classroom, and remediation took place this summer, Mr. Custer said.
Due to flaking paint in parts of the school, asbestos and lead testing were among the many recommendations in the DPH report. The state also recommended radon testing, which Mr. Custer said will be done in the winter when the heating system is in use.
Testing is scheduled to take place next week. Students are due to return to school on Sept. 3, leaving a short window to carry out remediation efforts if needed. Town administrator John (Jay) Grande said if remediation is necessary, a special town meeting will likely be called to appropriate funds for the work.
School leaders said they were waiting for results to fully assess the situation.
But at a packed meeting in the Katharine Cornell Theatre on Tuesday, many parents and teachers aired their concerns about the condition of the building and the possible health effects on student and staff health.
Sarah York, a parent and member of the Tisbury finance committee, pressed school leaders to be more specific about plans for remediation.
"School doors open in four weeks. What is the plan if we have to do more than we can do before the kids go back into school?" she said. She added that she thought conditions in the kindergarten classroom were detrimental to her son's health. "There is a level to which this is getting out of control," Ms. York said.
The discussion went on for an hour and a half.
Assistant superintendent of schools Richard Smith said administrators have talked with other town leaders and principals about the possibility of relocating children.
"It takes a very high threshold — and that is children's safety — to displace children because that's not a great outcome either," Mr. Smith said.
School committee chairman Amy Houghton said using temporary trailers could be a possibility.
"We cannot get down to brass tacks about what we need to do until we know how much we need to do," she said.
Mr. Custer said a delayed start of school is also a possibility.
Mary Alice Robinson asked whether mold testing is planned. Mr. Custer said there are not currently plans to test for mold, partly because of a lack of guidelines around what is dangerous.
Tisbury parent Emily Solarazza expressed frustration that more work had not been done since a proposal to build a new school failed at the ballot box two years ago.
"This is completely overdue bandage work that needs to happen way before yesterday," she said. "I do not feel at all okay about not knowing what the future holds for the real fixing."
Ms. Houghton noted that asbestos and lead paint have long been known to exist in the building, most of which dates to 1929. The building envelope problems also have been well documented.
"Those problems didn't just happen overnight. Those problems have been happening for a long time. Where we sit now, if we fix one area, it may compromise a different area," Ms. Houghton said. "We're trying to take care of the most serious health concerns first."
Contacted later, superintendent of schools Dr. Matthew D'Andrea said administrators had hoped to conduct asbestos and lead testing earlier, but had struggled to find a contractor. He estimated the testing will cost about $5,500.
"It was an effort to really find someone who could do this and that was available. Unfortunately it wasn't as quick a turnaround as we hoped," Mr. D'Andrea said. He said the school was tested for asbestos in 2014, and assessed again as part of the school building project process two years ago.
Meanwhile, renewed efforts to significantly renovate and expand the school are underway. A new school building committee was appointed in May, and the town voted to designate $400,000 for design services at the annual town meeting last April. The building committee is currently in the process of selecting a project manager.