The first-of-its-kind Beach Road Weekend music festival begins Friday night in Tisbury's Veterans Memorial Park. The opening event is a screening of the film Jaws with live accompaniment from the Cape Symphony Orchestra.
The festival runs all weekend and ends Sunday evening. It is expected to draw thousands of concert-goers.
Lagoon Pond Road and Causeway Road will be closed to through traffic on Friday afternoon from 4 to 10:30 p.m., and on Saturday and Sunday from 10:30 a.m. to 10:30 p.m. Parking in the area is also restricted.
On Saturday, John Fogerty, formerly of Creedence Clearwater Revival, and the indie roots band Dispatch will lead the musical lineup. On Sunday, Phil Lesh of the Grateful Dead and singer-songwriter Grace Potter will close out the weekend. Food and beer and wine will be sold.
The public town park situated off Lagoon Pond Road where the event will be held was buzzing all week as festival staff set up stages, perimeter fencing and other equipment.
"Everything has to be done in a certain order," said festival organizer Adam Epstein, a Vineyard summer resident who heads the Chicago-based events company Innovation Arts and Entertainment. Standing in one of the park's baseball diamonds Wednesday morning, Mr. Epstein explained that a high-impact ground cover material would be trucked in first so vehicles can drive over it on the grass, delivering the other festival materials: trailers, tents, thousands of feet of fencing and bike racks. There will be two stages, three jumbotrons, seven generators and 23 shuttle buses.
On Wednesday morning workers wearing neon vests prepared for the arrival of the main stage trailer. Despite rain the night before, the grass was dry. Mr. Epstein pointed to the entrance area of the park, where festival-goers will have their bags checked and be subject to security wanding. A VIP tent will be open to 180 VIP ticket holders. In the center of the field is the smaller MV Stage where Island artists are scheduled to perform.
Public safety officials and town leaders have been planning for the event for months. Tisbury fire chief John Schilling said from a law enforcement and EMS standpoint, the festival will be an Islandwide effort involving multiple departments. Though the event is new, Mr. Schilling said first responders are accustomed to monitoring summer events that draw thousands of people to a confined space.
"It's the same thing that happens with Illumination and the fireworks [in Oak Bluffs] and the fair and Edgartown Fourth of July parade," Mr. Schilling said. "We all cooperate for those events and support each other for those things."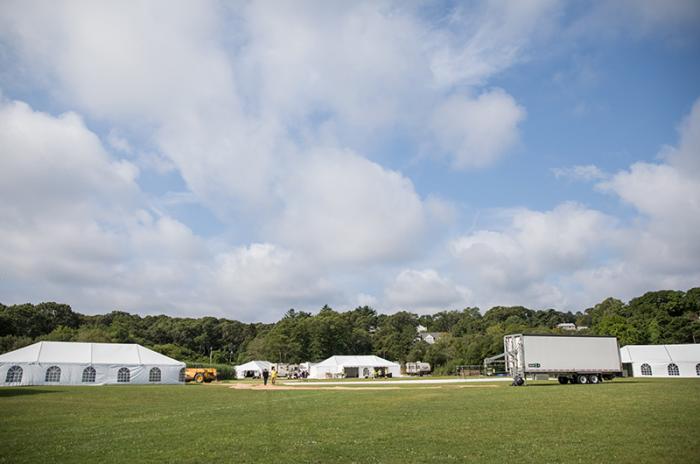 He said there would be a private medical treatment tent and a cooling tent. He said he was confident in the festival organizers.
"I am extremely impressed with the level of organization and attention to detail," he said.
Police chief Mark Saloio said police would also be coordinating with the U.S. Coast Guard and environmental police. He said the area would be monitored from the harbor, on the perimeter of the festival, and from areas with visibility over the whole park.
"We have very intricate security plans but also quality of life plans," Mr. Saloio said. "We're trying to do everything we can do to minimize impact."
Mr. Epstein said with a few days left before the festival, tickets were still avaliable.
"There are plenty of seats available. It's been a little slower than I hoped it would be in terms of advance sales," he said. But he said he was optimistic that with vacation turnover, sales would pick up.
"We're continually advertising," he said. Tickets will also be sold at the entrance to the festival. A single day general admission pass costs $75.
Mr. Epstein, who has been planning the festival for months on end, said the process has not been without stress.
"This is about hospitality," he said. "That's the stress: making sure that's the experience people have."
Parking, Ferry Transportation
A total of about 1,000 parking spaces will be available in five remote locations with regular shuttle buses to the concert. Locations include the Edgartown School, the Tisbury School, the YMCA/Martha's Vineyard Arena, the American Legion in Vineyard Haven and the airport parking lot. Parking prices vary from $10 in Edgartown to $30 in Tisbury. Parking fees go to the parking host, not the festival.
The entrance to the festival is off Lagoon Pond Road on the southeast side of the park. Coolers, food and beverage carry-ins, and beach chairs are prohibited. Beach mats and blankets are allowed, and beach chairs will be available for rent.
The last ferry from Vineyard Haven to New Bedford will leave at 10 p.m. On Friday only, a ferry from Oak Bluffs to New Bedford will leave at 10:35 p.m. The last ferry to Woods Hole will leave Vineyard Haven at 9:30 p.m. The last ferry to Hyannis will leave Oak Bluffs at 6:45 p.m. on Saturday and Sunday and at 8:40 p.m. on Friday. A fast ferry to Quonset will depart Oak Bluffs at 7:30 p.m.
For tickets and more information, go to www.beachroadweekend.com.