In the early 1980s Valerie Jarrett appeared to have it all: a degree from Stanford and a law degree from Michigan, a job at a reputable law firm, a doctor for a husband and a healthy infant daughter. All the boxes on her 10-year plan, hastily assembled when she was 21, were checked.
The only problem was she was miserable. She would eventually divorce her husband, and in 1987, she left her private law firm job, taking a major pay cut to work for Chicago's first black mayor, Harold Washington.
"I took a leap of faith. It was the first time I really listened closely to the most important voice we all have in us: the quiet one inside of us," Ms. Jarrett told a packed audience at Union Chapel in Oak Bluffs last Wednesday evening.
Ms. Jarrett joined Oak Bluffs author Richard Taylor in a conversation about her life from her infancy in Iran to her eventual role as senior advisor to President Barack Obama. The discussion centered on stories from her new book, Finding My Voice: My Journey to the West Wing and the Path Forward.
Ms. Jarrett's father, Jim Bowman, was a Howard educated doctor. When the barriers of racism limited his opportunities in the United States, her parents decided to move to Shiraz, Iran where Mr. Bowman chaired the pathology department at the Namazee Hospital. Several years later, while at a conference in London, Mr. Bowman met the dean of the University of Chicago Medical Center, who offered him a job at the prestigious American hospital in his wife's home town.
"I think the most basic lesson my father taught me early in life was sometimes the shortest distance to where you want to go means you have to be prepared to take the long way around," Ms. Jarrett said.
Her work in Chicago city government eventually led her to meet another talented young lawyer, Michelle Robinson, and her fiance, Barack Obama. The three became close friends and allies as Mr. Obama ran for state senate, then unsuccessfully for congress, then for United States senate, and ultimately, for president.
Ms. Jarrett remembered watching Mr. Obama's landmark speech at the 2004 Democratic National Convention in Boston. He was a senatorial candidate at the time, and the speech launched him into the national spotlight. After the convention, Ms. Jarrett brought the Obamas to Martha's Vineyard.
"We were in a house together in East Chop," she recounted. "One morning [Mr. Obama] got up early and he went out for a jog. And he came back and he said, You're not going to believe what happened . . . Somebody took my photograph! And we said, Really? Why would anyone take your photograph?"
It was one of the earliest indications that the Illinois politician had begun a rise that would land him in the White House four years later. Mr. Taylor said Ms. Jarrett's influence and connections in Chicago were partly to thank for that journey.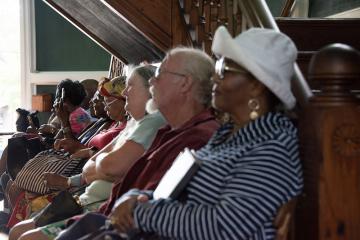 "It happened incrementally, and we look back on it and say yes it was like a meteor," Ms. Jarrett acknowledged. "But at the time, we were just working. We were raising our children. We had this close circle of friends. We're supporting each other," she said.
She worked in the White House for Mr. Obama's entire presidency, leading the office of intergovernmental affairs, the office of public engagement and the White House council on women and girls. She said on Inauguration day in 2017, she left the White House after the Obamas did.
Since leaving the White House, she has written her book, founded a women's rights organization and co-founded with Mrs. Obama a nonpartisan organization to get out the vote and encourage civic engagement.
"I thought in the next chapter of my life, I want to wake up every morning and be a force for good, use the voice I've found, the background I have and move the ball forward in the areas I care about," Ms. Jarrett said.
Asked about her advice for young women, she said all of the best things that have happened to her have come from making the unexpected choice.
"The true magic is in the zigzag. Do not go for the straight lines," she said.