Students at the Tisbury School will be relocated indefinitely and the start of school will be delayed, following confirmation this week that chipping lead paint inside the aging building poses a potential health hazard and must be repaired.
School administrators announced the plan to relocate students and delay the start of school at a meeting Wednesday afternoon.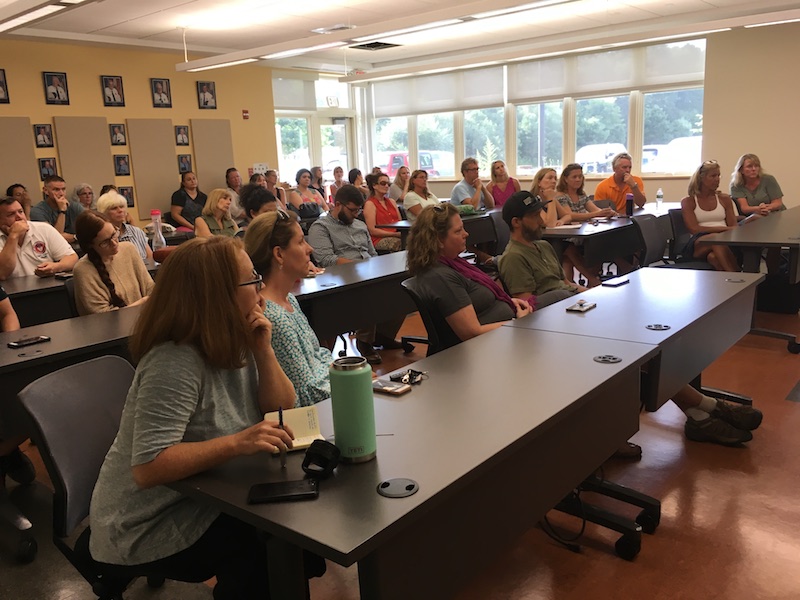 Still missing some details, the hastily sketched plan calls for students in grades K through four to attend school at the Camp Jabberwocky campus in Vineyard Haven beginning on Tuesday, Sept. 9, a week after regular classes begin in all other public schools. Students in grades five through eight will be relocated to the regional high school, with the same later start date.
The decision follows a round of testing for lead and asbestos, as recommended by the state Department of Public Health during this summer following air quality testing that was done at the request of the teachers' union and school superintendent.
Testing for asbestos was conducted last week. Testing for lead concluded on Tuesday. The school dates to 1929, and both lead and asbestos were known to be present in the building, but testing confirmed that lead paint was chipping and could cause risk of exposure. No asbestos issues were found.
School committee chairman Amy Houghton said school leaders are acting out of an "abundance of caution."
"We listened to community and the community is concerned," she said after the meeting. "Is the lead chipping and dangerous in all the rooms? No. Are there a couple of spots we're concerned about? Yes."
Ms. Houghton said the area will be thoroughly remediated, including in places where there is no visible chipping lead paint.
School principal John Custer said he will set up his office on one temporary campus, while assistant principal Melissa Ogden will be at the other location.
There are just under 300 students in the Tisbury School (the last school census reported 297 students).
On Wednesday school committee members and administrators shared the news with a packed room of parents and teachers at the town emergency services facility across the street from the school. Selectman Melinda Loberg, facilities manager Kirk Metell and town administrator John (Jay) Grande also attended.
With the decision still fresh, many aspects of the plan had yet to be sketched out. Details about the remediation work, including time frame, cost and source of funding, were not immediately available. But school leaders said because the work is an emergency, it will not be required to go out to bid.
Faced with the reality that their children will be displaced, parents were subdued. There were many questions about the logistics of sending the students to a new, unfamiliar environment. Parents asked about the school nurse, scheduling of classes, recess areas and busing.
In a letter that went out by email to parents after the meeting, superintendent of schools Matthew D'Andrea provided more details, including from the results of the testing.
"Specialists had access to the entire school building to conduct testing where they drew 50 to 60 samples to determine the presence of asbestos and lead paint and condition of these materials," the superintendent wrote in part.
He continued:
"The results of the testing have shown that asbestos that is present in the Tisbury School building is intact and is not a health concern. The lead paint in some areas of the building is peeling, however, and therefore in a condition that requires remediation."
The letter went on to detail the arrangements for students, reassuring parents that all students would continue to have access to a school nurse and lunch service.
"This decision has come after much discussion and contemplation, and I recognize the impact this will have on our children and families," Mr. D'Andrea wrote.
"The health and wellness of our students at the Tisbury School is a priority."
High school principal Sara Dingledy also sent out an email to parents notifying them that the school would be hosting Tisbury students "for a yet-to-be-determined amount of time," and welcoming the students.
"We are grateful to be in a position to host and help," she said.
The ailing school facility has been a growing conundrum for the town, which qualified for significant state funding for a new $46 million school two years ago, but was forced to abandon the project after it failed to muster enough support from voters. Renovation planning has since started over, but a new school is still far from reality.
At the meeting Wednesday, parent Siobhan Mullin said she was distraught.
"I'm really angry, not with you guys, but that we let this happen in our town," she told school leaders. "I really feel we need to be asking the town for as many resources as we need right now to make sure there isn't an absence of one thing for our kids," she said.