Tisbury School students had their belated first day of school Monday morning after dangerous amounts of chipping lead paint were identified late last month in their school building. Students in grades five through eight were dropped off at the regional high school, where they will learn in a blocked-off wing of seven classrooms. Students in grades kindergarten through four began classes in the newer wing of the Tisbury School.
Areas of the original Tisbury School known to contain lead paint were blocked off with plywood barriers. Town and school leaders continue this week to deliberate about possible solutions to the problem, and the duration of student displacement is still unknown.
Wearing a tie with Snoopy playing baseball on it, Principal John Custer high-fived students at the Tisbury school campus. He said teachers and their families had worked non-stop to move furniture and books, set up new classrooms and devise a new schedule.
"I'm really excited to have kids here. It's been an odd past few weeks, so getting back some normalcy and routine is what we all needed," he said.
Previously, each grade level had two classrooms, but this year, classes in each grade are sharing rooms. Second graders are being taught in the school library, and the computer lab has been moved to the so-called "Little White House," a temporary classroom outside the school.
A trailer with temporary bathrooms is also parked outside the school. Students will cross the street to eat lunch at the emergency services facility.
Town and school leaders are in the process of scheduling a special town meeting and hiring an owner's project manager to supervise the installation of temporary modular classrooms. Mr. Custer said his priority is bringing students back together.
"I think we should explore all viable options, and my goal is to reunite K through eight as quickly as we possibly can," he said.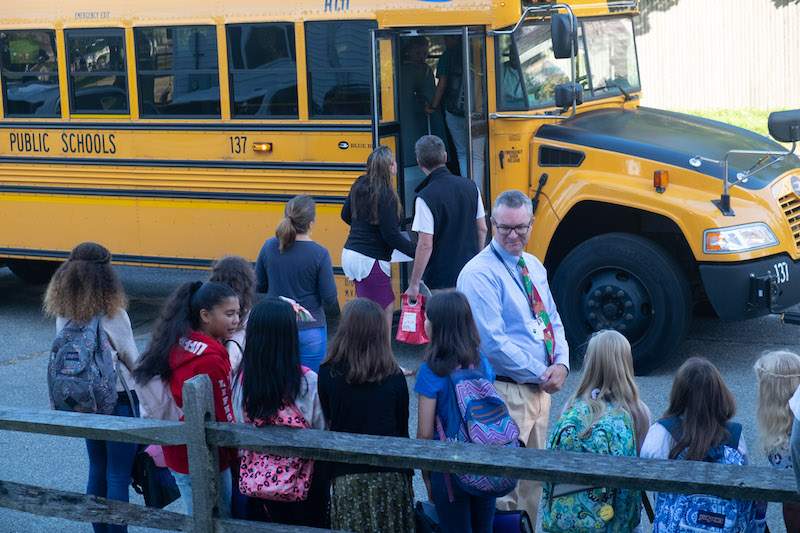 At the regional high school, fifth through eighth graders gathered at a side entrance with their teachers. Members of the high school student government passed out stickers, and the Tisbury tiger mascot ambled through the crowd.
Tisbury School assistant principal Melissa Ogden welcomed students as they stepped off the bus. She started the job on July 1.
"I feel ready because of all the teamwork," she said.
Tisbury teachers had already decorated high school classrooms and hallway bulletin boards. For the first time, students will get full-length lockers with locks and combinations. Three special education teachers and two English language learning support teachers will share a single room.
Ella Longval, grade six, said she felt apprehensive as she waited for the school day to begin.
"Honestly, I'm really nervous because we have to adapt to it and it's just different," she said. "They made it so we won't see the high schoolers at all, and I'm honestly happy about that."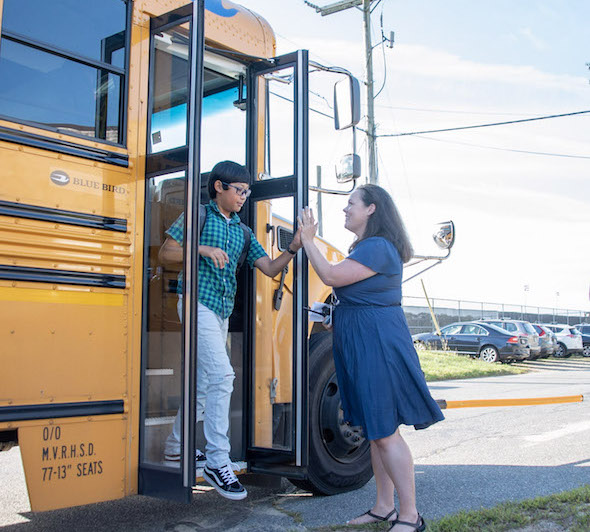 Parent Julana Gerhske said her son also felt nervous about learning in a new place.
"I just told him we have to really believe and trust the Tisbury School people. They know they have to move up here. It will be better and safer until they figure everything out. It's the best choice," she said.
Caio Guimaraes, Evan Longval, Kaua DeAssis and Otis Forrester were all starting the seventh grade on Monday morning. As 8:15 a.m. approached, they stood in a circle, catching up and comparing new school shoes.
Caio said he spent his extra week of summer vacation riding bikes and playing soccer. For him, going to school in a new place was not a source of anxiety.
"It's going to be easier for when we go to high school," he said.
Otis noted that gym class will take place across the street.
"We're going to be going to the YMCA which is kind of interesting," he said. "It'll be a journey sort of."
Evan said he considered going to a different Island school this year, but decided to stay with Tisbury. "I have good friends here," he said.