Edgartown officials doubled down on their criticism of proposed changes to the high school funding mechanism at their meeting on Monday, requesting in a letter that high school administrators focus on short-term fixes to the ailing high school building as budget negotiations for a long-term renovation remain stalled.
Last week, Edgartown representatives walked out of an all-Island finance committee meeting to protest Oak Bluffs' proposed changes to the high school funding formula. While the high school is funded on a per-pupil basis, cash-strapped Oak Bluffs has requested an equalized-valuation structure that accounts for property values in the respective towns. The new metric would increase Edgartown's portion of the funding by 15 per cent. It would also decrease the Oak Bluffs portion by a similar amount.
On Monday, town administrator James Hagerty explained why Edgartown left the finance committee meeting last week, saying the equalized-valuation model was not an option for the town.
"Edgartown walked off and said we need something realistic if we are going to continue to talk," Mr. Hagerty said. "We really can't look at how we are going to fund the high school until we look at the numbers behind it."
Under the current funding system, every town pays approximately $29,000 per student at the high school. In a powerpoint slide, Mr. Hagerty showed that the proposed mechanism would have Edgartown paying $44,000 per student, while Aquinnah would pay $84,000 and Chilmark $144,000. Mr. Hagerty said those numbers would increase Edgartown's budget by $2 to $3 million, and by far more if the towns eventually decide to build a new school.
"We're talking per-pupil costs that are commensurate with some of the most elite private schools in New England," Mr. Hagerty said.
Selectmen then voted to send a letter to schools superintendent Matthew D'Andrea, inviting him and members of the high school building subcommittee to come to the Oct. 7 selectmen's meeting to discuss small-scale fixes to the building. The broader funding discussion was prompted earlier this year when Oak Bluffs voted against a feasibility study to renovate the high school at town meeting last April.
"Since Oak Bluffs has announced they will not back any capital expenditure without the proposed formula change, which is highly unlikely, it is time to focus attention on the deferred maintenance and repair that has been put off for too long," the letter says in part.
Selectman Arthur Smadbeck added that he felt the safety of the building could not wait while the towns attempted to hammer out a larger funding agreement.
"I think it's really important, short term, to get this building fixed," Mr. Smadbeck said. "Asking three towns that have 32 per cent of the enrollment to pay 60 per cent of the bill, and three towns that have 68 per cent of the enrollment to pay 40 per cent of the bill, is not going to fly."
Mr. Hagerty further said that spending money on a feasibility study would be a bureaucratic step rather than an effective allocation of funds.
"Where we're at right now is we're going to pay a consultant to consult us about how to pay for another consultant to conduct a building feasibility consultation study," Mr. Hagerty said. "Maybe we should take that money, put it in some sort of stabilization fund, and save for HVAC, roof, and other fixes."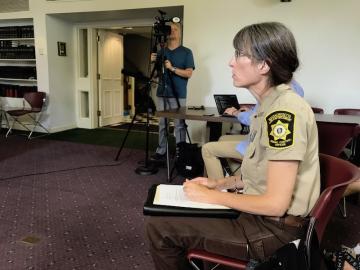 In other business Monday, selectmen held a dangerous dog hearing after an incident that took place earlier this summer off Marchant's Path. According to animal control officer Betsy Young Buck, resident Maria Lopez was walking her dog when she was bitten by a miniature dachshund owned by Jacqueline Robinson. Ms. Robinson was unloading groceries when her dog escaped, Ms. Young Buck said. The bite was unprovoked.
"There are differences in stories between the dog owner and the victim," Ms. Young Buck said. "But basically what happened was that . . . the miniature dachshund ran out to Maria in the road and bit her on the shin, almost immediately."
According to Ms. Young Buck, the bite was a three out of six on the Dunbar scale, meaning it involved one to four tooth punctures.
"This was pretty scary and upsetting," Ms. Young Buck said.
After hearing testimony from both sides, selectmen decided to accept the animal control officer's recommendations that the dog stay on a leash at all times and remain in a fenced enclosure if off-leash. Selectmen warned that consequences would be more serious if the dog bit another victim.
"If this happens again, and this dog comes before this board, we won't be so lenient," Mr. Donaroma said. "We can't tolerate this kind of action."
Selectmen also heard from resident Jim Joyce, who voiced concerns about the town's construction policies in the R5 zoning district downtown. He said police officers stopped him from working on an addition to his home on a Sunday and that there have been flagrant violations of the town's 7 a.m. building start time.
"I'm on both sides of this issue," Mr. Joyce said.
There was confusion at the meeting over town bylaws. Although the bylaws say that no work that requires a building permit can be done on Sunday, there is also a clause that appears to exempt homeowners. Regardless, Mr. Joyce requested the selectmen take action.
"Something needs to be fixed or clarified," Mr. Joyce said. He added that the 7 a.m. start time requirement in the bylaw should have some teeth.
Selectmen agreed with the first request, and said they would consider the second one. All changes would have to be adopted with a vote at town meeting.