Town and school leaders took constructive steps this week to address the problems at the Tisbury School, authorizing the use of emergency funds to cover immediate needs after the school was declared unsafe due to chipping lead paint, and choosing a project manager to guide the town through a new school project.
On Tuesday selectmen and the school committee voted unanimously to select Boston-based Daedelus Project Inc. to oversee the design process and building overhaul for the ailing school. Daedelus also managed the new school building project that failed to gain voter approval last year.
More immediately, selectmen authorized town administrator Jay Grande and finance director Jon Snyder to request state approval for a six-figure emergency appropriation of funds. The state allows towns to enact emergency spending measures without prior voter approval. Selectmen asked Mr. Grande to develop an estimate by next Tuesday.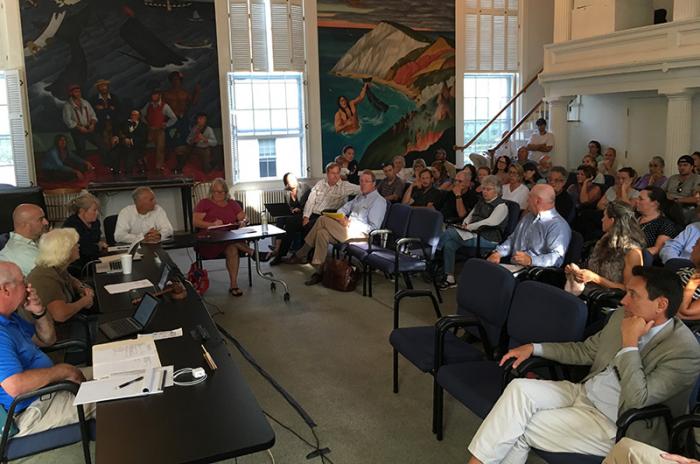 Among other things, unbudgeted expenses include the cost of transporting students to the regional high school where temporary classrooms have been created for grades five through eight, and a second school nurse.
Younger students are housed in the newer wing of the Tisbury School, which is lead-free.
All students began school on Monday.
Despite heightened concern about lead exposure for children, the Martha's Vineyard Hospital reported this week that to date, none has turned up in testing.
The hospital has made free lead testing available for Tisbury school children.
In an email to the Gazette on Wednesday, hospital spokesman Katrina Delgadillo said that as of Monday (Sept. 9), 30 lead tests had been done. "Zero of them resulted in abnormal or elevated lead levels," Ms. Delgadillo wrote.
At a packed selectmen's meeting Tuesday night, parents, teachers and community members were full of questions, including how long students will be displaced, whether modular classrooms will be brought in this year, and what a new school building proposal will look like. But there were few concrete answers.
A special town meeting has been tentatively scheduled for Oct. 15 to approve money for modular classrooms. Daedelus project manager Joe Sullivan said the process of actually acquiring and installing the units could take months, including factoring in the town procurement process
"Call it 10 to 12 weeks minimum . . . because they're not just sitting in a location . . . ready to go, they'll have to be relocated," he said, speaking of the modular units.
He also said lead abatement will need to be done in the now-closed wings of the school regardless of whether students are moved back into the building. He said even if the school is completely gutted, construction waste cannot contain dangerous contaminants.
Some who attended the meeting advocated for lead paint abatement and returning students to the school. Others said it makes more financial sense to keep children in temporary classrooms until a comprehensive building project is completed, a process that still has no clear timeline and could take years.
Discussion strayed to other details around plans for a new school. Though the school building committee has indicated interest in a renovation-addition project, some parents advocated against ruling out an entirely new school building.
"If I were renovating a house that was old, I'd want to know the cost of doing a gut renovation versus new construction," said parent Anna Cotton.
School committee chairman Amy Houghton said the town will rely on Mr. Sullivan, whose contract with the town is not yet final, to understand the options.
"Right now if we go back and forth, we'll be here until midnight," Ms. Houghton said. "That's why we have Joe, and so I would vote that we try to give Joe the time he needs to really give us some informed ideas."
Selectmen asked the project manager to spend a week evaluating costs for modular classrooms before the special town meeting article is written.
Mr. Sullivan cautioned the town not to rush the new building process.
"I just want to be crystal clear: a designer hasn't even been chosen yet," he said. "To get a project done appropriately, and to have a design accurately done . . . you want to make sure the drawings and the information are comprehensive."
Parent Adam Cummings lamented extending the timeline.
"I'm real concerned with . . . pushing dates again," he said, noting that the special town meeting had originally been set for the end of September. "That's a problem. Appropriate funds that are two times the amount you're going to spend and start working it . . . I know that's not fiscally responsible, but we're talking about kids," he said.
As children settled into their new temporary classrooms, school administrators reported a relatively smooth start to the year. At a high school committee meeting this week, principal Sara Dingledy said she was pleased with student cooperation at the high school level. The district committee agreed not to charge Tisbury for use of the building.
"It could be at any moment that something could happen to any of our buildings. And I think we take the Island perspective in taking care of all of our kids," said committee member Kris O'Brien.
Tisbury School principal John Custer said despite the steep challenges, he was happy to welcome students to a new school year.
"They're the best part of the job," Mr. Custer said. "We're really excited to have the kids back."