Cottages abound on the Vineyard, and at the heart of every cottage is a hard-working and soul-satisfying kitchen. If you're interested in infusing your kitchen with an updated cottage vibe, or you're in the process of designing a new cottage kitchen from scratch, you can incorporate elements of fresh cottage design by following some strategies I offer in my latest book, The New Cottage.
While I detail ten strategies for whole cottage design in the book, seven of those ideas are on display in three cottage kitchens we'll explore here. Take a look at the photos below to consider how these strategies might apply to your cottage kitchen project, whether you're starting from scratch or renovating.
How to incorporate new cottage design strategies
1 Engage with the site: Cottages historically are well integrated with the landscape. Cottages today also engage their sites, but perhaps in more nuanced ways. For example, one of the cottage renovations below included a new porch off the kitchen, which offers a perfect transition to the garden.
2 Provide a sheltering roof: At the crux of a cottage is the idea of shelter, and the roof is critical in creating shelter. Expressing and inhabiting the roof helps us feel protected, secure, even cozy. A raised ceiling can add a feeling of spaciousness, while a sloped ceiling can create a cozy feeling.
3 Convey an economy of means: A new cottage generally has a no-nonsense attitude toward finishes chosen from a small or limited palette of materials or colors. That simplicity helps tie spaces together and yields a calm, more spacious effect.
4 Offer informality: Today's cottages rely less on the formal distinct rooms of yesterday's cottages and offer more open and multifunctional spaces.
5 Consider opposite complements: Because they're on the small side, satisfying new cottages offer variety through contrasting, but complementary, elements. For example, a taller space might be adjacent to a more intimate space. Or a rough finish might abut a smooth finish, perhaps on a kitchen counter next to kitchen cabinets.
6 Celebrate wabi sabi: The Japanese aesthetic of appreciating the beauty of impermanence may be evident in a cottage's weather worn materials or even in a window framing a view of nature's changing display.
7 Shape-crafted details: Attention to how materials are shaped and joined has long been a hallmark of cottages. Such craftsmanship today may also rely on the use of modern tools or might be reflected in the type of material chosen. For example, the kitchen below utilizes the same white shiplap material on both ceilings and as an accent wall surface (for a custom pot rack).
Raising the Ceiling in a Vineyard Kitchen
This Vineyard kitchen, designed by LDa Architecture, has been reconfigured within an existing circa 1890 folk cottage. The architect shrewdly raised the kitchen ceiling to the height of the collar ties. The added ceiling height contributes a sense of spaciousness, while the introduction of the partially sloped ceiling suggests the cottage coziness of a sheltering roof.
White shiplap on the sloped ceiling surface is a modern take on classic cottage beadboard ceilings. The same white shiplap material appears as an accent wall surface defining a custom pot rack. The crafted detail and playful repetition of material is a hallmark of a succinct palette that communicates a cottage's economy of means and helps create cohesive spaces that blend well together. The contrasting warm finish and the eventual patina of the rosewood butcher-block island-top will convey wabi sabi over time.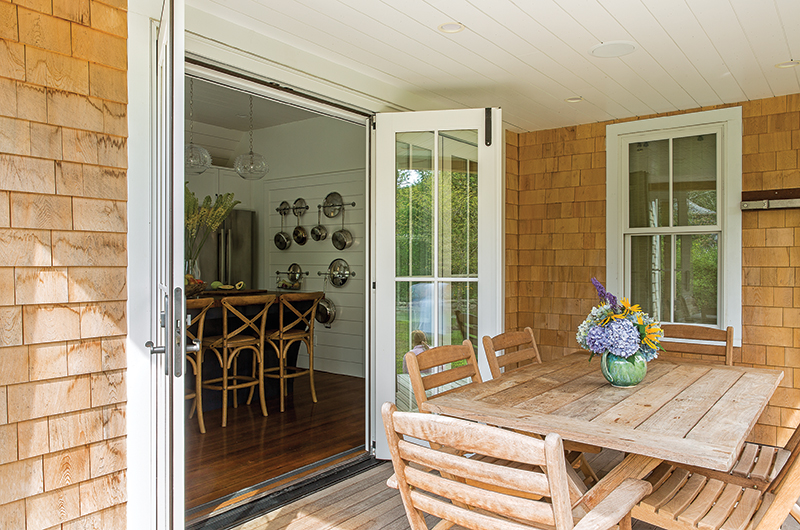 Just off the kitchen, the architect added a new porch. The ceiling of the sheltering roof there is clad in the same white shiplap accent finish as in the kitchen. Oversize folding doors provide unfettered access between the enclosed kitchen and the informal outdoor living area, allowing each space to expand into and benefit from its opposite complement. Immediate access from the porch to the backyard enables the porch, and by extension the kitchen, to engage with the site.
A Compact Galley Cottage Kitchen
Off-Island at a Cape camp ground, this renovated compact galley kitchen amps up cottage informality with open shelves over open studs all painted white, true to a classic cottage's economy of means. Beadboard-backed 1950's era base cabinets, relocated from another project by the homeowners (principals at Treacy & Eagleburger Architects PC) offer no-nonsense functionality. The homeowners deliberately omitted a dishwasher because to them hand-washing dishes contributes to the cottage experience.
A Camp Ground Cottage Kitchen with Appealing Wabi Sabi
Located in the Vineyard camp ground, this renovated kitchen, designed by homeowner Erin Cummings, expresses an economy of means via a traditional cottage finish: white beadboard as backsplash and wainscot, and lightly pickled select-pine broader beadboard on the ceiling between the floor joists. Aged hemlock on the floor grounds the space with an appealing wabi sabi patina. Open-shelf overhead cabinets, a distressed pine table island and a farmhouse sink contribute to the kitchen's cottage informality.
---
Katie Hutchison is a New England architect with Vineyard family and clients. She's the author of the best-seller The New Small House and The New Cottage, both from Taunton Press. Find out more at Katiehutchison.com
Find Katie's books at Bunch of Grapes bookstore in Vineyard Haven, and at online booksellers.
---
Photos of first kitchen: Sean Litchfield
Remaining photos: Randy O'Rourke