Sabrina Luening has spent most of her life singing for the Island.
On Saturday, the Island sang for her.
Three weeks ago, the soulful Vineyard musician who is said to bring people to tears with her voice was airlifted to Boston after suffering a stroke. Islanders immediately rallied, organizing multiple fundraisers and an online donation campaign to help Ms. Luening and her family pay for medical bills while she recovers. The Go Fund Me has already brought in over $20,000 of its $25,000 goal.
This weekend, the Island's music community didn't just rally, it rocked for Ms. Luening, playing from sunset (before 5 p.m.) until last call at the Cardboard Box on Saturday night. All the proceeds from the concert — as well as those from a silent auction organized on the patio — went to benefit the family of the singer.
Ms. Luening has a teenage daughter.
"The best part about it is. . . Martha's Vineyard has this unending, undying community," chef and restaurateur Ben DeForest said at the event Saturday night. "It makes me feel lucky this is my home."
Although he hosted the concert and auction Saturday at his restaurant — cooking up chicken wings, cod fish cakes, pork belly penne and other free treats for the bar — Mr. DeForest said it was the Island that made the event possible.
"All I had to do was unlock the door," he added.
By 7 p.m., the PickPocket Bluegrass Band, featuring musicians Andy Herr, Charlie Giordano, Dana Edelman and Brad Tucker, was noodling away on banjos, mandolins, melodicas and more as dancers packed the floor of the restaurant. Many of them knew Sabrina; most of them knew her music. All of them missed her.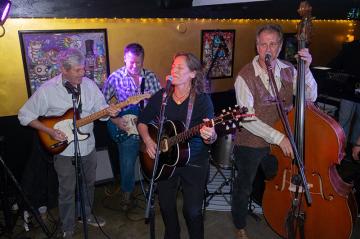 Tom Lankiewicz, who was in the crowd on Saturday, said it was only a month ago that he saw Ms. Luening "kill it" at Ladyfest, and that he has known her music since he came to the Island 20 years prior.
"She's been entertaining the Island since she was born. She lives the music," Mr. Lankiewicz said. "And her music just keeps getting better and better."
The Edbury All Stars came on after PickPocket, with Johnny Hoy on harmonica and vocals, and Mike Benjamin on guitar. They brought Willy Mason on to sing midway through the set, and then couldn't get him off the stage. Nobody minded, especially not Mr. Mason, who also finished the night with a set of his own.
"Sabrina makes you want to find your deepest self and let it all out," Mr. Mason said. "This many people with the same intention is really powerful."
As the night came to a close, general manager of the Cardboard Box Jacob Wolfe estimated that the silent auction, including Celtics tickets, a Yeti cooler, jewelry and free burgers for a year at Atria, as well as the donation bin, made approximately $10,000.
Lisa McGuire, who lives with Ms. Luening, danced around the crowd draped in Christmas lights, selling 50/50 raffle tickets. She said that she saw Ms. Luening recently and that she had been moved out of the intensive care unit. She said Ms. Luening was able to thumb wrestle her daughter this past week.
"It's been tough," Ms. McGuire said. "But this helps, and she's getting better."
Don Groover, a bandmate of Ms. Luening's who coordinated the all-star concert lineup, said there was only one person missing from the stage.
"Sabrina would have been right in the middle of it all tonight," Mr. Groover said. "She is."