Skates are sharpened, the court is waxed, the wait is over and winter sports are back.
Athletes, parents and coaches were welcomed and introduced at the Performing Arts Center at the regional high school by athletic director Mark McCarthy for Meet the Coaches night on Tuesday. Mr. McCarthy's biggest message to all in attendance was encouraging everybody to play hard and play fair. He also acknowledged how the high school "trusts and puts a lot of faith in our captains" to make sure their teams demonstrate what it means to be a Vineyard student-athlete.
The season begins with two Vineyard units hitting the road on Thursday, Dec. 12. Girls basketball travels to Carver to take on the Crusaders in a non-league clash, and boys hockey heads to Sandwich for their first matchup against the Blue Knights.
The boys hockey team is coming off a 12-5-3 record last season where they had made the playoffs for the first time in three years. Building on last year's success, this year's group of young men boasts a varsity-seasoned team rich with senior leadership and anchored by senior captains Kenny Hatt and Colby Zarba.
The team played three scrimmages last weekend against Lexington, Oyster River and Acton/Boxboro. Head coach Matt Mincone was pleased with results.
"We're ahead of where we thought we'd be," he said. "We had a younger team last year, and we lost some players that are tough to fill character-wise, but there's a lot of good talent that came in. The majority of our core guys are back, so the system doesn't change that much and when you can adapt the system around the players, we should be good."
After opening the season with three straight road games, the boys first home game is scheduled for Saturday, Dec. 21 against Hanover. The puck drops at 5 p.m.
The girls basketball team experienced back-to-back seasons of missing out on postseason play by one win. But head coach Sterling Bishop's dangerously deep squad is primed to start the season off right against Carver. The roster boasts seven seniors who have all played in the program since their freshman year.
"I've got a solid core, I've got leadership, experience and knowledge of the offense," Coach Bishop said. "We are in a tougher league in the Atlantic division, but I think that mentally and physically we're ready. We can hit the ground running this season."
Sasha Lakis and Katherine O'Brien were elected team captains by their coaches and teammates. When choosing who earns the crucial role of captain, Coach Bishop emphasized how important he feels it is to let his players vote for their captain.
"We give them a voice, it's their team and we want them to take ownership of that," he said.
The girls play their first home game of the season Saturday against Cardinal Spellman. Tip-off is scheduled for 3 p.m.
The girls hockey team is also scheduled to skate at home this weekend, kicking off their season against Fontbonne Academy Saturday at 1 p.m.
Fontbonne is a familiar foe to the Vineyarders as the purple and white notched two of last season's six wins against them. Last year, head coach John Fiorito had a young team with a lot of new players who continued to learn the game as the season progressed. This year there are 10 returning players and nine new ones. Among the returning is team captain Lauren Boyd, who her coach described as "a great leader that's been playing her whole life. Her teammates like and look up to her in a lot of ways."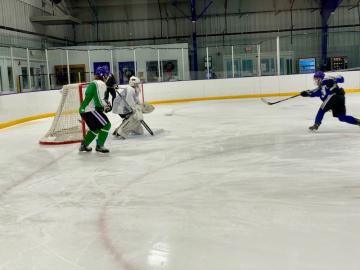 Amelia Simmons is back in net for the Vineyard in her fourth year as a varsity goalie. Alternating with Simmons will be Maria Frangos. Coach Fiorito commended them saying they both "have worked hard and turned themselves into varsity caliber goalies."
"Our seniors are great kids, their leadership will help us continue the momentum we had at the end of last year. The girls are all in," he continued.
Also on Saturday, the swim team begins their season with a meet in Sandwich. Head coach Jonathan Chatinover is hoping to build off last season when his swimmers achieved their first winning season in the program's history.
"We had a really young team last year and we got most of them back," he said. "Still, we have a very young team again."
Operating as a co-op, students from the Charter School as well as seventh and eighth graders from Island-wide middle schools, make up about half of the swim team, Coach Chatinover said.
"It's a short season, we want everyone to get experience and enjoy the sport. For certain swimmers, we're gearing them towards qualifying for sectionals and then states. The boys didn't have a qualifier last year, but this year we're hoping to have both the boys and girls achieve that."
Team captain Gabby Carr qualified for states last year, but nobody from the Vineyard has ever finished in the top eight at states. Strong seasons from Carr and co-captains Eleanor Hyland, Abigail Hammarlund, Oliver Dorr and Ruairi Mullin will all be critical in securing another winning season for the Vineyard.
Coming off the first state title in Vineyard cross country history, head track coach Joe Schroeder is moving his talent out of the elements for the sixth year of indoor track and field at MVRHS. In the programs founding year, Coach Schroeder had 12 participants. Now, he said with a chuckle, "our numbers are huge, our coaching staff is not."
Fifty five Vineyard athletes will compete during league meets held at Wheaton College in Norton. From there, if qualifying times are met, individuals on the team are invited to compete in weekend 'challenges' or 'classics' held at the Reggie Lewis Center in Roxbury.
Cross country star Peter Burke along with Paige Pogue and Tyla Packish will captain this year's squad of treaders, hurlers and leapers. The first meet of the season is scheduled for Tuesday against Falmouth.
The boys basketball team makes their return to the hardwood after snapping a multi-year playoff drought last season. The young Vineyarders were victorious in the first round of the playoffs last year despite losing two starters but were bounced in the second round by Eastern Athletic Conference rival Bishop Stang.
This winter the sophomores and juniors that carried last year's squad will need to take their game to a new level if they want to make it back to the playoffs. "It's their time, they'll figure it out, they'll be ready to rock n' roll," said head coach Mike Joyce.
Out of the 20 teams on the Vineyard's schedule, 18 of them made the tournament last year. "It's going to be a good test for our guys, which is where they should be at this point," Coach Joyce said. "Regardless of record, it's going to be a good experience for the guys when it comes time for the tournament. Prepare them for a high level of competition by playing good teams all along. I'm a firm believer in that."
Jared Regan is the team's senior captain. He leads a group of five seniors and eight juniors that are ready to prove they can compete with some of the best teams in the division. The Vineyard's season opening game will be held Tuesday afternoon at home against the Falmouth Clippers. Tip-off is set for 4:30 p.m.