Behind the capped landfill off Clevelandtown Road in Edgartown, alongside boats and mooring gear, Aquamarine Dockbuilders stores the floating docks that ring the bulkheads in Edgartown Harbor. And on Friday nights, after a long week of work, it is where a group of old friends store themselves too.
Paul Brewer runs the grill.
"He's the glue that holds us together," said Steve Ewing, owner of Aquamarine Dockbuilders.
"A top-notch chef," Dick Mavro added.
The Friday night crew has been meeting for over 30 years, continuing friendships that in some cases stretch back to high school.
"It's 47 degrees," Colin Ewing said, holding his phone out for proof. Colin is the station manager at Cape Air on Martha's Vineyard. "The only year-round airline on the Island," he noted.
He is also Steve's younger brother.
The black oaks in the yard huddled over the only empty space in the crowded lot, where surrounded by mooring stakes and jack stands, the crew had set up their folding chairs in a half circle. Someone told Doug Batten he looked cold.
"What am I supposed to do?" he asked from inside a tightly drawn hoodie. Chevy, his American bulldog, panted as he watched hot dogs and burgers change hands.
"He turned seven, day before Halloween," Batten said, scratching behind Chevy's ear, nearly distracting him from the hot dogs.
"It's 46 now," Colin announced, holding up the phone again for everybody to see.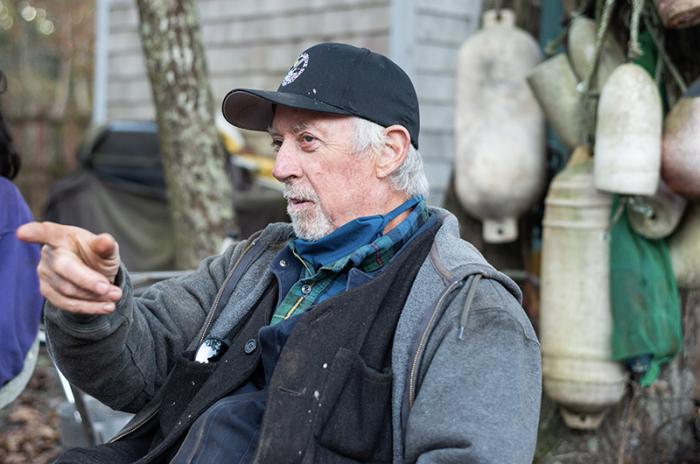 At each gathering the week's obituaries are read, as the group remembers people with whom they have shared their lives.
"A real gentleman," one man responds somberly after Steve reads a name. Other names bring less praise and more affection.
"You forgot Colin Powell," Mavro suggested.
"We did it last week. You weren't here," Steve replied.
"Five of us, we've lost," Dave Poggi said after thinking about it, when somebody in the crescent of 10 chairs brought up the crew's history.
Batten and Colin counted the names a second time.
In a lull, as night fell, Celeste Ewing, Colin's daughter, announced her Thanksgiving plans.
"And we are going to watch the parade," she affirmed.
The hour, like the season, apparent in the dark, prompted the guys to fold up their chairs and put them in their trucks.
Brewer groused about finding a ferry reservation for a new chipper as he packed up around the grill. He owns and operates Brewer Tree and Land. The chipper wasn't his first choice either.
"If you want a chipper with a diesel in it, you can't get it," he cautioned.
Mavro said he was waiting on a truck. "They can't get the microchips."
It would be the last Friday night of the year in the yard behind the landfill. As they empty the harbor, Steve Ewing and the people from Aquamarine will fill the yard with floats, mooring balls, boats and mushrooms. Soon there will be no room left and the crew will perform their own seasonal shift, heading to the harbor at Collins Beach. And come summer, when Collins Beach fills up with tourists, they will return to the landfill, just like they have always done.