At 17, Davin Tackabury had already embarked on a promising art career. As a painter and, especially, as a photographer, the Martha's Vineyard Regional High School student was recognized with regional awards and publication, while curator Monina von Opel collected several of his photographic prints for the Martha's Vineyard Hospital collection.
After Mr. Tackabury's death in 2019, less than two months before his 18th birthday, his parents Kathleen and Wayne Tackabury established a scholarship fund to support other young people studying the arts.
"That's what this is all about: A [way] to help artists in their pursuit of an education, and hopefully they will come back to us so we can maintain a tradition of arts on the Island," Ms. Tackabury told the Gazette Sunday, at Featherstone Center for the Arts in Oak Bluffs.
Initially intended for visual artists, Ms. Tackabury said, the program quickly widened when Pandora Bassett applied as a dancer in 2020.
"From then on we expanded it to all the arts," she said. The selection committee is a small one, Ms. Tackabury added: her husband, herself and Ms. von Opel.
This year's recipients are photographer Kayleigh Bolin and actor-singer Benedict Yancey, Ms. Tackabury announced Sunday afternoon at the opening of Emerge!, a two-week show at Featherstone that benefits the scholarship fund.
"This community embraced Davin as an individual, and as an artist," Ms. Tackabury told a multigenerational audience on the Featherstone lawn. "We are so proud to be celebrating his memory among so many beautiful creations during Pride month. I know he is smiling."
Sunday's reception, which drew a throng of people to the Francine Kelly Gallery, included a short concert on the Featherstone grounds. Emcee Bella Giordano, a 2020 graduate of the regional high school, introduced the show with a few words about the joys and challenges of being an artist.
"Some may say that eccentricity … increases with success, and, I mean, how could you not be a little crazy? You see the world in a special way," Ms. Giordano said. "Your life revolves around expressing this profundity you feel every day. You cannot ignore it … Your talent will emerge and with it, your person," Ms. Giordano said.
One of Davin Tackabury's best friends, Maddy Tully, played keyboard and sang a tender original ballad in his memory. Mr. Tackabury's father Wayne played bass guitar as Ms. Tully sang, with the aching refrain: "It don't feel right to keep moving without you/Never ends how it's supposed to."
Mr. Yancey, who recently starred as Jean Valjean in the high school production of Les Misérables, delighted the audience with a buoyant rendition, backed by an orchestral audio track, of On the Street Where You Live from My Fair Lady.
"My heart is just soaring right now," Ms. Tackabury said after the concert.
The Emerge! gallery show highlights artwork by Tackabury scholarship recipients from 2020 to 2022 as well as that of other high school arts students, alongside work by established Island artists including Alison Shaw, L.A.Brown, Marston Clough and John Holladay.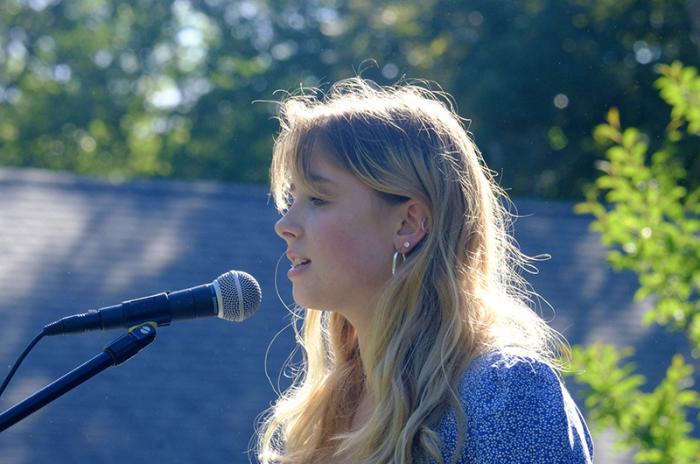 Fine art jewelry — by Ms. Tackabury and other Island goldsmiths — ceramics, quilting and cut paper works are also on view, along with works like David Josephs' Marlin Monroe — a toothy mixed-media fish — and Kenneth Ivory's hand-carved Shingle Boats.
One of the most unusual works in the show comes from Chris Baer, longtime head of the high school's art and technology department. Mr. Baer co-credits an artificial intelligence program called DALL-E mini, which generates images from text, as his co-creator on 144 Alien Saucers Fly Over Chilmark 1946. The 12 dozen tiny views, each different, are astonishingly reminiscent of some works by Thomas Hart Benton, if Mr. Benton had been obsessed with UFOs.
During the show, Featherstone is donating its regular 40 per cent sales commission to the scholarship fund.
Ms. Bassett, who could not be on Island for Sunday's live performance, is represented in the gallery show by a video montage of her dance performances. Ms. Bolin, the photographer who earned a scholarship this year, had her own exhibition at Featherstone in January, with a series of intense images exploring aspects of mental health and illness.
Emerge! Is open daily from noon to 4 p.m. through June 26 at Featherstone Center for the Arts, 30 Featherstone Lane in Oak Bluffs.