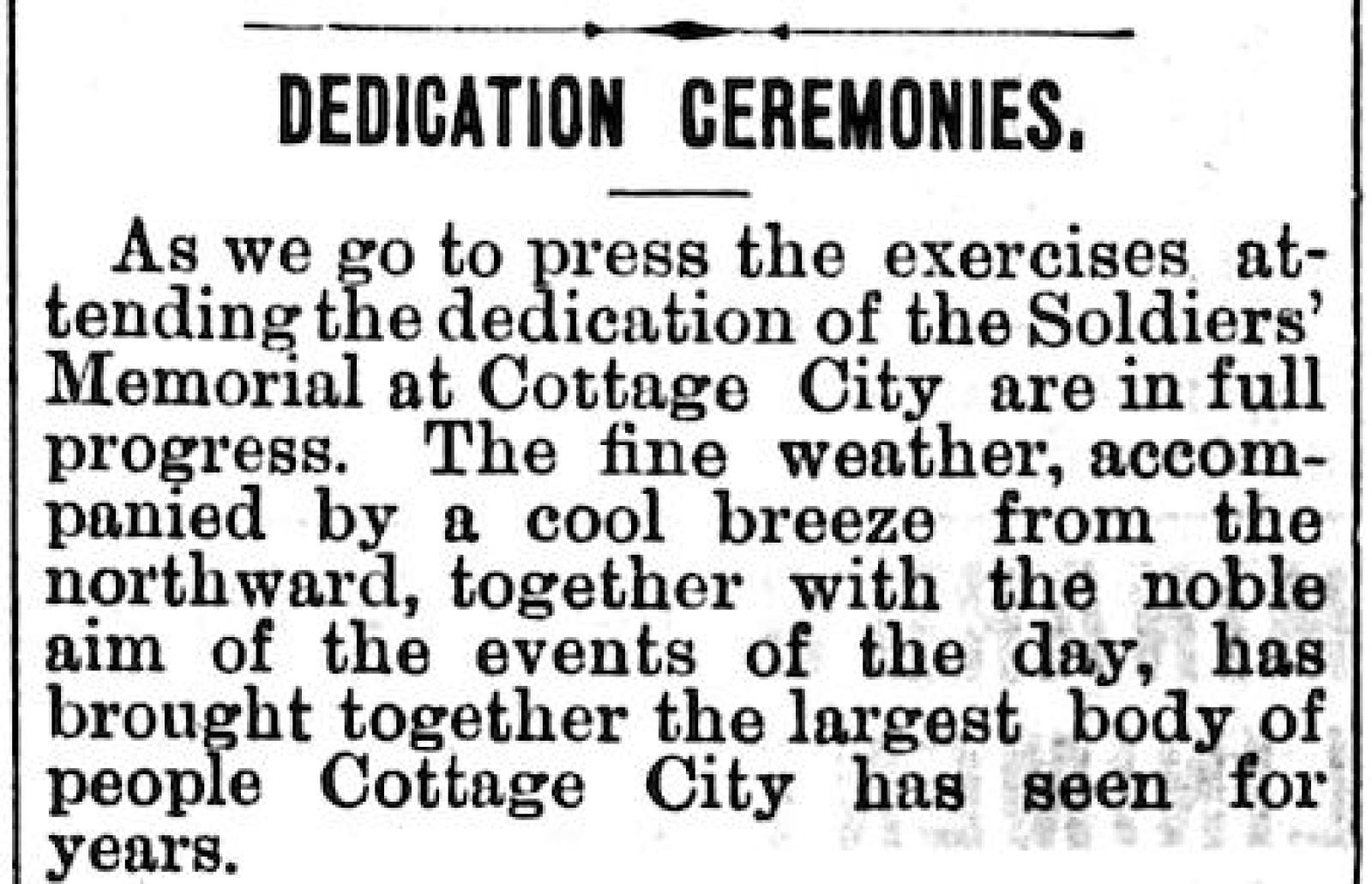 As we go to press the exercises attending the dedication of the Soldiers' Memorial at Cottage City are in full progress. The fine weather, accompanied by a cool breeze from the northward, together with the noble aim of the events of the day, has brought together the largest body of people Cottage City has seen for years.
At 1 o'clock the several posts assembled at Grand Army Hall, Lake avenue. The line formed for parade on Siloam and Kedron avenues, right resting on Lake avenue, in the following order:
Platoon of Police.
Marshal and Aids.
Hill's Band, Ned Bedford City Guards as Escort.
Battalion of Veteran Soldiers and Sailors.
Detachment Post 2, South Boston.
Post 3, Taunton.
Post 6, Holliston.
Band.
Post 55, Provincetown.
Post 78, Whitman.
Post 91, Foxboro.
Post 132, Sandwhich.
Post 192, North Attleboro.
Post 203, Bourne.
Post 206, Falmouth.
Fitchburg Band.
Post 201, Cottage City.
Carriages for Disabled Veterans, Speakers and Distinguished Guests.
At about 2 p.m. the procession started, with Maj. Wm. Brodhead as chief marshal; Wm. H. Dutcher, chief of staff; Chas. M. Stafford, aid; F. S. Amidon, drum major. The column moved over the following route, amid cheers all along the line:
Through Commonwealth and Pawtucket Aves., around Trinity Park to Siloam avenue, through Siloam avenue to Lake, up Lake, Circuit and Narragansett avenues to Sea View avenue, down Sea View avenue to Oak Bluff, up Oak Bluff to the Memorial. Many cottages and business places all over the town are handsomely decorated.
Programme at Monument
Unveiling of statue by Clara Louise Strahan.
Music by Fitchburg band.
Presentation of Memorial by Charles Strahan.
Dedication, ritual of the Grand Army of the Republic.
Address by Gen. Horatio C. King.
Music by Fitchburg band.
Remarks by Bishop Andrews.
Benediction.
After breaking ranks the veterans will gather at the Casino for lunch, and a campfire will be held in the evening.