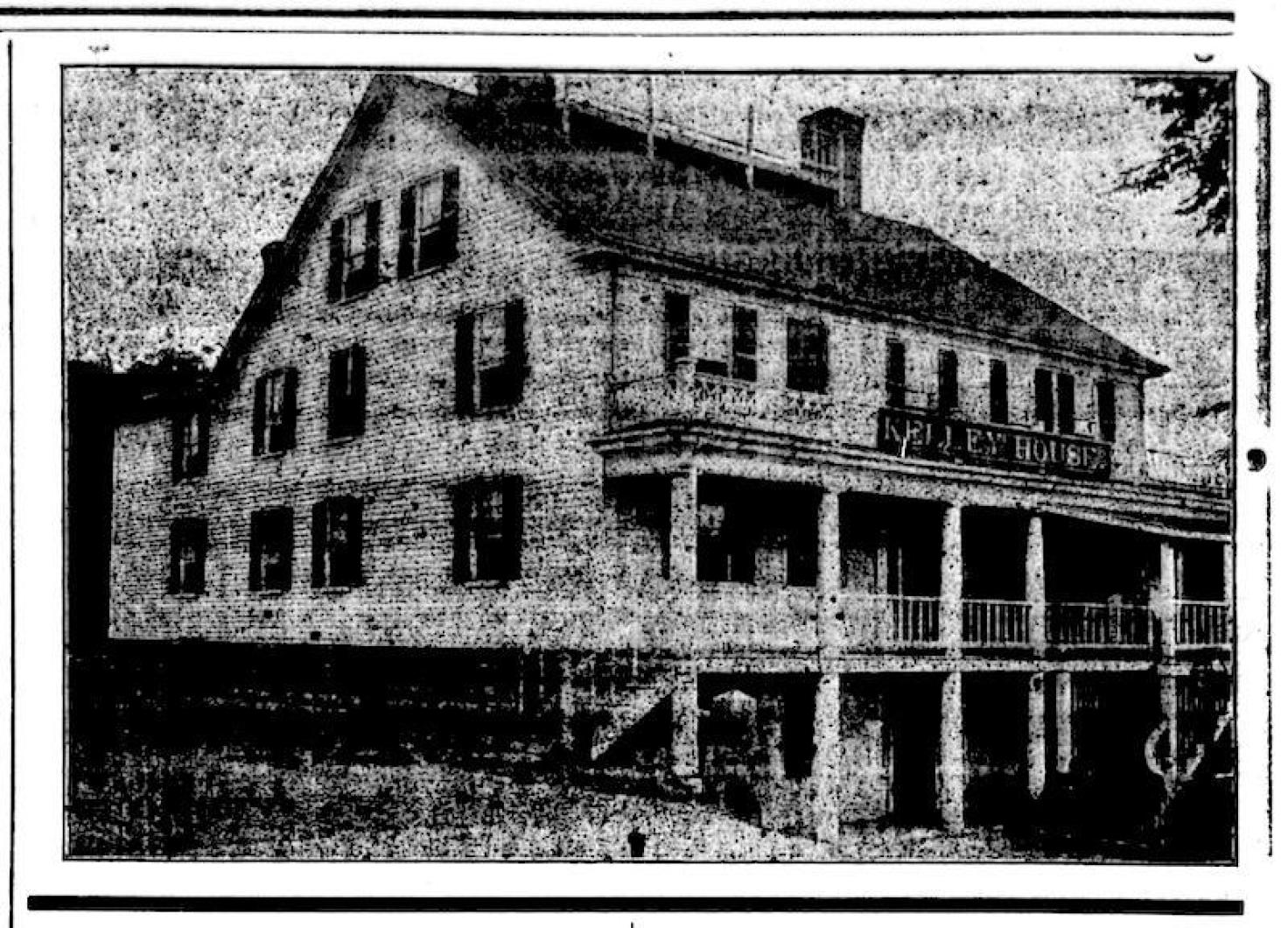 Sudden, and yet not unexpected, was the announcement last Friday evening which went from house to house and club to business place, that William Kelley, well-known landlord and busy citizen, had passed away.
Mr. Kelley had been confined to the house for about ten days, although he had been ailing for the past six weeks. The cause of his sickness and death was Brights disease, which, once seated, made fast inroads upon his naturally rugged frame.
He died at about 7:30 last Friday evening, and his passing away is deeply mourned by a large circle of relatives and friends, who knew him for his many kindly traits and genial qualities.
Mr. Kelley was the second son of Joseph and Caroline Kelley, and for many years past had been the landlord of the Kelley House, which hotel he had brought to a high standard of popularity.
The funeral took place on Tuesday after noon at 2 o'clock, from the Kelley House, and was very largely attended, Oriental Lodge, F. & A. M., and the Edgartown Yacht Club, of which organizations the deceased was a member, being present in a body.
Rev. Frederick Morse Cutler, pastor of the Congregation church, was the officiating clergyman, conducting the first part of the service, after which Oriental Lodge, Elmer E. Landers, W. M., and Chaplain Francis P. Vincent, took charge and the impressive Masonic ritual for the burial of the dead was proceeded with.
Rev. Mr. Cutler, after the reading of a portion of the Scriptures, continued with the following brief outline of the life of the deceased:
William Kelley passed from this life the evening of Friday, November 8th, 1907. He was born in Edgartown in 1851, being 56 years old at the time of his death. His residence was always in the town of his birth.
His life was active and busy, yet in a singularly quiet way. In 1892 he married Elizabeth A. Johnston, and thereafter found in her a tower of strength to help. He will always be remembered for the genial good cheer by which he became so successful in his business. Of every company in which he was present, he was the life and soul. People came to Edgartown merely to be guests of William Kelley, at his hotel.
He also had a serious side to his nature. No tale of suffering or injustice came to him without eliciting sympathetic response. He not only spoke his generous sympathy; he carried it into action. Many a man stands ready with testimony to William Kelley's kindness of heart.
He was a member of the Masonic order, and of the Edgartown Yacht Club. He is survived by his wife, by his aged mother, by three brothers, John H., Milton, and Joseph Kelley, and by a nephew and niece, the children of his sister, Mrs. W. C. Pease.
Mr. Cutler's following remarks were very appropriate and befitting the occasion, the clergyman enlarging upon the kindly nature which found expression in numberless good deeds which pervaded the life of him who had gone. The prayer was fervent.
During the service a quartet, composed of Mrs. Chester E. Pease, Miss Sara M. Fisher, Mr. Louis H. Pease and Mr. Samuel Keniston, rendered very feelingly three sections (1) "Holley," (2) "Lead, Kindly Light," and (3) "In the Hour of Trial."
The floral tributes were very beautiful and included the following: Pillow, pinks and roses, inscribed "Husband"; pillow, roses and chrysanthemums, "Brother," Milton Kelley; Masonic pillow, square and compass, Oriental Lodge; floral anchor, on pedestal, Edgartown Yacht Club; wreath, pinks and chrysanthemums, Gerald and Mildred Pease; cut yellow chrysanthemums, Miss Bessie Coltart; cut chrysanthemums, Mr. and Mrs. Andrew Johnston and Mr. and Mrs. William Walker; sheaf of wheat, Mrs. Lake, Miss Jessie Lake; white cut roses and chrysanthemums, Warren Weston; wreath, English ivy and daybreaks, "Friend," Chas. F. Call; cut calla lillies, Mr. and Mrs. H. V. Lawrence; spray of pinks, Mrs. Joseph W. Donaldson; cut chrysanthemums, Mrs. Holmes W. Smith; spray of chrysanthemums, Congregational church.
The procession proceeded to the cemetery in the following order: Oriental Lodge, F. & A. M., of Edgartown; carriers, Jethro C. Cottle, Edwin Coffin, Edward W. Chadwick, James E. Chadwick of the Edgartown Yacht Club; pall bearers, Lott Norton, Valentine J. Pease, John W. Smith, Holmes W. Smith, of the Edgartown Yacht Club; carriages containing mourning relatives; flower wagon.
At the cemetery the Masonic ceremonies were resumed, and the last tributes paid to a faithful and worth member.
Attending the funeral from the mainland were Mr. And Mrs. Andrew Johnston, of Cambridge; Mrs. Lucy Lake, Miss Jessie Lake, of Dorchester, Miss Bessie Coltart, Boston.