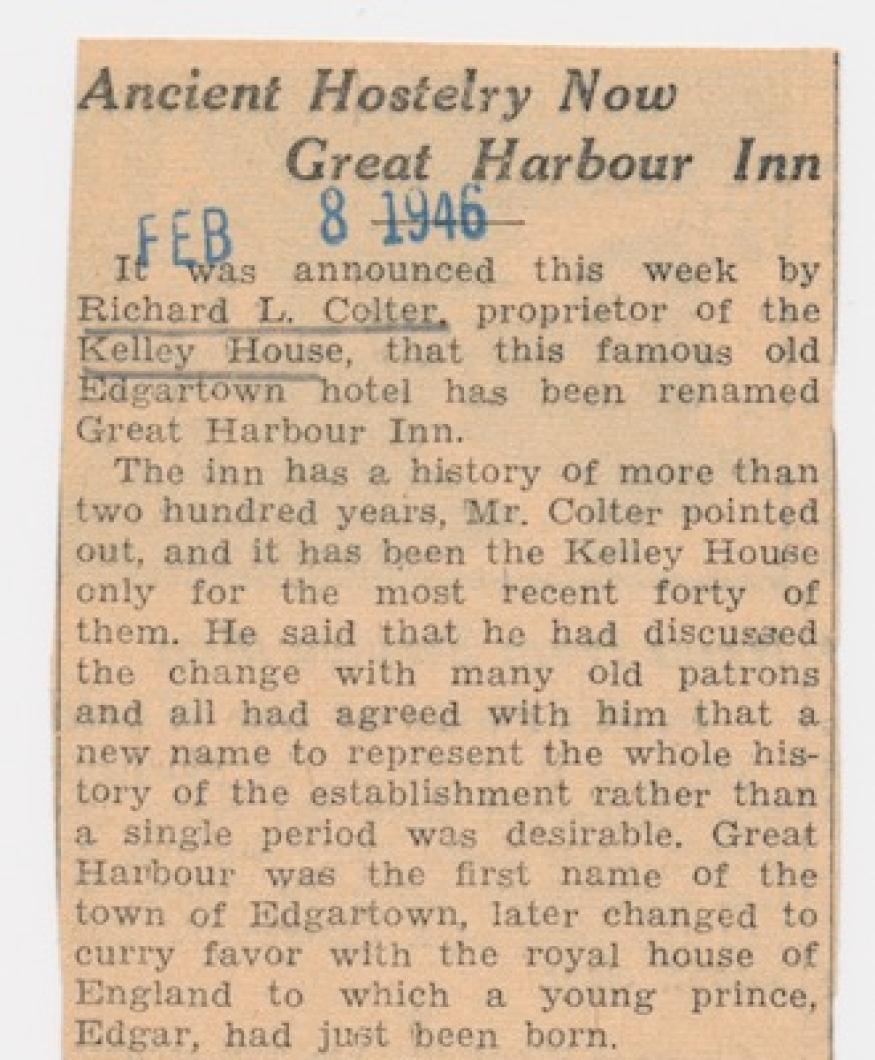 It was announced this week by Richard L. Colter, that this famous old Edgartown hotel has been renamed Great Harbour Inn.
The inn has a history of more than two hundred years, Mr. Colter pointed out, and it has been the Kelley House for the most recent forty of them. He said that he had discussed the change with many old patrons and all had agreed with him that a new name to represent the whole history of the establishment rather than a single period was desirable. Great Harbor was the first name of the town of Edgartown, later changed to curry favor with the royal house of England to which a young prince, Edgar, had been born.
The Great Harbor Inn will revive the old name, Mr. Colter feels, and symbolize the long tradition with which the inn itself has always been associated.
A hotel, popularly called the Tavern, was kept on the site of the Kelley House in the first half of the eighteenth century. The present structure, in its first form, was erected by Milton and Sweet in 1742. Little is known of them, but they produced a building of outstanding architectural merit, and the rooflines of the Kelley House of today have been widely admired and copied. In 1748 the inn was managed by John Harpor, who was succeeded by his son in law, Lamuel Kelley, in 1772. Lamuel Kelley had been a mariner, and on his death in 1797, his wife, the former Bathsheba Harper, took over the inn.
A Kelley in 1801
Their son, William Kelley, assumed control in 1801, and the building was later bought by William H. Milton and Joseph W. Kelley who raised it and made other changes. Toward the middle of the nineteenth century. L. Marcy assumed the management and continued the inn as the Marcy House, under which name it acquired considerable fame. In 1847 William Roberts succeeded Mr. Marcy, and used the name Marcy Tavern.
In 1867 Joseph Kelley moved into the hotel and operated it as the Vineyard House for some years, presumably until 1878 when it was closed to guests.
It was in 1891 that the late Mrs. Elizabeth A. Kelley, with her husband, William Kelley, famous teller of tall stories, re-opened the hotel and called it the Seaview House. This was the beginning of the almost legendary period during which the hospitality of the house reflected not only Mrs. Kelley's capable management but her husband's rare personality. For the first seven years, Mrs. Kelley did the cooking herself.
After a time the name was changed to the Kelley House, and it was at the Kelley House that judges, statesmen, generals and other famous personages enjoyed a rare atmosphere and listened to the stories of Bill Kelley. After Mr. Kelley's death in 1907, Mrs. Kelley continued to operate the hotel with great success until her death in 1935. Her nephew, Mr. Colter, was long associated with her.