Amy Brenneman and Sabrina Peck have been best friends for so long they put peanut butter and jelly to shame in the way they collaborate professionally.
Ms. Brenneman is the writer and actress and Ms. Peck the director, dramaturge and choreographer. They studied theatre together at Harvard and soon after they graduated founded Cornerstone Theater Company. Over the years they have pursued their own creative works but also reunite periodically to collaborate on different pieces. Next week they will present their third major work together, Threshold: 90-52-15, at the Yard in Chilmark. The show is based on Ms. Brenneman's relationships with her 90-year-old mother and 15-year-old special needs daughter. The title refers to the ages of Ms. Brenneman, her mother and her daughter.
"It's honestly about me and my mother, and me and my daughter," Ms. Brenneman said during a conversation before the first day of rehearsal. "It's not so much they have a bad or interesting relationship as much as having them in my life kind of embodies these two elements in a really clear contrast."
Ms. Brenneman's mother was a judge on the Connecticut State Superior Court. She was logical and cognitive. Ms. Brenneman's daughter Charlotte, on the other hand, is emotional and impulsive. Charlotte was diagnosed with a neurological disorder when she was very young.
"She literally came from another place," Ms. Brenneman said. "Her language has always been very different."
While Ms. Brenneman's mother's health is declining, her daughter is maturing and finding ways to control her emotions and communicate with the world in her own way. Ms. Peck coined their two opposing spirits Brain and Animal Heart.
"The Brain is dimensional and linear, whereas Animal Heart is indirect in space, it's carving, it's spiraling," Ms. Peck said. "In terms of rhythm, there's something very rhythmic about the Brain whereas the Animal Heart is more erratic, explosive."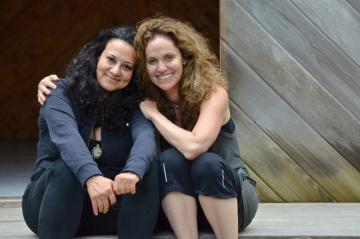 Ms. Brenneman couldn't help interrupting: "This is why she's a genius," the actress said of her director.
The two women view their work together as a way to reconnect with their real selves. Ms. Brenneman feels that the reason most actors get "grouchy" is because they focus so much on their work that they forget about their own stories.
Ms. Brenneman has had a long career in film and television including the movies Heat, Nine Lives and the Jane Austen Book Club, and television roles on NYPD Blue, Judging Amy, Private Practice and the Leftovers, among others.
In addition to being a choreographer and director, Ms. Peck teaches at Columbia University and is a guest artist at Harvard and Duke University. Her original works include pieces collaborating with communities in Durham, N.C., Brooklyn, Harlem and the Bronx, Bosnian Muslim refugees in Croatia, workers on Wall Street and children from Hell's Kitchen.
Threshold: 90-52-15 is the third time the two have collaborated to create pieces about Ms. Brenneman's life. They produced the show Interstate when they were in their twenties, and Mouth Wide Open six years ago, which they also presented at the Yard.
The pair love working at the Yard because it caters to this kind of unique narrative theatre that is their specialty. It's also not far from Ms. Brenneman's home in West Tisbury, making working vacations possible.
"At a place like the Yard, you get to use what is appropriate for the narrative," Ms. Brenneman said. "It's not that strict storytelling."
The women also like to collaborate on teaching the next generation of storytellers. The first time Ms. Peck came to the Yard was to work with regional high school students on a piece called Present Tense. Similarly, a few years later, Ms. Peck and Ms. Brenneman directed a camp for young children during which they created Natural Disasters about the kids' personal experiences. And just last winter, they taught a course at Harvard called Creating Performance Through Personal Narrative.
"It's just beautiful to see people flower and have their stories be taken seriously and mirrored back to them," said Ms. Peck.
"That's how we roll," added Ms. Brenneman.
Threshold: 90-52-15 will be performed on Thursday, July 14, at 8 p.m. and Saturday, July 16, at 6:30 p.m. at the Yard in Chilmark. Amy Brenneman will also participate in An Evening with Amy Brenneman: Outtakes, Anecdotes & Conversation on Friday, July 15, as part of a benefit for the Yard. For tickets and information, visit dancetheyard.org.