Most farm animals I know aren't picky about their housing. They're content with a plywood lean-to or a simple shed to duck under in case of heavy rain. They don't attend dinner parties or watch HGTV so they can't compare what they have to other creatures' domiciles, which is lucky, since they don't possess the dexterity or finances to build their own house anyway. But their humans do. And while many farmers offer only basic housing, and a select few go way over the top, there is a certain breed of island animal lover who strikes a perfect balance of comfort and practicality, out of compassion for their animals, and a desire to care for them easily.
A Builder's Best for Chickens and Goats
In a quiet neighborhood in West Tisbury, known for scrub oak and long dirt roads, Rebecca and Eamonn Solway and their children Lyla, 11, and Eben, 8, have carved out their own little agricultural oasis. On the perimeter of a lush green lawn strewn with bikes and baseball bats, sit a booming vegetable garden, a goat pen complete with rock piles and wooden ramps for the goats to play on, and the cutest little chicken coop you have ever seen.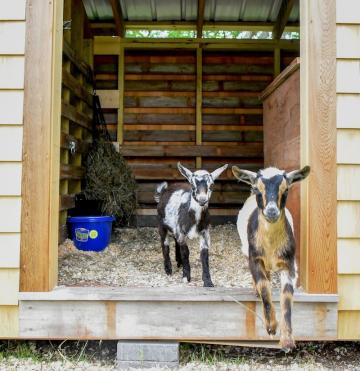 A builder by trade, Eamonn's eye for detail shows even in the smallest of construction projects. The nesting boxes have exterior doors to assist in gathering eggs, and the tray that catches the dirty shavings is removable to facilitate cleaning. A double hung window provides natural light and airflow. And the whole thing is covered in cedar shingles and surrounded by a patio of paving stones.
The swankiness is even more impressive when one considers that most of the building materials were salvaged or recycled or bought from yard sales. Eamonn is always on the lookout for spare materials, and how they might benefit his beloved chickens.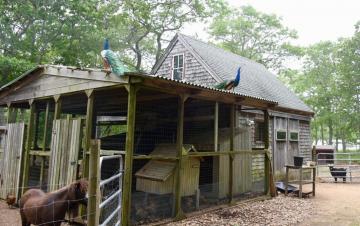 Peafowl Paradise
Heidi Feldman and Curtis Friedman's Down Island Farm is nestled in the forest of Vineyard Haven. Tall oak trees provide shade for their ever-evolving barnyard, home to a billy goat, two mini horses, and an impressive flock of peafowl. The birds, like so many island transplants, came here from Connecticut, when they were only a few years old. Their home is the centerpiece of the farm – a huge wooden-framed aviary, wrapped in predator-proof chicken wire.
Inside, there are coops, for more protection, and the animals are free to come and go as they please during the day. The aviary shares a wall with what used to be a house.
Like many of the animals on their farm, Heidi and Curtis rescued the house when it was abandoned. With a few minor renovations, it became a barn for their mini horses, Speedy and Gwen, and storage for tools and feed. It also happens to be the peacocks' favorite place to perch—the roof provides a spectacular view and the corrugated metal roof amplifies their boisterous calls across the farm.
The Good Life for Three Alpacas
Dr. Terry Kriedman (left) made sure local zoning laws would allow livestock when she and her husband Deurward Hughes bought their house in West Tisbury. She always knew she wanted alpacas, and had the barn built shortly after moving in. It is a simple structure, mostly open, except for a small enclosed grain room on one side and a chicken coop built into the other, perfect for what Terry describes are her "very low-maintenance" alpacas, Rusty, Danny, and Quincy Jones.
The heavy barn door usually remains open so the animals can come and go as they please, but can be pulled shut to provide protection from winter storms. A gently sloped ramp leads to the entrance, making it easily accessible for all of the animals, and their human caretakers who feed and check on them twice a day.
Terry admits that the alpacas have a few quirks—they're particular about hay, and have been known to spit at people they don't care for. But they definitely like Terry and Deurward, perhaps for the food they bring, or maybe because they sense that theirs is a luxurious life for a farm animal. Either way, sitting with the couple on their porch as they gaze across their duck pond at the fluffy heads grazing in a daisy-filled meadow, it's clear that the feeling is mutual.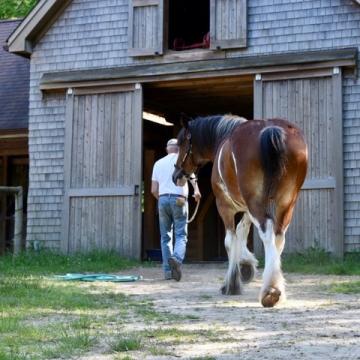 Welcome to the

Clydesdale Residence
The horse barn at Tail Wind Farm in Chilmark was built by husband and wife Bob and Irene Hungerford, when they decided to retire and move to the island full-time, with their team of Clydesdales, Jack and Duke. A prize-winning driving team, the draft horses weigh roughly 2000 pounds each and stand over 18 hands high. Providing an adequate home for them was no small undertaking.
Their roomy stalls open up to their own individual corrals, and have windows in the back, to let the island breeze flow through, even on the hottest summer days. They also have straight stalls inside the barn, where the doors can be closed up during winter storms or frigid temperatures. Up a narrow staircase and under the steeply pitched roof is a hay loft large enough to accommodate a year's worth of hay for the Clydesdales—roughly 700 bales. There are holes in the floor, directly above each stall, appropriately called hay drops, so Bob can drop hay into the feeders, rather than carry bales down the stairs.
Everything about the barn is purposeful and practical, from the meticulously organized grooming supplies to the hay elevator to the driving equipment and tack. Bob spends countless hours working with his horses and feeding and grooming their silky manes and feathery tufts, in a barn that is clearly fit for both man and beast.
Kate Tvelia Athearn lives in West Tisbury in an animal house of her very own: a renovated barn full of teenage boys, farm dogs, and the occasional lonely chicken.