When it comes to food, Craig Decker likes to keep things simple. The executive chef at Rockfish on North Water Street in Edgartown says he takes all the training and experience he has gained over the years cooking at restaurants and slims it down to basics.
"I try to keep it gastro-pub approachable," Craig said. "Nothing is too expensive. But with the fine-dining experience that I've had, I can incorporate some of that into the menu. My philosophy is 'keep it simple, proper technique, everybody will like it.'"
It was love at first sight between Craig and restaurants. Growing up in upstate New York, he got his first job in the industry as a teenager. It was hard but satisfying work.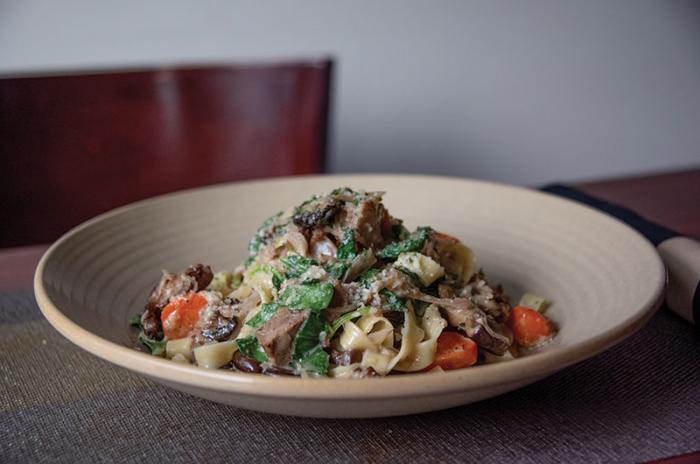 "I fell in love with the restaurant business," he said. "I worked in a diner when I was 15. Busboy, dishwasher, prep cook, all that. I just loved it. I love being worked hard. There's a finish line at the end of the day, kind of like a reward."
At first he didn't see cooking as a career, but with college degrees in chemistry and biology in hand, and no job prospects in sight, he decided to go back to school. He enrolled at the Culinary Institute of America in Hyde Park, New York, where he found the concentration of cooking expertise a bit overwhelming.
"A lot of knowledge, more knowledge than you can absorb," Craig said. "It was a great learning experience." He then went to work in restaurants in both California and New York.
Craig's introduction to Martha's Vineyard is a familiar story. It didn't take him long to decide he wanted to be here.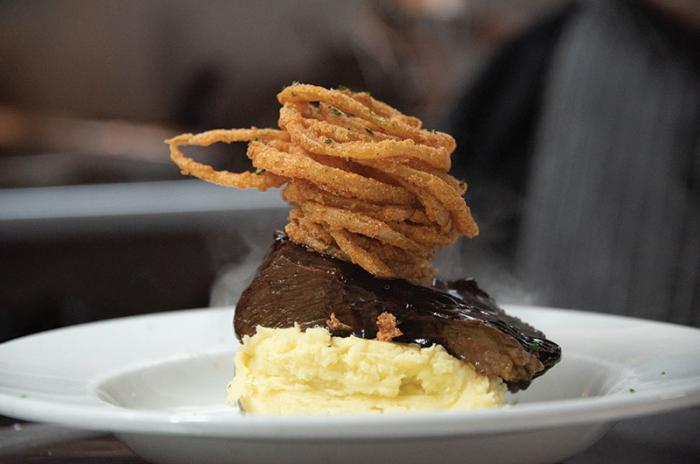 "I came out here to visit a friend in 1998, fell in love with the place, went back home, put in my two weeks notice, and came back out," he said.
After stints at several Island restaurants he landed at Alchemy in Edgartown as the head chef, where he worked for ten years before moving down the street and around the corner to Rockfish. The chef's philosophy of keeping it simple does not mean he cuts any corners in making his dishes. For example, he makes all of his fresh pasta in the Rockfish kitchen.
"I have a lot of Italian heritage in me," Craig said. "I make all of our pasta here, I make gnocchi here. That is definitely more of my passion, what I like to eat." The influence of Italian flavors is evident on the current Rockfish menu with starters like burrata with speck, mint, arugula, and balsamic reduction and potato gnocchi with sweet Italian sausage, roasted tomatoes, broccoli rabe and parmesan.
He said he would never put anything on the menu that he doesn't like to eat himself, and that seems to be a formula that works. Craig said the restaurant is showing growth over the past three years.
He strives for consistency from the kitchen, a feat that is much more difficult than it might seem. "If a customer comes in one day, gets the short ribs, loves it, comes back the next day, says this is not the same short ribs, he may not come back," Craig said. "That's what most kitchens try to do, have that carbon copy, plate to plate, week to week, month to month. It's hard to do. My job and my sous chef's job is to get everybody on the same page and at the same level. When you're dealing with food – proteins and vegetables – it's not coming out of a factory, so things can be a little different every time. Keeping a positive attitude, even in the summertime, when everybody is cranky and hot, it's important for all of us. Everybody is different, everybody's skill set is different."
After more than 20 years in the restaurant business, Craig said his greatest satisfaction now is passing on his knowledge.
"Now as a chef, I like to teach people how to do things. I've learned a lot of things from a lot of great chefs, and I feel like I want to share that with people."