Faced with steep financial losses and the threat of closure at the Windemere nursing home facility, the Martha's Vineyard Hospital has made an offer on a 26-acre property in Edgartown for a new, multi-home senior living community.
Hospital president and chief executive officer Denise Schepici confirmed Thursday that the offer was accepted Dec. 3.
The proposed project, which would include approximately 70 beds in five buildings and 60 units of workforce housing, is slated for a landlocked parcel at 490 Edgartown-Vineyard Haven Road currently owned by the Philip J. Norton family.
Still in a preliminary phase, the project faces a number of complicated issues, including a need to secure easements across private property and a request to connect to the town wastewater treatment system outside an area where tie-ins are allowed.
Ms. Schepici appeared before the Edgartown wastewater commission Thursday to discuss the matter, among other things describing a bleak financial outlook for the Island's only nursing home. She said Edgartown is the only Island town with sufficient sewer and wastewater treatment capacity for a project of this size.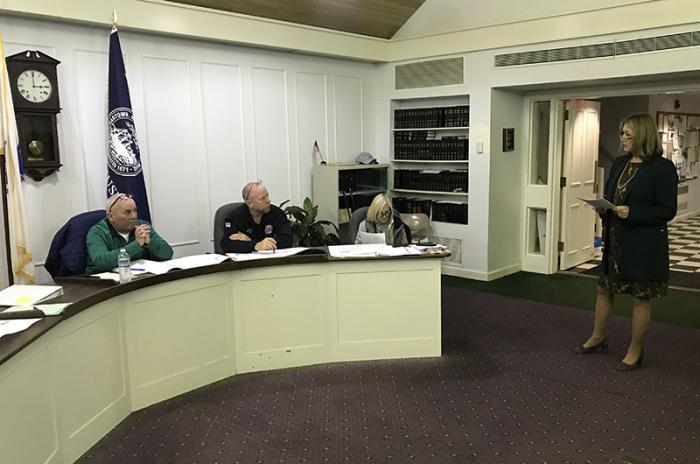 "The losses which the hospital covers [at Windemere] are not sustainable," she told the commission in a prepared statement. "The hospital feels a strong moral and ethical commitment to finding a solution to caring for the frail elder segment," she continued. "I'm not just here to tell you this tale of woe, but to inform you we have one solution to care for a segment of the elder population and to ask for your help in bringing that one step closer to reality."
The hospital is seeking permission to extend the town sewer from the nearby Morgan Woods housing development to the building site. At the meeting Thursday, the wastewater commission voted that the town facility could handle the additional wastewater flow, but took no formal action on the request for a tie-in.
It was the second meeting in a month between hospital leaders and the wastewater commission. Hospital chief financial officer Edward Olivier and project manager Chris Alley also attended.
The proposed project would eventually need approval from the Martha's Vineyard Commission, among other agencies.
As elder care facilities go through rapid changes on a national level, Windemere has had to confront challenges of its own. Originally licensed for 86 beds, the nursing home census has decreased in recent years. Mr. Olivier said Windemere now caps the number of residents at between 46 and 50 because of staffing challenges. And while 66 per cent of clients in nursing homes nationally rely on Medicaid, that number is around 85 per cent at Windemere — creating financial difficulties for a facility that saw a $1.2 million loss in 2018.
The Martha's Vineyard Hospital is a member of Partners HealthCare headquartered in Boston.
Last month Mr. Olivier explained the need for a new elder care and nursing facility that would appeal to more non-insurance clientele, according to minutes of the wastewater commission, telling the commission that the hospital had a two-year window to find a solution to Windemere's deep financial losses. Absent a solution, the nursing home would close, he said.
Windemere has struggled with staffing issues because of the Island's housing shortage, with most workers employed on a rotating, three-month travel basis.
In response to the challenges, hospital officials are proposing a Green House model facility that would cluster 12 to 14-bedroom homes in a multi-home community. The Green House model has become increasingly popular, and last year the hospital contracted with Navigator Elder Homes of New England to conduct a feasibility study based on the model. The proposed facility would also have worker housing on site, with the workforce responsible for cooking and laundry, and paid slightly higher rates.
Connecting to the town wastewater plant poses a potential dilemma for the town. Current town policy restricts tie-ins to an area inside the Edgartown Great Pond watershed, per an agreement with the state Department of Environmental Protection and the town's broader sewerage plan. Connecting to the Morgan Woods town sewer extension would also require an easement through property owned by the Hall family known as Hallsgate, which town officials hinted would be hard to accomplish.
The parcel off Vineyard Haven-Edgartown Road is the second Norton family property to come under a purchase and sale agreement in recent months. The Martha's Vineyard Boys and Girls Club signed a deal last spring to buy 21 acres of Norton family land off the Edgartown-West Tisbury Road for an expanded club facility. There has been discussion about using a portion of the property the hospital wants to buy as potential mitigation for disturbing moth habitat on natural heritage land in connection with the Boys and Girls Club project. On Thursday, Ms. Schepici said the hospital is open to participating in that effort as well if it buys the property as planned.
She acknowledged that the hospital is asking for an exception to town rules. "The wastewater commission needs to decide whether this project and the extension . . . merits an exemption from your present policy of disapproval of such extension," she said. "There are many steps and hurdles to overcome before we can even start . . . Time is of the essence though."