It's no exaggeration that Lew French has been obsessed with stone for decades. Now that passion is on full display at the Martha's Vineyard Museum, where he's creating an outdoor garden in honor of the inimitable Rose Styron.
Lew, the stonemason and designer well known on the Vineyard and beyond, stuck four stakes in the ground a year ago to mark the garden's boundaries, and then took a stick to draw in the dirt the ideas he'd been carrying around in his head for months.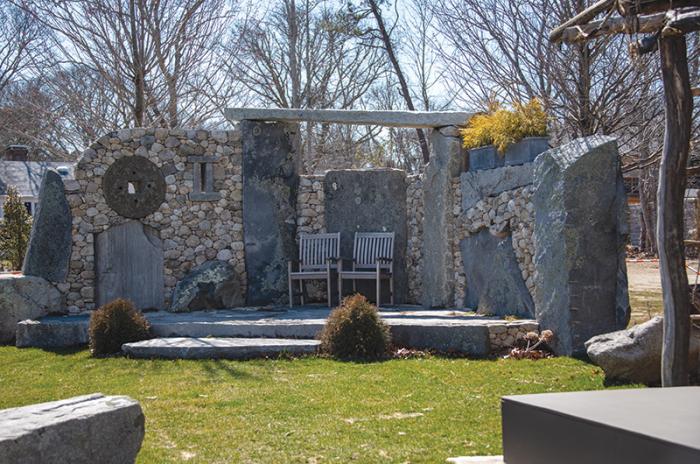 The garden is nearly completed, with flowers, vines and other vegetation to be added sometime this year. That will be the crowning touch to a creation that features huge vertical and horizontal slabs of granite, accents of mortared fieldstone, industrial stones and other rocks revealing geometric patterns.
"It's a huge project because all of the stonework is on concrete footings," Lew said in a recent interview. "It's a permanent installation where none of the pieces can be pulled out by kids. It's all mortared together." Along with his three-man crew, including son Truman, and heavy machinery, Lew wrestled into place stones weighing two or three tons.
Before the project, Lew knew Rose only by reputation: poet, human rights champion, doyenne of the Island's who's who – seemingly a contrast to the introverted stonemason, whose landscapes, fireplaces, walls, patios and other works tend to speak for him. But in their visits, Lew came to know a down-to-earth person who values a connection to nature –where she often composes her poetry.
He also discovered broad parallels between his work and hers. Assembling pieces of stone, large and small, is about making choices, he said. Combining them, with an eye to rhythm and flow, serves to tell a story. Just like a poem.
For Rose's garden, Lew sourced granite from abandoned quarries in Maine and New Hampshire and fieldstone and boulders from the Vineyard to compose several segments along the perimeter and inside the space. "There are pieces [that have been] in the back of my head for years and years," he said. "How am I going to use this one? And so every piece there is kind of unique."
The garden is a rectangle – almost. At the corner nearest to the museum building, Lew decided to eschew a 90-degree corner, instead cutting the corner with a diagonal line in the form of a long bench that features a stone he recovered from an old cemetery. It serves as a visual entryway to the garden. Inside, at the other side of the garden, is another focal point: a small stage he designed for poetry readings and other events. (Last August, Rose did a reading for a gathering honoring her and Lew's work in progress.)
What's striking is the variation of jagged stone segments – some tall vertical granite pieces bonded together by a mosaic of fieldstone with a crown of a horizontal stone – and open space, allowing visitors to see inside the garden, and gaze out to the museum from within.
"I try to use the stone the way I find it," he said. "My intention is to leave the stone as natural as possible. The visual power of the work comes from letting the stone speak for itself."
Despite the imposing stone segments, the garden breathes. It's not a huge space – perhaps 75 feet by 36 feet – but within are a dozen places to sit, on boulders and wooden benches. Each space is meant to create a kind of intimacy but with easy access to each other, almost like rooms in a house, minus the walls.
At the center of the garden is a trellis that Lew fashioned with locust wood. Eventually it will be covered by trumpet vines and climbing hydrangea. Behind it is the only wall with no stone: a half dozen arborvitae form a backdrop of green. That's no accident. Lew favors a complement of stone and vegetation – hard and soft, living and inanimate.
"It's the balance between the two, thehard – the stone, the past – and the softness, the living material," he said.
John H. Kennedy is a journalist living in West Tisbury.