When you walk into KIN, the small, sunny store next to the Kelley House in Edgartown, you'll immediately notice its attractive displays of clothing, art and photographs. The one-room space is full and colorful, inviting you to explore the corners to find every treasure.
The vibe reflects the congenial, creative partnership of its two owners, Lisa Brown and Gareth Brown, artists who happen to be aunt and niece. Choosing a name like KIN was a natural, especially since the two women aspired to bring together their networks, which included extended family.
Lisa (known professionally as L.A. Brown) and Gareth opened KIN in April of this year, choosing like-minded artisans to complement the creative work they do. Along the back wall of the shop hangs a rack of silk dresses, blouses, pants, skirts and jumpsuits – all designed by Gareth for her clothing line, Rooey Knots. In one corner is a display of Lisa's photographs of Island life, along with her collection of antique cameras (all functional) and small boxes, which she decided to sell so that others could experience the joy she has gotten from them.
Around the store, you'll also find fine jewelry handmade by Selah Vie and silky lingerie made by Blossom Schmitt under her Florawear label. The mix of art and functional items offers great gift options, including those you might want to give yourself.
Lisa has been living on the Vineyard year-round for 36 years and has been taking photographs since she was 12. She is well-known for her buoyant, friendly nature and eye-catching images, not only of Island scenes and animals, but also of weddings and other family events. As an entrepreneur who supports herself using her creativity, she has been especially supportive of her niece developing a design business.
Gareth started making accessories out of vintage ties in 2014 when she returned from living in Shanghai for two years. The fanciful patterns of men's ties inspired her, she said, even when at first their colors seemed as if they might be hard to work with.
"You put these together with other patterns and it works," she said.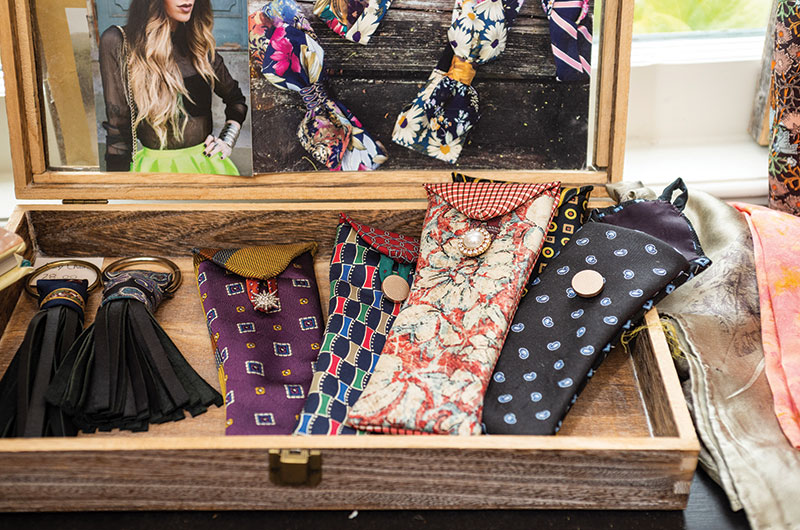 Her first creations were woven headbands – each unique – held together by hand-stitching, like a miniature braided rug that fits smoothly around one's head. Tall and blonde with a winning smile, Gareth is of course an ideal model for her headbands, but you can see that they would be striking on anyone.
Lisa suggested to Gareth that the Island's summer flea markets in Chilmark and Oak Bluffs would be a perfect market for the headbands, giving her instant feedback from shoppers. As her business grew, Gareth began to expand slowly into women's clothing, using small-lot remnants from silk factories. She has built relationships with about a dozen good fabric sources. It helps that she is conversant in Mandarin!
Her other big asset is a husband-and-wife tailor team in China who produces her designs with expert care and stitching. Surprisingly, if you can't find your size in one of the beautiful shirts or dresses that Gareth shows in the store, with a little measuring the exact size can be produced for the same price as those hanging on display. You may not get the same fabric, but you can be sure that Gareth will have other beautiful options, and the wait is reasonable at about four weeks. Searching for silk ties gives Gareth an opportunity to visit vintage clothing stores, where she discovers classic designs that she upgrades for simplicity and flow. For her clothing line she aims for vintage-inspired, stylish and functional. And she loves pockets! Gareth and Lisa are very familiar with each other's work and can easily recommend their favorites to shoppers. Gareth admires the beauty of Lisa's winter scene of the old Grange building in West Tisbury blanketed in snow; printed on wood, the black and white photo is calming and timeless. Another favorite is a color shot of sheep, taken from the other side of a cattle fence. Gareth said, "People are always impressed by Lisa's animal photos. She has an ability to connect with animals and capture that moment."
Lisa's long experience taking photographs allows her to rely on muscle memory for technical decisions. She doesn't look at other photographers' work much, in order to hear her own voice.
"If I find myself looking at social media or in galleries, I feel my own voice getting diluted by other information. The more I contain my viewing, the more authentic my voice is," she said.
"I like to just let go into the experience. I talk to myself and say, 'Go out photographing, Lisa. Something magical will happen.' And most times it does," she said.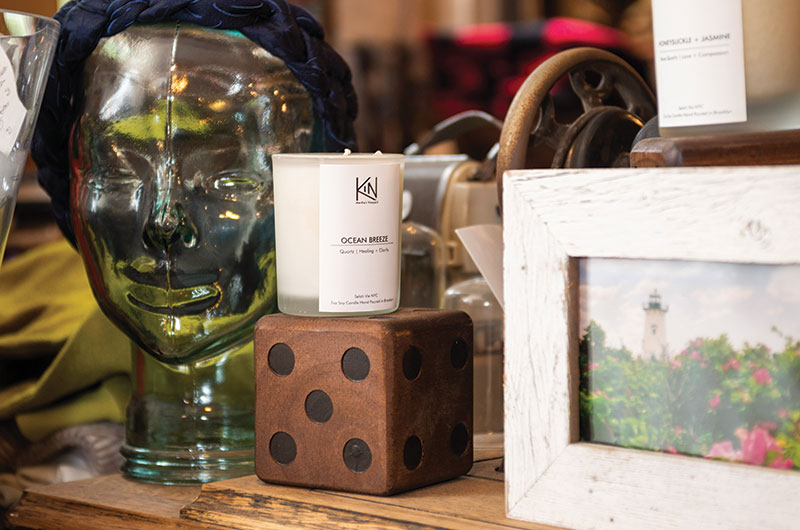 Lisa's favorites of Gareth's clothing line are two classic items upgraded by the fabrics used. The Florence blouse is feminine with a bow neckline and elegant drape. The silks she has chosen are translucent and bright; a tie at the bottom allows for the blouse to be worn tucked in or out. Lisa also models a long wooly duster (with pockets, of course) that has become popular with both women and men. At $225, Lisa says the duster offers a warm feeling of luxury that one will not regret indulging in.
Lisa and Gareth share the experience of childhood summers spent at grandmother's summer home in Oak Bluffs, and although the neighborhood was the same, Gareth is a generation younger than Lisa. (Gareth's father is Lisa's older brother.) A trial of family tragedies and the pandemic made Lisa and Gareth feel that it was important to offer their family some positive news.
As Gareth said, "Everyone in our family has been watching our individual careers for years. For them to see this store blossom has made everyone happy and made them feel like they are part of this experience."
---
Emily Meegan is a writer who lives in Chilmark and works at the West Tisbury library.
Editor's Note: KIN is open Thursday through Monday and will also be open on Tuesday and Wednesday during Thanksgiving week.