In the hills of Chilmark, a mer-person perches on a tree limb with its tail flipped under the branch. A goat stands tall and still in a clearing of trees, his lute slung around his neck while he waits patiently for an audience. Sculpted eyes nestled in the hollows of tree branches peer at passersby. Alongside Lir, a towering dragon made of driftwood, a card tells his tale of being "born from moonlight, on the sea."
The magic is real at the Island Folk Pottery Sculpture Trail.
Created by artists Heather Goff and Bill O'Callaghan, the trail features the whimsical, mythology-inspired pottery figures of dragons, faeries, tree spirits and castles that Island art lovers recognize as works of The Mad Potter, Bill's moniker. Bill also creates sculptures, furniture and mirrors of wood, clay, stone, shell and glass. On the trail, Heather's artistry is represented in poems and stories posted on tree trunks; she also created the sculpted eyes and clay masks installed in unexpected locations. (See photo collage below).
Heather and Bill recently re-opened the sculpture trail, which they created two years ago at their home on Marion's Way in Chilmark.
Many Vineyard artists are lucky to have home studios but the spread where Heather and Bill live and work is unique. Their front yard is an artists' workshop full of driftwood, tiles, art tools and works in progress. A lower level exterior wall is covered with Heather's handmade tiles of colorful creatures and designs on earthen-colored pottery squares.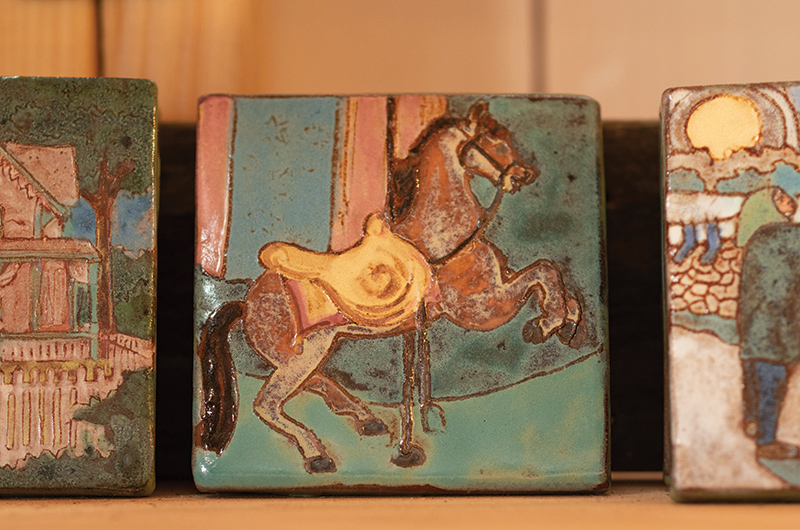 Outside the house is a small gallery shop from which they sell mosaics of stones, shells and pottery figurines, tiles depicting recognizable Island buildings or icons, and vases, bowls, and jars adorned with mer-people and dragons. Alongside the driveway is a new Story Circle and sculptures leading the way to a carved wooden gate marking the trailhead.
The sculpture trail is free and open to the public every day from 9 a.m. to 5 p.m. Cars and bicyclists can access the trail by following Middle Line Road to Marion's Way. Anyone walking the Land Bank's Middle Line path can incorporate the sculpture trail into their visit. Bill has observed that visitors sometimes park on Meeting House Road or near Tea Lane Farm and walk the wooded trails up to the sculpture trails.
The multi-circle trail began as a collaborative project to create a home for Bill's sculptures. The artists started with the raw woods.
"Bill led the way and I followed with our brush cutter. We got around the rocks and just pushed our way through it and put in a path," Heather recalled. "We put in the trail and put his sculptures on it, just for us and our family. But when Covid came, we decided to open up the trail to the public and really make his dream come true. We created a place that people could come and experience his work in the environment."
The trees on the couple's five-acre property are not the primary source of wood for the sculptures. Bill forages the Island's beaches, bringing home driftwood made hard and preserved by the ocean's salt waters. Sometimes a piece immediately inspires a creature, as happened recently when some wood at Lucy Vincent Beach became a dragon head after a handcrafted eye was added to give definition to a face. Blueberry branches from the property of Heather's parents were re-purposed to create the gate to the sculpture trail.
The result is not just an opportunity to experience an art installation in unusual surroundings. The artists offer the trail as a place to revive and spur the imagination.
"If you go in by yourself without other people and just soak it in, it can be an almost mystical experience," Bill said. "It's a place where you can just let go of the world around you. I think some people come back just for that – an escape."
It has also been a gathering space for friends and families to safely enjoy being together again. "People discover things," Heather noted.
"They make up their own stories," Bill added. "I love hearing people when they read the Story Circle out loud. We see groups that act it out. Or people perform for the trees. They let go of inhibition and get into it."
The trail also becomes a place for visitors to slow down and pay closer attention to what is around them. "Once you leave the trail, you're still looking. You start to notice things that you don't notice in your regular life. After walking the trail, if you really pay attention for a short period of time afterwards, you notice the way a tree is twisted or you can see spirits in the trees," Bill said.
Visitors can experience the trail from any direction they choose and have the freedom to spend as much or as little time as they want with each artwork. Though the trail encourages exploration, the artists ask visitors to not step off the paths through the bushes or trees: doing so damages the under-story, where wild blueberries and other woodland species thrive. That, too, is a message the creators want to convey; they hope all who visit will join them in caring for the environment and respecting Mother earth.
As good weather sets in, Heather and Bill are excited to offer visitors a destination but are also curious and eager to see how people experience and interact with their artworks. "It's a gift to the community but it's also a gift to us," they declared.
Elizabeth Bennett is a community news editor for the Vineyard Gazette.