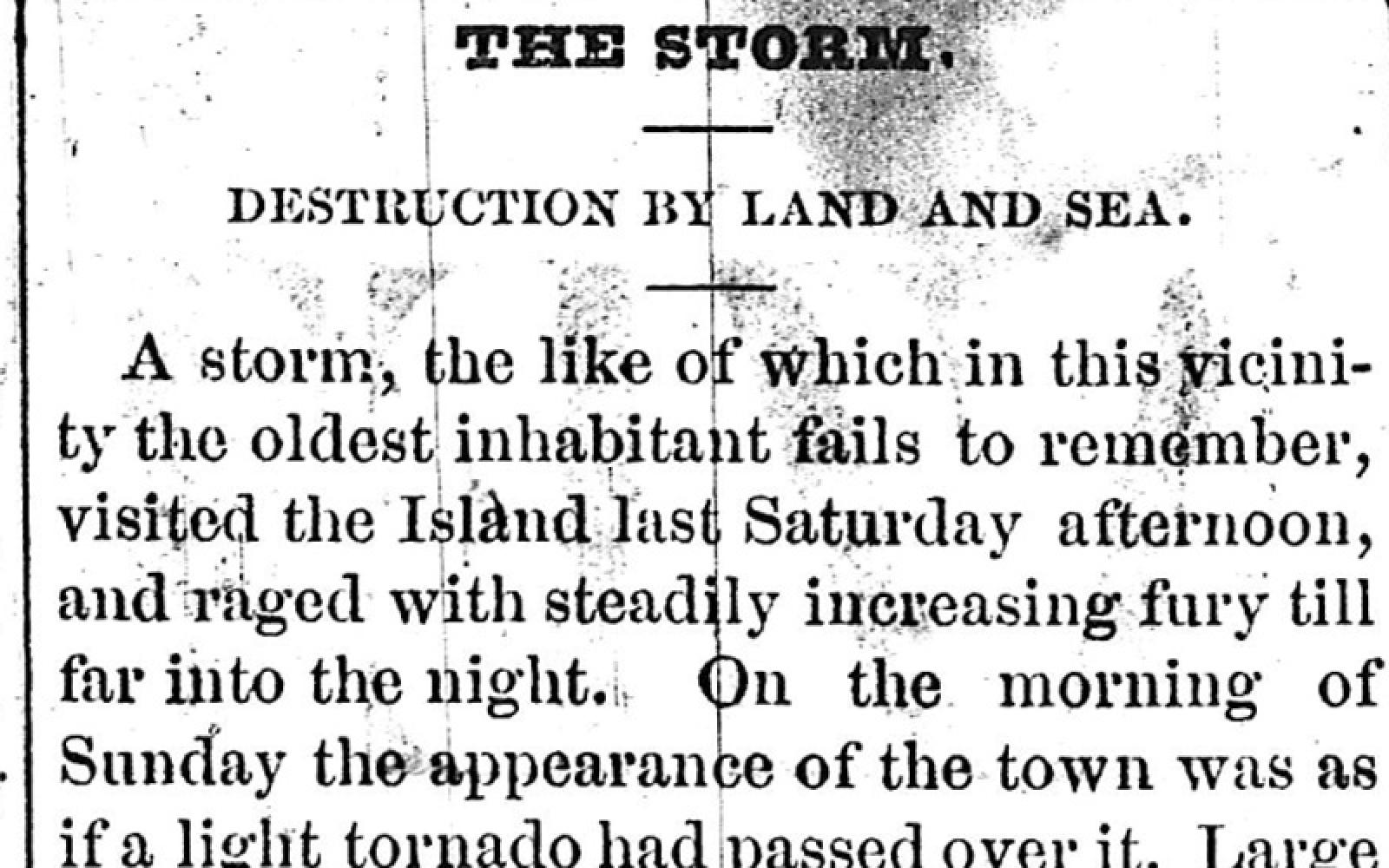 A storm, the like of which in this vicinity the oldest inhabitant fails to remember, visited the Island last Saturday afternoon, and raged with steadily increasing fury till far into the night. On the morning of Sunday the appearance of the town was as if a light tornado had passed over it. Large trees were uprooted, chimneys "razeed," fences down everywhere, windows in some instances forced in, a few old buildings utterly demolished, and the streets strewn with green leaves and branches wrenched from the unyielding trees. The gale was uniformly destructive throughout the Island, while from the waters about came the melancholy recital of disaster on disaster, vessels sunken or shattered, and seamen drowned or dead from exposure.
In Edgartown Village chimneys were blown from the residences of R. G. Shute, George Jernegan, Mrs. Seth Marchant, S. P. Coffin, Charles Norton, Frederick Baylies, Thomas A, Norton, Samuel W. Lewis, Benjamin Vincent, Mrs. Adlington, and from the Wimpenny house.
Two large trees north of the Congregational Church were uprooted, another by James Fish, and another in front of the residence of Mrs. Harrison P. Mayhew.
The barn standing on the estate of the late David Coffin was blown down, and also one belonging to L. H. Pease.
VINEYARD GROVE AND VICINITY.
The Pagoda on the plank walk completely collapsed, the roof being found surmounting a confused heap of stanchions and braces, as though something had sat down on it. One or two barns were also blown down, and some of the windows of H.J. Green's market forced in.
One cottage on the Highlands was nearly unroofed, and several thrown own "out of plumb."
A schooner loaded with coal went through Norris's wharf at Eastville, cutting it completely in two.
WEST TISBURY.
One of the windows of the Congregational church was blown in, and a fine willow tree on M.C. Mitchell's place uprooted.
CHILMARK.
The roof of Granville Manter's barn was blown clean from the building.
Tristram Mayhew lost one of the chimneys from his house.
GAY HEAD.
One half the roof of a stone dwelling house belonging to George Cooper was blown off, the windows of the church were forced in, and Mrs. Geo. David's barn blown over.
CHAPPAQUIDDIC.
Mrs. Parnell Pease lost one cow and five young cattle, stormed to death on the east beach.
Two chimneys were blown from the residence of the late Gamaliel Fisher.
Four barns, belonging to D. T. Webquish, William Martin, Mr. Brown and Mrs. Beulah Fisher respective, were blown over, and fences went down in all directions.
PLAIN.
A chimney on Seth Vincent's house was blown down, and one of the barns on the Katama farm utterly demolished.
VINEYARD HAVEN.
At Vineyard Haven more damage was done to shipping than in any former gale. The following named schooners went ashore:-P.T. Willets, of Tuckahoe, N.J., Howard Holder, of St. John, N.B., James Wilson, of Philadelphia, R.H. Shannon, do, William Penn, of St. George, Mars Hill, of Ellsworth, Mountain Laurel, do, B.C. Terry, of New York, Starlight, of Eastport, Northern Home, of Windsor, N.S., George Walker, of Machias, Montillo, of Rockland, Frances Ellen, of Hampden, Me., Timothy Field, of Boston, Telegraph, of Thomaston, Abbot Devereaux, of Boston, Island Belle, of Eastport, Free Wind, of Portsmouth, Antoinette M. Acker, of Edgartown. Most of the above named struck heavily and filled. Schooner Francis Coffin was cut below the water's edge by collision with the R.H. Shannon, and sank in three fathoms of water. Schooner Florence Newell, of Philadelphia, struck and dismasted schooner Abigail Haynes. Schooner Rival, of Bath, dragged afoul of the marine railway. Schooner Ligure, of Tremont, Me., dragged across the marine railway. Schooner Grace Cushing, of Portland, was fouled by the George Walker and considerably injured. Schooners B.C. Terry and Abigail Haynes were struck and dismasted.
Schooner Clara Smith, of Rockland, Capt. Green, anchored on Nantucket Shoals Saturday afternoon, dragged across Horse Shoe Shoal, and sank in 7 fathoms of water in the ship channel. The crew took to the rigging and remained there 19 hours, when they were taken off by the Boston steamer Nereus. John Wood of Rockland died of exposure while lashed in the rigging.
Schooner Etta A. Stimpson of Thomaston, Me., Capt. Albert Hart, capsized in Muskeget Channel Saturday afternoon. The crew, and the captain's wife who was on board, remained in the rigging all night. Shortly after nine o'clock Sunday morning steamer Martha's Vineyard ran down to the vicinity of the wrecked vessels, but perceiving that the Nereus was working up to the Clara Smith, and appearances indicating that there were no live persons on the Stimpson, and the high sea making it impossible to lower a boat without swamping, steamed back to her wharf. It seems, however, that the captain, mate, and the captain's wife were then alive on the latter vessel, though not in sight from the steamer on account of the schooner's being on her beam ends. Whether or not the remaining five of the crew were then alive is uncertain. Soon after the steamer put about the captain's wife died of exhaustion. Capt. Hart held on to his wife's body as long as his strength permitted, but it was finally washed away by the waves, and the following morning, at two o'clock, he too died. The mate, Charles Killeen, of Nantucket, being now the only survivor, was taken off by Capt. James Wilber in a sail boat, and placed on board steamer River Queen. Mr. Lott Norton brought the captain's body to Edgartown, where it was duly cared for, furnished with a rosewood casket by Francis Pent & Son, and forwarded to Thomaston. An unusual interest attaches to the sad fate of Capt. Hart and his wife, from the fact that they had been but about three months married.
Steamer Martha's Vineyard left New Bedford at the usual hour Saturday afternoon with forty passengers, proceeded as far as Woods Holl, where she lay till Sunday morning.
A wrecking company from New York, under direction of the insurance companies, arrived at Vineyard Haven Wednesday morning, with a steam tug, two schooners and steam pumps.
Two cargoes of coal were sold at auction Wednesday, as they lay in sunken vessels, one of 225 tons for $160, and one of 260 tons for $425.
The storm was more destructive at Nantucket than on the Vineyard. The Inquirer & Mirror, with commendable enterprise, published an extra on Monday, giving a detailed account of the ravages in that vicinity.
Mr. Joseph Vincent of Nantucket, formerly of this town, lost nine head of young cattle in the recent storm.