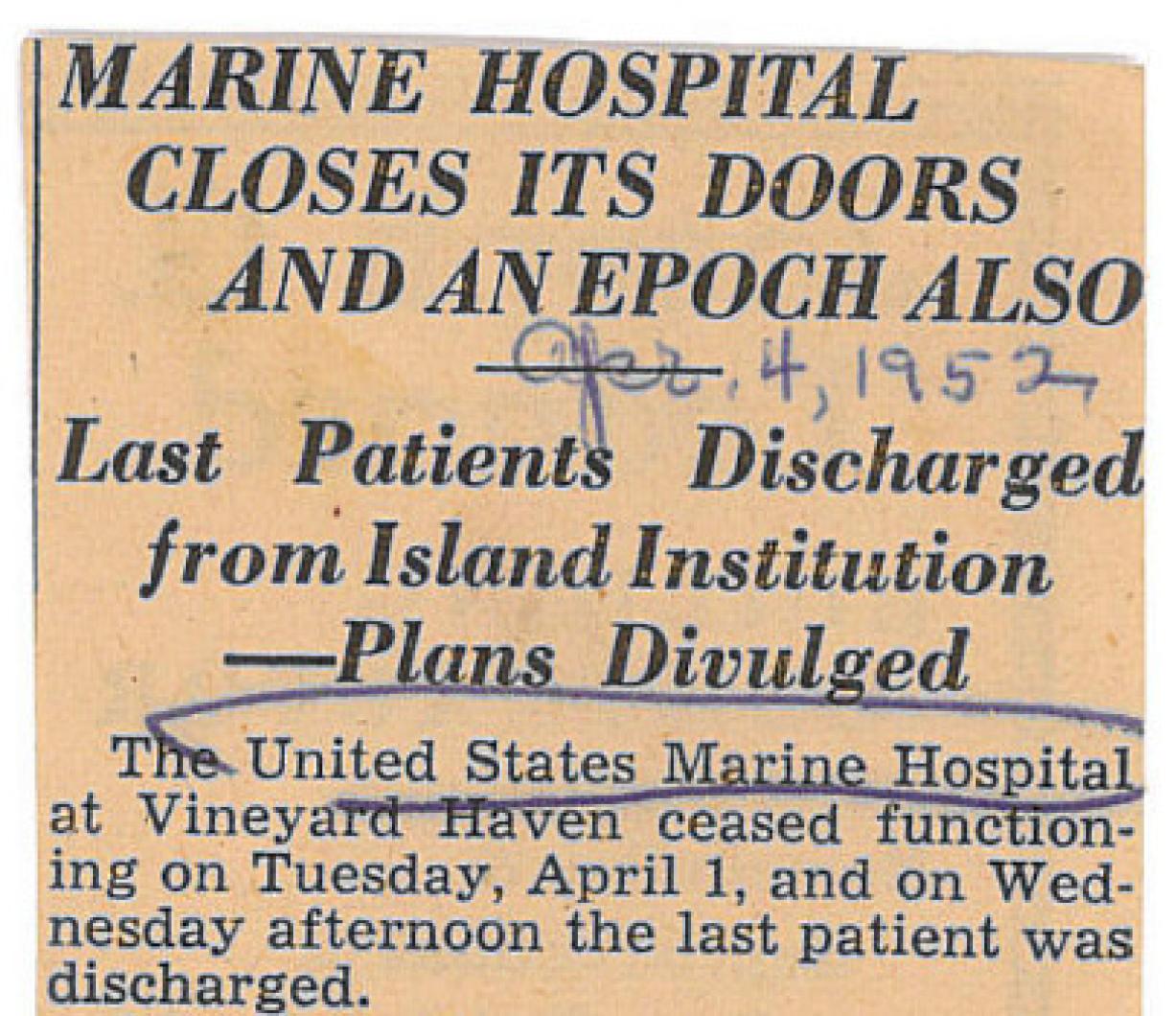 The United States Marine Hospital at Vineyard Haven ceased functioning on Tuesday, April 1, and on Wednesday afternoon the last patient was discharged.
Some of the personnel will be granted leave, some will go to Boston for temporary employment for two more weeks, and some will be kept at the hospital for the moving of property and to act as watchmen. The furnishings, equipment, etc., will be divided into various lots, including such items as may be used at other units of the U. S. Public Health Service, some to be classified as surplus, and some that will be condemned. Disposition of this property, according to Dr. James Hunter, last surgeon in charge in the history of the hospital, may require some months.
A "security watch," so called, consisting of three men working in shifts, will be kept in the building for a year, in all likelihood, unless the building is disposed of sooner.
Out-Patient Service
To provide medical care for those who would be eligible for admission to the hospital or for treatment there - including merchant seamen and members of the Coast Guard - Dr. Donald R. Mills of Edgartown has been designated as U. S. Public Health Service physician and will carry on out-patient service at his office. Dr. Mills will handle cases of all sorts, and will be authorized to arrange for the admission of patients to the Martha's Vineyard Hospital when necessary, or for admission to Public Health Service hospitals on the mainland.
He will also have authority to arrange for surgery to be performed by Dr. Ralph J. Mitchell is to serve as an alternate to Dr. Mills.
In the handling of eligible patients Dr. Mills will be required to adhere strictly to the law which has been in effect, subject to minor amendments, since 1798.
Every case must be documented, which means that the master of a seagoing craft of more than five tons must certify to the patient's status as a seaman and to the necessity of his services in the operation of the vessel upon which he serves. Under a strict interpretation of the regulations, the fact that a man sails on a vessel of five tons or more does not give him a seaman's rating nor entitle him to a seaman's benefits under the Public Health Service.
A large percentage of fishermen could not be classified as eligible under a strict interpretation, since the master and engineer of the larger craft might be the only two of the personnel who would be considered vitally necessary to the operation of the vessel. Others, shipped to handle fishing gear, are not considered to be seamen.
If this regulation is to be strictly adhered to, as prospects indicate, local patronage of the Public Health Service should not be at all heavy.