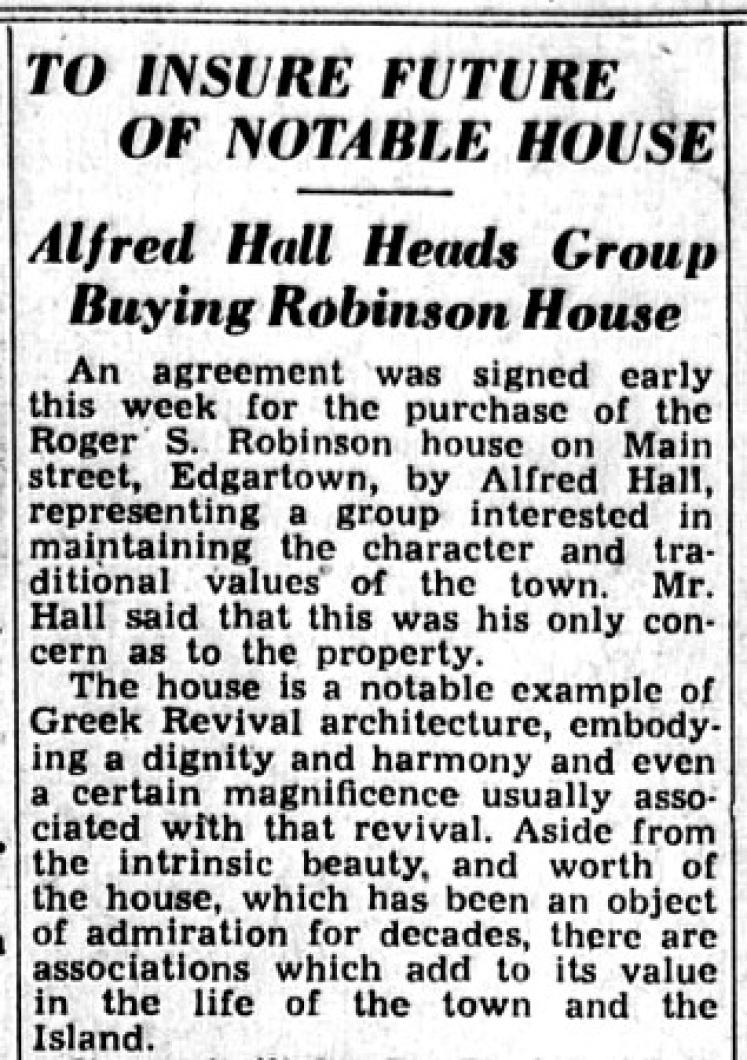 An agreement was signed early this week for the purchase of the Roger S. Robinson house on Main street, Edgartown, by Alfred Hall, representing a group interested in maintaining the character and traditional values of the town. Mr. Hall said that this was his only concern as to the property.
The house is a notable example of Greek Revival architecture, embodying a dignity and harmony and even a certain magnificence usually associated with that revival. Aside from the intrinsic beauty and worth of the house, which has been an object of admiration for decades, there are associations which add to its value in the life of the town and the Island.
It was built for Dr. Daniel Fisher, a great fixture of the whaling era who at one time operated the largest sperm candle factory in the country, and whose transactions in sperm oil were among the greatest of the first half of the nineteenth century when the industry reached its peak.
Daniel Webster visited Dr. Fisher and was a guest at the house which was a center of hospitality for many years.
Acquired by Senator
After Dr. Fisher's death the property was soon acquired by William M. Butler, for many years one of the best known summer residents of Edgartown, who later became a United States senator. Mr. Butler made extensive improvements to the house and grounds.
In 1920 the property was purchased by the late W. D. Faris who named the house Fanwilton, and after the dealth of Mr. and Mrs. Faris it was owned for some years by their son, the late Martin B. Faris, who gave it to the Martha's Vineyard Hospital. The Robinsons acquired it in 1946 form the John G. MacKenty and Henry B. Houghs, and it was their year-round home until the death of Mrs. Robinson last September.
The property has a frontage of 226 feet on Main street. Originally the Capt. James B. Huxford house stood bewteen the Robinson house and the Methodist Church, but this was moved by Mr. Butler to a site near the Harbor View, and the frontage added to his property. The frontage on Pease's Point Way is 391 feet.
Because of the uniqueness of the house in style, tradition, and attractiveness, and the space it occupies near the center of the town, its future has been a concern of many residents and visitors. Mr. Hall said that Mr. Robinson would occupy the house this coming summer.